Marko Grujic: Meet Liverpool's new Serbian World Cup winner
By Charles Ducksbury published
Charles Ducksbury profiles the Anfield side's new man from Red Star who might just have saved his club's finances for a little while longer...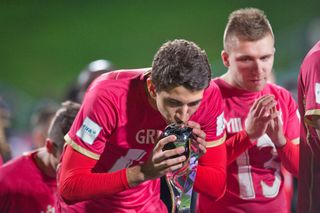 Fact file
Date of birth: April 13, 1996
Place of birth: Belgrade, Serbia
Height: 6ft 3in
Position: Midfielder
Current club: Red Star (31 apps, 5 goals)
International: Serbia U21 (5 caps, 0 goals)
The 60-second story
After being removed from the 2014/15 Champions League for breaching UEFA's FFP guidelines, Red Star (or Crvena Zvezda as they're known in Serbia) returned to European football in July with a Europa League qualifier against Kairat of Kazakhstan. A vociferous Marakana crowd greeted the sides, but things deteriorated after just three minutes when Savo Pavicevic was sent off for the home side. Kairat went on to record a 2-0 away win, eventually winning 4-1 on aggregate. Red Star were out of Europe again.
New coach Miodrag Bozovic offered his resignation, fans protested against the board (eventually forcing all members to resign) and with the club lumbered with €40 million of debt, it was labelled the lowest moment in the club's history. Bozovic's resignation was rejected, and he immediately made changes. On the bench against Kairat was a young midfielder called Marko Grujic, initially deemed too inexperienced for the rigours of European and Serbian SuperLiga football. Ahead of him in the side were Aleksandar Kovacevic and Vukan Savicevic, but both were sold soon after the Kairat debacle and Grujic was thrown into the team.
He has been a revelation since, having taken the league by storm and attracted an army of scouts. He originally stated that he wanted to stay at Red Star until at least the summer, and that "not even Barça" could tempt him away should they make the group stages of the Champions League next summer, though Liverpool have won the race by netting him for just over £5 million.
Why you need to know about him
Even if it was against his wishes, Grujic, the son of a Belgrade football journalist, has moved on from his boyhood heroes. Perhaps no other club in Europe attracts such devotion from fans and players, and Grujic has been at the club since he was nine years old.
Such is Red Star's debt that a deal was necessary this month, though he will remain at Red Star until the summer. Grujic's sale will be used to pay off debts owed to former players, one of the stipulations required to gain a UEFA licence to play in the Champions League, and the main reason why they weren't allowed to play in the competition two seasons ago.
The Anfield side's interest has been long known: after Red Star beat Cukaricki 7-2 in early December (a game in which Grujic scored with a low drive to make it 1-1), Liverpool took the youngster and his agent Zoran Stojadinovic out for dinner.
Strengths
Standing a massive 6ft 3in at just 19 years old, Grujic uses his athleticism to cover the whole length of the pitch. Though obviously not in the same bracket of ability just yet, his style closely resembles Patrick Vieira and Yaya Toure: quick to reach both penalty areas without ever seeming to be reaching top speed.
He is the player Red Star immediately look for when launching an attack, due to his ability to bring the ball out of defence and into the midfield area. His positioning on the field shows far more maturity than he should have at his age, offering easy passes for his team-mates and positioning his body superbly when receiving the ball to allow himself to move away on the front foot when Red Star are attacking.
Grujic also possesses impressive shooting accuracy for his age and position, having netted five times in 21 league games this season, a good record for someone who isn't an 'attacking' midfielder.
Weaknesses
Though every footballer in the world could improve, it is very, very difficult to pick out a real weakness in Grujic, especially for such a young player. He would benefit from a touch more pace, but his height means this would be unlikely.
He perhaps isn't the most creative midfielder and won't lay on dozens of chances in a game for his team-mates, but again this is more due to his style of play rather than a lack of ability.
They said...
"I would like to go and play in England," Grujic admitted in October. "I love the atmosphere in the stadium, and how the fans are close to the pitch, and how that energy transfers to the players."
But the youngster's move to Merseyside hasn't come easy – not least as the player's father didn't want it to happen. "I won't allow them to destroy my boy!" Grujic Snr grunted to Serbian outlet Blic. "I'm speaking about people who are in charge of the club [Red Star].
"There are (their) stories in Serbian media, like 'Gerrard's No.8 is waiting for him', or 'Klopp called him by phone', 'millions here, millions there'.
"I mean, which club is willing to pay £5.1m, and then to say 'Look, kid, come when you want'? Nope, if Liverpool FC is seriously counting on him, they'll tell him: 'Start of training camp in January on this day, at that hour, we're expecting you.' And, what kind of combination is that?
"His passport is with me, and I pronounce that Marko is not going anywhere. None of our younger (Serbian) players survived in the Premier League. Bojan Djordjic, Milos Veljkovic, Adem Ljajic, Zoran Tosic, Lazar Markovic, Danilo Pantic… Do you need me to continue to list them?"
Turns out he needn't have worried really.
Did you know...
Grujic was a member of Serbia's Under-20 World Cup-winning squad last summer, which beat Brazil 2-1 in the final in New Zealand. Though the full national side has at times disgraced Serbia in the past two years, the youngsters flew the flag with pride, led by captain Predrag Rajkovic (then of Red Star, now of Maccabi Tel-Aviv). Tens of thousands gathered on the streets of Belgrade upon the side's return, with some of the squad becoming national heroes before even playing a single professional game for their parent clubs.
Talentspotter ratings
Shooting: 7
Heading: 8
Passing: 8
Tackling: 7
Pace: 6
Dribbling: 7
Creativity: 6
Work-rate: 8
What happens next?
The Belgrade native will see out the remainder of the season at Red Star, where he'll hope to go out on a high. Next season, who knows? Grujic's father warned against a lack of opportunities, and it's perhaps easy to understand why. Danilo Pantic, a Serbian midfielder who left Partizan for Chelsea last summer, was loaned to Vitesse and has played just six Eredivisie games this term.
With a four-and-a-half year contract in the bag, he'll get his chance eventually.
Thank you for reading 5 articles this month* Join now for unlimited access
Enjoy your first month for just £1 / $1 / €1
*Read 5 free articles per month without a subscription
Join now for unlimited access
Try first month for just £1 / $1 / €1
Quizzes, features and footballing fun
Get the best features, fun and footballing frolics straight to your inbox every week.
Thank you for signing up to Four Four Two. You will receive a verification email shortly.
There was a problem. Please refresh the page and try again.