Meet the clean freak Germany international wanted by Chelsea
Alex Chaffer fills you in on the promising Stuttgart defender filling in for Philipp Lahm and interesting the Blues...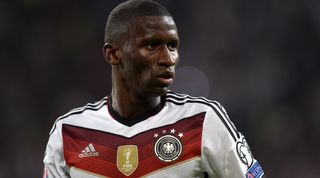 The 60 second story
After Germany's World Cup triumph this summer, the retirement of captain Philipp Lahm came as a shock. Aged just 30, the 10-year international had waved goodbye to die Nationalmannschaft, saying: "It's time the younger players had a go."
FACT FILE
Date of birth: March 3, 1993
Place of birth: Berlin, Germany
Position: Centre-back/right-back
Height: 6ft 3in
Club: Stuttgart: 69 apps, 2 goals
Step up, Antonio Rüdiger. The 21-year-old, a centre-back by trade, made his first competitive start for Germany against Poland last week. Despite only coming on as a substitute in the 4-1 drubbing to World Cup final opponents Argentina last month, he heard his name sung around Düsseldorf's Esprit Arena by the German faithful after a dream 15-minute cameo.
Germany, in a transition phase of sorts, are welcoming a host of young players to begin a new generation for the recently crowned world champions. Rüdiger is one of the lesser-known of the new members, but arguably one of the most important.
Now with Lahm's place officially up for grabs, the man Borussia Dortmund let go as a youth talent will be hoping his performances in the Bundesliga, coupled with a promising reception from the German fans, will see him live up to his billing.
Why you need to know him
If you haven't seen much of the Bundesliga over the last two years, it's likely that Rüdiger's inclusion in Germany's first post-World Cup squad will have come as a surprise.
But after two minute-long cameos for Stuttgart at the start of 2012/13, Rüdiger impressed then-coach Bruno Labbadia enough to keep his Bundesliga appearances ticking over for the rest of the season.
Since then, the lightning fast and agile defender has been a first-team regular at the Mercedes-Benz Arena, starting in the middle of what has been an inconsistent defence so far in 2014/15. He has been the standout star of the team this season, showing off the pace and power that's keeping him in Germany's team.
In the summer he rejected an approach from Monaco to head to the French province, despite the Ligue 1 side meeting his buyout clause of €15 million. "My first dream is to help Stuttgart return to the top," said the ambitious defender. With Chelsea now knocking on the door according to reports this week, his dream may not come to fruition.
Strengths
Still young at 21, Rüdiger may have a few more years of bulking up in him – as if he needs it. The imposing defender isn't just strong aerially and in the tackle; he's also a tidy ball-playing defender, and has completed a reasonable 83.7% of his passes this season.
Rüdiger is surprisingly quick for a defender. Joachim Löw described him as "another Jerome Boateng, just because they're so alike". He impressed massively in Germany training, apparently showing off his raw strength and calm composure regularly. All of these attributes already make for a top-class defender in the Bundesliga, as Löw attests: "He's been one of our strongest defenders in training and that's why he's playing."
The young stopper proved his never-say-die attitutde with a superb late last-ditch clearance at Dortmund earlier this season to secure Stuttgart a deserved point.
Weaknesses
As with any young and inexperienced player, Rüdiger is prone to the odd lapse in concentration.
In his short Bundesliga career so far he's also been guilty of trying too hard on occasions – he committed the most fouls of any player at Stuttgart last season (48) and conceded three penalties. This season, however, he's showing signs of improvement. He's won 79% of his duels, including tackles and aerial challenges, and that is a sure sign of improvement for the centre-back.
He told Bild in an interview that his rode model was Brazil captain Thiago Silva. "On the pitch my idol is Silva," he said. "He's just world class and a player I hope to be able to play against in the future." If his admiration of Silva pays off with improved performances on the pitch, Stuttgart won't mind at all.
They said…
While Rüdiger has been performing on the pitch, Stuttgart are potentially set to profit from it. Chelsea are the latest big team to be linked with a move for the German, following previously rumoured interest from both Newcastle and West Ham.
But sporting director Jochen Schneider told Bild: "We want to extend Rüdiger's contract. He's already a very important player to us. Fredi Bobic [Stuttgart director of football] has talked with him, and I also conducted a specific conversation with [Rudiger's agent] Uli Ferber.
"We have a good relationship with Chelsea – after all, we have borrowed [Oriol] Romeu for the season. If Antonio was of interest, they would make themselves known to us."
Did you know?
Stereotypically, men are known for being untidy around the house. Rüdiger, however, is an apparent clean freak. "He gets his cleaning talents from his mum. Disorder he cannot have," chuckled flatmate and half-brother Sahr Senesie, formerly of Dortmund and now plying his trade with third-tier Sonnenhof Großaspach. "I'm the big brother who protects him. Toni listens to me. And the good thing is that Toni listens, he is willing to learn. He's not one of those young guys who knows everything better."
What happens next?
Stuttgart are in a difficult place right now, on a downward slope and hoping returning boss Armin Veh can help turn things around. Now might be as good a time as any for Rüdiger to say goodbye – however hard that may be.
He left Dortmund as a youth player with the goal of playing more regular first-team football, and has achieved that at VfB. His next step could be on the European stage with another team, Stuttgart looking unlikely to take him there again anytime soon.
Thank you for reading 5 articles this month* Join now for unlimited access
Enjoy your first month for just £1 / $1 / €1
*Read 5 free articles per month without a subscription
Join now for unlimited access
Try first month for just £1 / $1 / €1