Meet South Korea's biggest star who could have his pick of Premier League clubs
Jack Duggan evaluates the rise of Bayer Leverkusen winger Son Heung-min, the 22-year-old with Europe at his feet...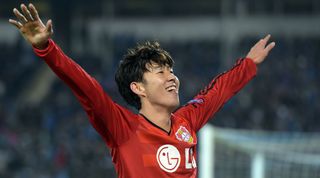 The 60-second story
FACT FILE
Date of birth: June 8, 1992
Place of birth: Chuncheon, South Korea
Height: 6ft 0in
Position: Forward
Current club: Bayer Leverkusen (69 apps, 23 goals)
Former clubs: Hamburger SV, FC Seoul (junior)
International: South Korea (35 caps, 7 goals)
Signed by Bayer Leverkusen for a then-club record €10 million to fill the Andre Schürrle-shaped void after the German left for Chelsea last summer, South Korean star Heung-min Son has risen to the challenge.
The 22-year-old forward netted on his debut against Freiburg on the opening day of the 2013/14 Bundesliga season, and has continued in similar fashion since. After 18 months with the Werkself, 'Sonaldo', as his team-mates call him, has become a fans' favourite with his searing pace and deadly finishing. After a modest 12 goals in 43 games playing second fiddle to Stefan Kiessling last season, it's already 11 in 26 this time out.
With former South Korea international Woong-jung Son for a father, the pressure was always on the youngster to succeed. Son started off in FC Seoul's youth team, before taking a huge leap at 16 by dropping out of school to join Hamburg through the German club's partnership with the South Korean FA.
But after a year in Germany his contract wasn't renewed and he was released. For six months Son was without a club, but the Under-17 World Cup provided the stage to prove he had the ability to triumph in Europe. Son scored three goals in five matches as South Korea reached the quarter-finals, and Hamburg gladly took him back.
The Rothosen's U-turn was well rewarded as Son went on to become the club's youngest-ever goalscorer and netted 20 goals in 73 league games.
Son is a superstar in his homeland, with nearly half a million Facebook 'likes' and constant gossip about whether or not he's dating Korean singer Minah. He's also the country's greatest hope for success at the Asian Cup this month. With regular strikers Park Chu-young and Lee Dong-gook not selected for the tournament, Son is coach Uli Stielike's biggest offensive threat.
Why you need to know him
Tipped to become the next big Asian star since Park Ji-sung, Son is looking likely to follow in the former Manchester United midfielder's footsteps. The Korean wingman has been linked with a £20m switch to the Premier League's likely lot, including United who, according to Son's agent, wanted the winger before he moved to Leverkusen in 2013.
However, any potential move would have to wait until the summer. The player is away with the national team for nearly all of January, and would be ineligible for the Champions League having played in the competition already. Not that that would put United off.
As for his 'Sonaldo' tag, the player himself approves. "I am delighted with this nickname because Cristiano Ronaldo is my role model," purred the forward after netting twice against Zenit in the Champions League earlier this season.
Strengths
Speed has always been Son's greatest asset. Comparisons with the world's greatest players may be a little premature, but his pace is one similarity he shares with Cristiano & Co. Emir Spahic's goal against Nürnberg in April was purely down to Son's 80m sprint from his own half (below), in which he passed two defenders before squaring across goal unselfishly for the Bosnian defender to finish. And that's just one example.
Son's other main attribute is his finishing, which can range from drills across the keeper from 15 yards to long-range rockets like the one scored against Borussia Mönchengladbach. Before this season many of his goals had come from cutting inside from the left, but this season the 22-year-old has started almost exclusively on the left wing.
The young Korean is versatile, though, and can play anywhere across the front line. At Hamburg he was sometimes used as a centre-forward, but Kiessling's presence at Leverkusen means he's now started wide more often than not. "I don't care where I play," Son revealed last summer. "The main thing is I'm in the game. I can play as a second striker or behind. What the coach says, I'll do. I don't have a favourite position; I'll be anywhere and always on the throttle."
Weaknesses
Son's tackling leaves a lot to be desired – he's successfully completed just 34% of his efforts this season, and committed as many fouls as he's suffered (19). One of the other regular weaknesses of a young winger is their aerial ability. Son's isn't awful, having won half of his attempted duels in the air so far this campaign, but at 6ft that's perhaps to be expected.
They said…
In March 2013, German legend Franz Beckenbauer expressed his admiration for the South Korean forward to the Hamburger Morgenpost: "He is superb player. I really like the way he plays: fast and dynamic. He not only scores goals, but also makes beautiful goals." There are worse people to impress.
Did you know?
Son's successful year has been rewarded by being named Korea Football Association's Footballer of the Year by 200 journalists and officials for the second year running. Meanwhile, he was voted as the Best Footballer in Asia for 2014 by China's biggest sports journal Titan Sports.
He's also a good egg, and wants to establish a foundation for young people in South Korea on the back of 304 deaths in April's MV Sewol ferry disaster. "I want to make children who are not as fortunate as me happy," he said recently.
TALENTSPOTTER RATINGS
Shooting 9
Heading 4
Passing 7
Tackling 5
Pace 9
Dribbling 8
Creativity 7
Work-rate 8
What happens next?
This month's Asian Cup in Australia is another chance for Son to prove his value, with South Korea battling for their first win in the tournament since 1960 against the likes of Japan, Australia and Iran. A good showing should help further raise his profile.
The Korean's next move isn't expected for a while yet − he's contracted to summer 2018 − but at this rate he'll likely have his pick of who to join when the time comes. Bayern Munich have been linked in the past, and the lure of staying in Germany may prove strong. Son, however, has declared his focus on continuing his form into the second half of the Bundesliga season, and refuses to get ahead of himself. Right now that seems the best approach.
Thank you for reading 5 articles this month* Join now for unlimited access
Enjoy your first month for just £1 / $1 / €1
*Read 5 free articles per month without a subscription
Join now for unlimited access
Try first month for just £1 / $1 / €1