Meet the talented midfielder who looks set to replace Gündogan at Dortmund
By Alex Chaffer
Johannes Geis is on the verge of finalising a reunion with former boss Thomas Tuchel at the Westfalenstadion according to reports in Germany, and Alex Chaffer says the 21-year-old will make for a welcome addition...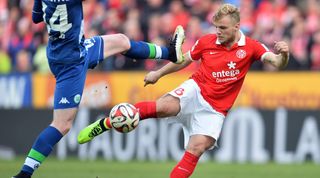 The 60-second story
FACT FILE
Date of birth: August 17, 1993
Place of birth: Schweinfurt, Germany
Height: 5ft 9in
Position: Defensive midfielder
Current club: Mainz 05 (69 apps, 6 goals)
Former club(s): Greuther Furth (17 apps, 1 goal)
International: Germany U21s (10 caps, 0 goals)
The holding midfielder is often a player whose talents go largely unrecognised – the names of goalscorers or wingers who provide entertainment at the sharp end are those commonly caterwauled by fans, commentators and media alike.
But one of the Bundesliga's best, and among the rare few having his name sung, is Johannes Geis – another Bundesliga (and German) youth product to have emerged with one of the league's 'hipster' teams in Mainz.
Geis moved to nearby Oberstreu as a young child (population: 1,533) and subsequently joined his new hometown club of TSV Obserstreu. Jumping between youth (TSV) teams, 'Geisi' ended up at Greuther Fürth aged 15 in 2008, and was part of the squad which lasted just one season in the Bundesliga in 2012/13.
He featured eight times from matchday 23 onwards, scoring a scorching effort in the Frankenderby against FC Nürnberg and earning a move to Thomas Tuchel's Mainz, costing just under €1 million.
Having initially established himself as a vital component in Mainz's midfield under Borussia Dortmund's new manager, Geis has been earmarked in Germany as a future star of the league.
He's certainly got the swagger, and soon the set-piece specialist could be living his dream of playing Champions League football with a top European club – although he may have to wait another season at least, with reports suggesting a deal to re-join Tuchel at Borussia Dortmund this summer has been already agreed.
Why you need to know him
Starting in a double pivot position with Mainz, Geis has demonstrated excellent distribution and defensive skills every week. Intercepting, tackling and initiating new attacks has Geis fitting the mould of a quiet player who goes about his business with assured composure.
However, the young man has more than that at his disposal. Twenty of Mainz's 43 Bundesliga goals this season have come from set-piece situations, with Geis – taking free-kicks and corners – the conductor.
Despite having only four assists to his name this season, he causes constant problems. Stefan Bell's brace against Schalke at the end of April both came from corners, and Geis – since Toni Kroos's exit to Spain – has been unofficially crowned the Bundesliga's best corner-taker.
Geis is also one of the best distributers in a pass-happy league – only Wolfsburg's terrific Kevin De Bruyne has registered more key passes (82) than Geis's 67 this season.
The 21-year-old is also comfortable halting attacks in front of his defence. Sitting alongside fellow box-to-box man Julian Baumgartlinger for the majority of the season, Geis's work-rate remains high – something that's bound to endear him to Dortmund's Südtribüne if his move materialises.
Strengths
Geis's ability to play long balls behind defences into a striker's feet, or wide for Mainz's tricky wingers, has been on show all season. He's an accomplished defender too, and a set-piece master – only Bayer Leverkusen's Hakan Calhanoglu and Werder Bremen dead-ball don Zlatko Junuzovic have scored more free-kicks this season. Geis is also a born leader, and has already declared his desire to be a captain. "It's wrong to hide yourself from being a leader," he declared. "So yeah, in the future I'd love to be a captain."
Weaknesses
According to the man himself, his only significant weakness is his lack of goals. "I want to start scoring more. As a defensive midfielder it's more difficult, but I feel it's an important part of my game to improve."
This, despite scoring one of the goals of the season (below) – the 10th of a bonkers German Cup clash against third-tier Chemnitzer in the last minute of extra time. The game finished 5-5 (after the plucky underdogs had taken a 119th-minute lead), but Mainz were beaten on penalties.
They said…
Back in May 2014, Tuchel was outraged to see Geis not called up for what turned into the World Cup-winning Germany squad. "He's had a fantastic season for us and his age shouldn't matter," his boss huffed.
Joachim Löw has stated that he will be watching Germany's Under-21 team closely at this summer's European Championship, and Geis is expected to play a key role in the midfield. "It's always exciting to watch our next generation, and this is a great team," said the Mannschaft chief.
More recently, Mainz general manager Christian Heidel insisted there was no easy way for a club to snap up his side's gleaming jewel this summer. "Normally I don't talk about contractual terms," ​​he said, "but because now and again I hear [things] from all sides and it annoys me slowly. I want to make one thing clear here again: There is no exit clause in our contract with Geis."
Did you know?
Geis is the superstitious type when it comes to preparing for games. In an interview with Allgemeine Zeitung, he revealed the secrets of his pre-match preparations. "Before a game I always get dressed the same way," he said. "First the right, then the left shoe. Then the right arm and left arm of my shirt."
TALENTSPOTTER RATINGS
Shooting 8
Heading 6
Passing 9
Tackling 7
Pace 7
Dribbling 7
Creativity 8
Work-rate 7
What happens next?
The rumours have now become solid reports that Geis is set for a reunion with former head coach Tuchel at Borussia Dortmund; a fee of €12m touted. With Ilkay Gündogan set to move on to pastures new this summer, the 21-year-old is seen as the perfect replacement for a new-look Schwarzgelben side.
Geis speaks little English too, so for now a move up the ranks in Germany looks much more likely than a venture to the Premier League anytime soon. Either way, German fans continue to rub their hands with glee as yet another young talent continues his development in all the right ways.
Get the inside track on football's hottest prospects at FFT.com
Quizzes, features and footballing fun
Get the best features, fun and footballing frolics straight to your inbox every week.
Thank you for signing up to Four Four Two. You will receive a verification email shortly.
There was a problem. Please refresh the page and try again.