Michael Owen exclusive: 'I cried when I left Liverpool and wanted to come back'
Michael Owen has told FourFourTwo that he left Liverpool in tears while heading for the airport to complete a move to Real Madrid.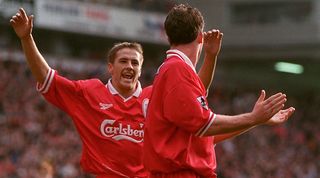 The former Reds and England striker joined the La Liga giants for £8 million in the summer of 2004, having scored 158 goals in 297 games for the Merseyside club.
His time at the Santiago Bernabeu was much less successful, however: Owen lasted only one season in which he scored 16 goals in 45 games for Madrid.
The former striker has admitted that he was heartbroken to leave the club where he started his career, and recalled his emotional journey to Real Madrid.
Speaking about that 2004 summer transfer window in the latest issue of FourFourTwo magazine, he said: "The last thing I thought was that I was going to leave Liverpool.
"Eventually I agreed. But do you know when you sign something and think there's no going back? I remember crying my eyes out as I went off to the airport thinking 'What am I leaving behind?'"
OUT NOW Sterling exclusive, Arctic Circle derby, inside Lazio's ultras and much more
Owen also revealed that his room-mate Jamie Carragher tried desperately hard to stop him from leaving Liverpool, and that the former Reds defender told him that he'd rarely play at the Bernabeu.
"We were on a pre-season tour in America and my agent phoned me while I was in my room with Carragher, who got wind of what we were talking about,'' said Owen.
"I put down the phone and he said, 'Pfft, don't go. They've got Raul, Ronaldo and Fernando Morientes - you won't get a game.'"
Despite returning to the Premier League and representing Newcastle United, Manchester United and Stoke City before retiring, Owen admitted that he wanted a return to Liverpool - even before he'd left Anfield in the first place.
"I just had this overriding feeling towards it. I thought 'if I do go, then I've already played for Liverpool for a long time and, hopefully, I could always come back'.
"I had to go and sample it - the Galacticos, that white kit, where everyone prances about like an angel, that amazing stadium, a different culture."
During his time in Merseyside, Owen won the FA Cup, League Cup, UEFA Cup, Community Shield and UEFA Cup in 2001 with the Reds, alongside another League Cup triumph in 2003.
The Englishman also picked up the Ballon d'Or 18 years ago, becoming the last Englishman to pick up the coveted award for the world's best player.
Read the full interview with Michael Owen in the Autumn 2019 issue (opens in new tab) of FourFourTwo magazine, out in shops and available digitally now. We also chat to Raheem Sterling, meet Lazio's ultras, discover how to make Real Madrid and Barcelona great again, catch up with Ronald de Boer and much, much more. You don't want to miss it.
SUBSCRIBE TODAY! (opens in new tab) £9.50 FOR 3 MONTHS
Thank you for reading 5 articles this month* Join now for unlimited access
Enjoy your first month for just £1 / $1 / €1
*Read 5 free articles per month without a subscription
Join now for unlimited access
Try first month for just £1 / $1 / €1