10 players who contradicted themselves with their transfer moves
Sometimes, just saying nothing works out best for everyone concerned – as these players who went against their word soon found out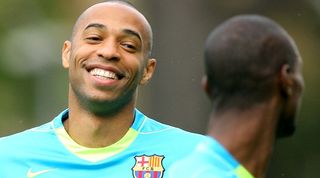 We're yet to encounter such a situation this summer, but don't worry: there's still time for ham-fisted statements and awkward U-turns. 
The players below wish they'd kept their mouths shut in the first place...
Gael Clichy
The former Arsenal left-back stood by and watched as team-mates Kolo Toure and Emmanuel Adebayor – among other big players such as Yaya Toure and Carlos Tevez – joined Manchester City in summer 2009. Nonplussed, Clichy even went on record saying that only cash-hungry players would go to the Etihad Stadium. 
"I really believe that if you're a player who thinks only about money, then you could end up at Manchester City," he declared. "You have to think if you want to play for a big club and have your image, or if you want to play for a good club and earn big money. When you ask someone to move for something like £300,000 a week it's just crazy."
We all know how this ends: Clichy joined City two years later – and immediately won the Premier League. Fair enough, really. 
Samuel Eto'o
Following a controversial clash in the Champions League last 16 between Barcelona and Chelsea in 2005, Eto'o let rip with his feelings about Blues boss Jose Mourinho.
''Never will I sign for a team trained by Mourinho," spat the Cameroonian. "He wrecked things completely with his behaviour surrounding the two games between our sides."
Before the match, Eto'o said that he'd "rather sell groundnuts in my village than to play for a pathetic team like Chelsea", and later confronted the Portuguese manager saying that he knew Mourinho was a great person and a great coach, but in truth, "was just a shit".
'Never' turned out to be quite off the mark: Eto'o signed for Mourinho's Inter in 2009 – winning a historic treble in his first season – before rejoining him at Chelsea in 2013. Ah. 
Alan Smith
Smith was among Leeds' best players when he categorically claimed that he would "never play for Manchester United". As fate would have it, though, Leeds were relegated from the Premier League for the first time in 2004, and Smith left his cash-strapped boyhood club by joining the Red Devils that summer.
Later on, it was revealed that Leeds engineered the move as they were facing administration, and United were the only club willing to pay Smith's transfer fee up front. In an interview with FourFourTwo years later, the former England man conceded: "I was young, naive and never thought that a) Man United would ever want me, and b) Leeds would sell me. Look how silly I was. Arguably the greatest club manager ever wanted me. How could I turn that down?"
To his credit, Smith also waived a substantial amount of money he was owed by Leeds from the transfer. "The last thing I wanted was to see them go bankrupt," he recalled.
Samir Nasri
Days before Arsenal's League Cup final clash with Birmingham City in 2011, Nasri put an end to speculation around his future. "One of the reasons I came to Arsenal was to win titles, and I'm not expecting to leave this club without one," the Frenchman quipped. 
Arsenal were flying high at the time and in the hunt for four trophies – notably, having beaten Barcelona 2-1 in the first leg of their last-16 Champions League tie a couple of days earlier.
However, it would turn into one of their infamous collapses: Arsene Wenger's side wound up losing to Birmingham in that final, getting knocked out of the FA Cup by Manchester United and suffering second-leg defeat against Barcelona. In the Premier League, they won only two of their last 11 games and finished fourth. 
That summer, Nasri joined Manchester City for £25m.  
Arturo Vidal
Life was good for Vidal in Turin. He had established himself as one of the best midfielders in the world, having won four consecutive league titles with Juventus and reached the Champions League final with the Bianconeri for the first time since 2003.
"The people in Turin love me, I am feeling very well here and my family is feeling right at home," he beamed. "Why should I have any desire to leave?"
Four months later, Vidal asked to do just that – for Bayern Munich, as confirmed by Juventus director general Giuseppe Marotta. 
NEXT: "I'd never go there," he said. Guess what happened next? 
Sol Campbell
When Tottenham captain Campbell's contract was expiring in the summer of 2001, he was linked with many clubs – most surprisingly of all, rivals Arsenal.
He was asked several times if he was leaving, to which he allegedly responded with: "I'm staying." It was even widely discussed that he'd outrightly declared that he wouldn't move to Highbury. "I think it would upset all the Spurs fans if I went to Arsenal, not that I am going to," Campbell is reported to have said. 
Campbell joined the Gunners for absolutely nothing that summer – unveiled to baffled reporters who had no idea he'd signed – but still maintains to this day that he never uttered the fateful words above. 
"Seriously, does anyone actually have a copy of that article? I'd love to see it," Campbell told FFTduring our 2014 sit-down. Nevertheless, Spurs fans have never forgiven the ex-England stopper.   
Neto
Formerly the first-choice goalkeeper of Fiorentina, the Brazilian's contract was expiring in the summer of 2015 and, having been linked with the likes of Liverpool, another team became a possible destination – the Viola's rivals Juventus. Neto seemed to have put these rumours to rest in late 2014.
"I'd never go there," said the net-minder. "My agent hasn't said anything, but above all I wouldn't go because that would be to betray the Viola fans."
July 3, 2015: Neto joins Juventus on a free transfer, where he'd play second fiddle to Gianluigi Buffon. After 11 league games in two seasons, he joined Valencia in 2017. 
Mats Hummels
Hummels wasn't too pleased when team-mate Mario Gotze made the switch from Borussia Dortmund to Bayern Munich in 2013.
"I don't understand Gotze's decision and I've told him just that," the defender sighed. "Everybody at Dortmund was surprised. Everybody can see how good our team has become. I simply don't believe that there were any sporting reasons to leave BVB."
Three years later, Hummels' words came back to bite: following in the footsteps of Gotze and Robert Lewandowski, he left Dortmund to rejoin his first club Bayern in a £30m transfer. Both he and Gotze are now back at Signal Iduna Park. 
Thierry Henry
Following Barcelona's Champions League victory over Arsenal in 2006, speculation was growing around Henry's future with the Gunners, amid links with a move to the Camp Nou.
"The club have the same ambitions as me. Regarding the recruitment in the summer, my confidence wasn't betrayed," said the Frenchman. "I am at Arsenal for life. I will not go to Barcelona."
Only he did. Following an injury-ravaged 2006/07 where the Gunners didn't come close to tickling a trophy, Henry took his chance to join Frank Rijkaard's Barça. Like many after him, he didn't regret it – three seasons produced two La Liga titles and a Champions League triumph as a member of Pep Guardiola's brilliant crop of 2008/09. 
SEE ALSO How 'washed-up' Henry achieved his brilliant Barça revival
Fabian Delph
With Aston Villa suffering another poor season in 2014/15, one of the bright spots was the form of captain Delph, who was attracting the interest of England's top clubs. A move to Manchester City in the summer seemed close to completion until Delph turned Manuel Pellegrini's side down.
"I'm aware there has been intense media speculation surrounding my future in the last 24 hours and I want to set the record straight," the Yorkshireman declared in a statement on Aston Villa's official website. "I'm not leaving. I'm staying at the football club and I can't wait for the start of the season and captaining this great football club."
A mere six days later, Delph performed a spectacular U-turn and joined City, much to poor Villans' chagrin. What a mess. 
While you're here, why not take advantage of our brilliant subscribers' offer? Get 5 issues of the world's greatest football magazine for £5 – the game's greatest stories and finest journalism direct to your door for less than a pint in London. Cheers!
NOW READ
QUIZ! How many of the 111 clubs that have played English league football this century can you name?
LIST 10 one-season wonders who flopped after landing a big transfer
Quizzes, features and footballing fun
Get the best features, fun and footballing frolics straight to your inbox every week.
Thank you for signing up to Four Four Two. You will receive a verification email shortly.
There was a problem. Please refresh the page and try again.