Spurs lose their cool: 4 big talking points from Tottenham 0-1 Palace
John Robertson donned his thermals to report back on a fifth-round FA Cup tie settled by an unlikely source...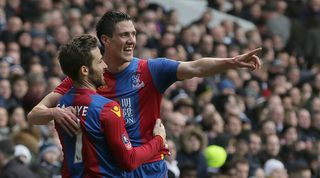 1. Pochettino's fringe men must show greater discipline
Striking options aside, squad depth is one of Tottenham's greatest strengths. The likes of Eric Dier, Dele Alli, Christian Eriksen and Nacer Chadli can play in a number of positions to a high level, while Josh Onomah, Kevin Wimmer, Ryan Mason and Nabil Bentaleb have shown that they are generally capable of covering when others are unavailable through ill health or suspension.
However, that doesn't mean that there aren't deficiencies to overcome as you start moving down the pecking order – particularly when the going gets tough.
With Spurs a goal behind to Crystal Palace and less than 30 minutes left on the clock, the high level of stray passing and low-percentage efforts on goal was startling for a team usually so disciplined and precise. Bentaleb and Onomah, in particular, struggled to keep their emotions in check and stick to the kind of pass-and-move patterns that have helped Mauricio Pochettino's team to so much success this term.
The Argentine will need to work out whether his second-string players are capable of harnessing the required level of mental strength to be relied upon as the season moves into crunch territory. With a title challenge in progress, and a run to the latter stages of the Europa League in their grasp, failure to employ a working strategy throughout an entire 90 minutes – no matter who is on the pitch – could be fatal.
2. Failure to score early continues to haunt Spurs
Despite boasting the best goal difference in the Premier League this season, and being the top flight's second-highest scorers, a lack of early goals continues to put Tottenham under undue pressure.
In their last seven league games the north Londoners have scored just one goal in the opening 30 minutes. Over their 12 games in 2016 they've netted just four in the opening third.
The problem isn't an inability to create chances, it's an inability to put them away. Pochettino's team might have impressive scoring numbers, but they don't convert as many as they should considering how formidable they are at getting the ball under possession within their opponent's box.
Harry Kane's best opportunity to score against Palace came from a direct free-kick that Wayne Hennessey did well to save, and 19-year-old Alli can claim to be unlucky having seen a shot hit both posts and roll across the line. Being unlucky in one instance, though, doesn't hide the fact that chances are often wasted.
Tottenham have more important games coming up – and this is a flaw that must be quickly addressed.
3. Palace have learned from previous lessons
Tottenham had beaten Crystal Palace in both of their league meetings this season, scoring four and conceding just one in the process (Jan Vertonghen's own goal).
In each of those games Palace were pushed back into their own half consistently, not only thanks to Spurs' insistence on attacking but also because of Alan Pardew's decision to have his full-backs sit deep.
Presumably the idea is that these players work to cut out any potential wide threat from Spurs, but the result was to encourage the likes of Danny Rose and Kyle Walker to take advantage of the space in front of them.
On Sunday, however, Martin Kelly and Joel Ward made a deliberate point of attacking more frequently – and it paid off. Combined with the ever-present threats of Wilfried Zaha and Jordon Mutch in wide positions, it made life difficult for Rose and Walker and forced them to track back more often than they probably thought they'd have to do.
Emmanuel Adebayor's presence in the team helped in this regard, too. While the former Spurs man provided little in terms of creating or finishing chances, the Togolese did a fine job of holding up the ball and laying it off to his onrushing team-mates out wide. This allowed Palace to release the pressure of Spurs attacks by clearing the ball long, safe in the knowledge there would be a good chance that the ball wouldn't just immediately return.
4. Full-back depth might be strength, but Rose needs consistency
Pochettino's decision to rotate pairs of full-backs between games has raised eyebrows, but it has been one of his most successful tricks this season. With his forward players typically playing a very narrow line, it often falls on the full-backs to provide width for the majority of games.
As such, no one has to work harder in a Pochettino team than these players, and thus it makes sense to rest them whenever possible. The blessing comes in having four players of first-team quality in these positions, which in turn means performances aren't often affected.
With Kieran Trippier and Ben Davies playing in Thursday night's Europa League game against Fiorentina, it was Rose and Walker's turns to play here. Palace's gameplan might have meant that the duo had more than usual to worry about, but for the most part the pair performed their jobs as well as we've come to expect.
FA CUP DRAW
Not everything was perfect, however. Zaha comfortably beat Rose in the league match in January, and the story was similar here. Back in the first game it was Rose letting Zaha get free which eventually led to Vertonghen's own goal, and here it was a befuddled Rose who allowed Zaha to play the pass into Kelly for the game's only goal.
Rose might be able to deal with the majority of situations that he faces, but it will surely worry Pochettino that his full-back hasn't managed to learn lessons from a recent game in which he has been run ragged.
Quizzes, features and footballing fun
Get the best features, fun and footballing frolics straight to your inbox every week.
Thank you for signing up to Four Four Two. You will receive a verification email shortly.
There was a problem. Please refresh the page and try again.