9 sets of team-mates who absolutely hated each other
These feuding colleagues from footballing history aptly demonstrated their hatred of one another - and made no attempts of hiding it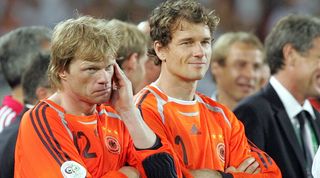 When it comes to team-mates, it would be fair to assume the majority of footballers get on with one another, or at least tolerate the players they share a dressing room with.
However, on rare occasions this isn't the case, with some team-mates actively disliking each other to such an extent whereby they refuse to talk to each other at all, such is their hatred of each other.
While their hatred runs deep, though, for the most part it did nothing to stop them performing together at the elite level on the pitch, their respect for footballing ability clear there. With that being said, here are nine sets of team-mates who hated each other.
1. Emlyn Hughes vs Tommy Smith (Liverpool)
'Crazy Horse' Hughes took the captaincy off 'Iron Man' Smith in 1973 when the latter fell out with Bill Shankly. "It was my club," Smith later recalled. "I'd been there a damn sight longer than him. Everything in my life was football, especially Liverpool, so why should I let this two-faced little so-and-so spoil my football life?"
Both were consummate professionals on the pitch, however, and able to put aside their personal dislike of each other - although when Ron Harris took Hughes out in a game at Anfield, Smith told him: "I could get to like you."
2. Zlatan Ibrahimovic vs Rafael Van der Vaart (Ajax)
The Ajax team-mates locked horns in an international friendly between Sweden and the Netherlands in 2004, when Van der Vaart held Ibrahimovic responsible for the ankle injury he sustained.
"I didn't injure you on purpose, and you know that," Ibra retorted. "And if you accuse me again I'll break both your legs - and that time it will be on purpose." Charming.
3. Teddy Sheringham vs Andy Cole (Manchester United/England)
"I walked onto the pitch, 60,000 or so watching," Cole recalled of his England debut against Uruguay in 1995. "Sheringham is coming off. I expect a brief handshake, a 'Good luck, Coley', something. I'm ready to shake. He snubs me. He actively snubs me, for no reason I was ever aware of then or since."
From that moment on the pair never said a word to one another off the pitch, despite a decent chemistry on it. As Gary Pallister once remarked to Cole: "I know you don't speak to Teddy and he doesn't speak to you, but at least you play well together." Just count the medals, lads.
4. Lothar Matthaus vs Stefan Effenberg (Bayern Munich/Germany)
The warring midfielders were at each other's throats for most of the 1990s, briefly at Bayern Munich but particularly with the national team. Effenberg claimed Matthaus lacked courage, citing the captain's failure to take Germany's penalty in the 1990 World Cup Final, while Matthaus wasted little time in telling Bayern to get rid of his old foe after the Bavarians lost to Hansa Rostock in 2001.
Effenberg even dedicated a chapter of his autobiography to his arch-enemy, which consisted of a blank page under the title: "What Lothar Matthaus knows about football."
5. Mauro Icardi vs Maxi Lopez (Sampdoria)
Icardi and Lopez used to be best buddies at Sampdoria, but the relationship turned sour when the former decided to marry the latter's ex-wife, Wanda Nara (that'll do it). Icardi joined Inter soon after, with Lopez refusing to shake his former friend's hand when Torino - who the ex-Barcelona man joined in 2015 - faced the Nerazzurri.
"Unfortunately these things happen, it depends on the ignorance of certain people," Icardi said afterwards. "I gave my hand; I am polite." His brief attempt to take the moral high ground was quickly undone when he got a tattoo of Lopez's children on his arm. Not cool.
6. Ruud van Nistelrooy vs Patrick Kluivert (Netherlands)
Kluivert certainly enjoyed Newcastle's nightlife during his time on Tyneside in 2004, with the stay-at-home and sober Van Nistelrooy left unimpressed with his team-mate's attitude when the two joined forces at international level.
Kluivert was spotted at a rave in Amsterdam after the first leg of the Euro 2004 play-off against Scotland, prompting the Manchester United star to go on record with a thinly-veiled attack on his strike partner. "I can't do it all myself," he told reporters. "I can't be the only Dutch player who closes down and leads from the front."
Dick Advocaat did his best to make things work, but it wasn't to be.
7. John Fashanu vs Lawrie Sanchez (Wimbledon)
A ferocious team spirit helped the Dons defeat Liverpool in one of the biggest FA Cup final shocks of all time in 1988, but behind the scenes Fashanu and Sanchez were at loggerheads. The two even squared off during a training session, when Fash hit the cup final goalscorer with "a shot that would supposedly knock a horse down".
"From the first moment, he knew what I was and I knew what he was," Sanchez said scathingly. When Fashanu was asked if he had any regrets, he mused: "Not striking Lawrie Sanchez sooner."
8. Jens Lehmann vs Oliver Kahn (Germany)
The two custodians were constantly sniping at each other from near and far over Germany's No.1 shirt; Kahn made fun of Lehmann when he lost his place to Manuel Almunia at Arsenal, while Lehmann retorted that the Bayern Munich shot-stopper took himself too seriously.
"I don't have a 24-year-old girlfriend. I have a different life," the Arsenal man said of Kahn's relationship with a Munich barmaid. Nothing that a bout of fisticuffs at Oktoberfest wouldn't sort out.
As an aside, Lehmann didn't much get on with Almunia either; forever annoyed at his displacement in Arsenal's first XI. "To have someone here who hates me is just amazing," a baffled Spaniard once admitted. "I know he hates me.
"Every morning I wake up I know it's going to be the same. I've had to put up with it every day since he was out of the team and even before then. I wake up and I know what it's going to be like. But I don't care about him any more. He can say what he likes."
9. Romario vs Edmundo (Vasco Da Gama/Brazil)
Fans called it the "attack of dreams" when the two Brazilian bad boys were partnership at Vasco Da Gama in 1999, but it turned out to be a gigantic clash of egos instead. Not that anyone could have seen it coming; after all, it wasn't as if Romario had once opined that "when I was born, the man in the sky pointed to me and said, 'That's the guy'."
Neither liked the pain of training, preferring to play foot volleyball on Rio's luscious beaches instead. The duo's friendship ended in 1998, when Romario posted a cartoon of Edmundo sitting on a deflated football on the entrance to a toilet, with a similarly unflattering depiction of his ex-girlfriend on the opposite door.
Thank you for reading 5 articles this month* Join now for unlimited access
Enjoy your first month for just £1 / $1 / €1
*Read 5 free articles per month without a subscription
Join now for unlimited access
Try first month for just £1 / $1 / €1