Top 10 bizarre penalties: passes, punishments and premature celebrations
Tim Ellis picks out some of the strangest ever spot-kicks, from Lionel Messi's pan-faced audacity to the one that was retaken SIX times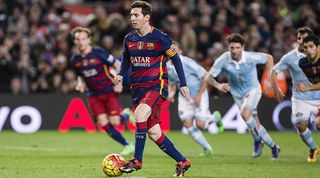 1. Look behind you in the game of thrones
FAR Rabat and Maghreb Fez's last 16 tie in the 2010 Moroccan Throne Cup went to a penalty shoot-out. After pushing away a spot-kick from Ali Benaamar, Rabat keeper Khalid Askri turned to the crowd and kissed the club's badge, too busy grandstanding to notice that the ball had spun backwards and into the unguarded net.
Maghreb won the penalty shoot-out 7-6 and, still reeling from his nightmare a few weeks later, Askri cemented his tag as 'the unluckiest goalkeeper in the world' when an embarrassing piece of (mis)control led to his side conceding. Still, it wasn't all bad news.
"These videos made me very well-known," he later reflected. "It was because of them that I had lots of goalkeepers from all around the world calling me to show their support, even [Gianluigi] Buffon." Never dismiss the power of the goalkeepers' union.
2. Six and out, says referee
Tunisia's 2004 Olympic campaign finished off in memorable fashion, when they were forced to take the same penalty no less than six times in a 3-2 group stage win over Serbia and Montenegro.
The Eagles of Carthage were awarded the spot-kick in the dying embers of the match, which Mohamed Jedidi stroked confidently into the corner. However, referee Charles Ariiotima ordered the penalty to be retaken twice more after Tunisian players invaded the area, before Jedidi then had his fourth kick saved by Serbian keeper Nikola Milojevic.
Yet the fun wasn't over there. Ariiotima penalised Serbian players who had drifted into the box, and called them out again on the fifth attempt, as Milojevic saved again. Are you still following?
Jedidi held his nerve to convert the sixth kick, which was deemed legal. After all of that drama, neither side managed to reach the quarter-finals - probably because they were too exhausted.
3. Vietnamese team turn to mannequins
In a deadlocked V-League game between Ho Chi Minh City and Long An, events took a sinister turn when the referee awarded a penalty to the hosts in the 90th minute. Long An goalkeeper Nguyen Minh Nhut was so incensed with the decision that he turned his back on the spot-kick before it hit the net.
The keeper then somersaulted over the ball to deliberately concede again from the restart, while his team-mates were equally rooted to the spot as Ho Chi Minh walked in another goal unchallenged to win 5-2 and leave their opponents bottom of the table.
Minh Nhut and Huynh Quang Thanh received two-year playing bans for their involvement in Long An's statuesque performance, while the team's coach and chairman were suspended for three years. Ouch.
4. Rafa isn't cheesed off by pen being chalked off
With Newcastle contesting a tight game against Burton as they pushed for the Championship title last term, referee Keith Stroud decided to make their life more difficult. Matt Ritchie stepped up to score from 12 yards at St James' Park, but Stroud awarded a free-kick to Burton when Dwight Gayle encroached in the area.
It was the wrong decision: the penalty should have been re-taken, but the officials didn't seem to know the rules.
"Unfortunately, the referee has misapplied the law," a PGMOL statement read. "Keith and his team are understandably upset at the lapse in concentration and apologise for the mistake."
Rafa Benitez, ever the pragmatist, insisted that his side kept their concentration and set about defending the free-kick. Fair play. His side did eventually win the match 1-0, no thanks to the officials.
5. Messi and Suarez make Celta catatonic
Lionel Messi and Luis Suarez were accused of lacking respect for Celta Vigo when the duo teamed up to score a penalty in Barcelona's 6-1 victory in February 2016. With the Catalans 3-1 up, Messi rolled his spot-kick to the Uruguayan, who burst into the box to score past bemused keeper Sergio Alvarez.
"There will be those who like it and those who don't," Enrique told reporters afterwards. "As well as winning titles, here we try to entertain people and win in a spectacular and sporting manner."
At least the move worked, which is more than can be said of Robert Pires and Thierry Henry's attempt in 2005.
6. The five-day penalty
England's U19 women's side were trailing Norway 2-1 in Belfast when they were awarded a penalty with seconds remaining. Leah Williamson coolly scored, only for German official Marija Kurtes to disallow the goal for encroachment and, wrongly, award a free-kick to the Scandinavians.
Five days later, Williamson, England and Norway returned to the scene of the crime with a new referee as UEFA ordered the last remnants of the match to be played with the kick taken again. Williamson scored in front of barely 100 spectators gathered in eerie silence, which was pierced by her scream of delight. Norway barely had time to restart, as England finished top of the group to seal Euro qualification.
The midfielder admitted she had a plan to tackle the pre-match nerves: "I went for a sleep. There was nothing else to do. I was pacing around last night, so I didn't want to do that again."
7. Liverpool legend takes a penalty... for Everton
Jamie Carragher's testimonial ended with a politically correct 4-1 win over Everton in September 2010, but not before the defender had achieved a lifelong dream. When the Toffees were awarded a penalty at the Anfield Road End, the the ex-England international rushed past Yakubu to knock the ball past an amused Brad Jones.
Carragher left the pitch to rapturous applause from both sets of fans and explained: "As an Everton fan as a kid, I've always dreamed about scoring against Liverpool so that is why I did that."
It probably makes up for those two own goals against Manchester United in 1999, Carra.
8) The legend of Scott Sterling
In a student galaxy far, far away, the Yale Bulldogs and the North Carolina Tar Heels "tied" at 2-2, resulting in a penalty shoot-out. Yale's keeper, Scott Sterling, became an instant internet hero when he saved all five penalty kicks. With his face.
Yet this wasn't what it seemed. As the trainer is sent on to tend to the dazed custodian, it becomes clear that this is in fact a parody video. And a very popular one at that: produced by Studio C, the clip amassed 10 million views in 10 days - although producer Jared Shores still gets asked if the video is genuine.
"It's interesting to see lots of people be like, 'Is this real or is it totally fake?' And we're like, 'Yeah, of course it's fake. We kind of write all our sketches with this 'what-if' mentality. What if someone got hit in the face five times on accident? What would that look like?"
9. Triple espresso goalkeeping repels Rennes
Goalkeeper Jean-Francois Bedenik must have been tempted to buy a lottery ticket after making an amazing triple save from a penalty in Vannes OC's 3-0 win over TA Rennes in October.
An opponent's penalty kick initially strikes the post and then bounces off Bedenik's back, before he shows cat-like reflexes to keep out the follow-up shots. Funny things happen down in the fifth tier of French football.
10. Stay on the white line
In a 2012 Bolivian top-tier encounter, keeper Carlos Arias of Oriente Petrolero saved two spot-kicks in vain as he was penalised twice by the referee for stepping forward from his line.
Taker Jose Gabriel Rios must have been relieved to hand penalty duties to team-mate Frontan for the next one, but Arias kept that one out as well. In fairness, he was even more advanced from his line than Jerzy Dudek in Istanbul, but the referee probably couldn't be bothered anymore.
Now read...
Thank you for reading 5 articles this month* Join now for unlimited access
Enjoy your first month for just £1 / $1 / €1
*Read 5 free articles per month without a subscription
Join now for unlimited access
Try first month for just £1 / $1 / €1