What if football personalities did The Apprentice? FourFourTwo imagines…
It's that time of year again: when over-confident clots compete in business battles, as Lord Sugar – scarcely able to conceal his crushing boredom – looks on. Chas Newkey-Burden imagines what would happen if football folk joined the fray...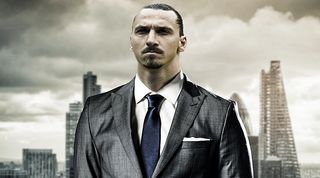 Harry Kane
The archetypal underestimated candidate. At the start, everyone assumes he's a bit dim but he turns out to be a shrewd, lethal operator.
Graeme Le Saux
Would be the posh, well-educated candidate who Lord Sugar particularly relishes nailing to the wall in the boardroom.
Arsene Wenger
The Gunners boss would absolutely romp home in the shopping round, when candidates have to buy everything on a list as cheaply as possible. He would ultimately finish fourth, treating the outcome as a significant triumph.
Zlatan Ibrahimovic
The self-assured striker would be in his element in the opening episode, when the candidates introduce themselves with un-self-aware, arrogant brags. "I can't help but laugh at how perfect I am," he'd say to the camera. Then, leaving the boardroom following his eventual firing, he would sniff: "I came like a hero, left like a legend."
Terry Venables
Would fall out bitterly with Lord Sugar, sparking years of litigation.
Jack Wilshere
The pint-sized midfielder would miss most of the tasks after being rushed to hospital with a sprained ankle. Would eventually stumble into the boardroom, slurring about the opposing team: "What d'ya fink of Synergy?"
Jose Mourinho
Task one: winner. Task two: winner. Task three: fired.
Joey Barton
The motor-mouth would court controversy and generally fall out with everyone, like a slightly more masculine Katie Hopkins.
Sol Campbell
Would swap sides mid-task.
Andy Gray
The disgraced broadcaster would particularly relish the early stages when men and women are kept apart in separate teams. However, he would ultimately be fired after verbally abusing Karren Brady.
Karren Brady
Would be Karren Brady.
Louis van Gaal
The Dutchman would be one of the candidates who volunteer with suicidal arrogance to be team captain in the first week. Despite mounting a monstrously haughty defence of himself in the boardroom, King Louis would be nailed on to be fired at the first hurdle.
Mark Noble
The one at the back you didn't notice until week six, who is then fired for not contributing enough.
John Terry
Would keep turning up each week, even after he'd been fired.
Harry Redknapp
A brilliant candidate, wheeling and dealing his way through week after week, but in the interview round would furiously storm off after one of Lord Sugar's quizzical brutes describes him as said "wheeler dealer".
Sam Allardyce
Back at the house, Big Sam would neck a pint of wine and then give an indiscreet VT interview to the producers. On the You're Fired spin-off show, he'd complain that "entrapment has won".
More funny stuff • More features you'd like on FourFourTwo.com
Thank you for reading 5 articles this month* Join now for unlimited access
Enjoy your first month for just £1 / $1 / €1
*Read 5 free articles per month without a subscription
Join now for unlimited access
Try first month for just £1 / $1 / €1
Get FourFourTwo Newsletter
The best features, fun and footballing quizzes, straight to your inbox every week.