Who is Denmark's first-choice penalty taker?
Christian Eriksen missed his first international penalty but has been flawless ever since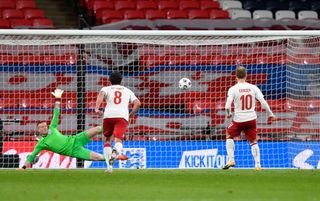 (Image credit: Getty)
It's scarcely believable how much has changed in Christian Eriksen's life since he suffered a cardiac arrest on the pitch in Denmark (opens in new tab)'s opening game of Euro 2020.
The whole football world was shocked at seeing a supremely fit player, in the prime of his career, experience such a sudden and unexpected collapse.
The seriousness of what had happened was immediately apparent to players and officials, with medical support rushed onto the field of play.
Cardiopulmonary resuscitation and defibrillation were performed on Eriksen, who was stretchered off and taken to hospital with many fearing the worst.
Fortunately, positive updates soon arrived and Eriksen was discharged less than a week later after having an implantable cardioverter defibrillator fitted.
While the playmaker focused on his recovery, Denmark proceeded to reach the semi-finals in his absence, eventually losing to England (opens in new tab) in extra time.
There were understandable concerns that Eriksen might never play professional football again, but he joined Brentford (opens in new tab) in January and had an immediate impact.
His quality was clear for all to see as the Bees enjoyed an upturn in form that helped them pull clear of relegation trouble.
They won five out of six games, including a 4-1 thrashing of Chelsea (opens in new tab) at Stamford Bridge where Eriksen was on the scoresheet for the first time.
After proving that he could still play at the highest level, unaffected by last summer's traumatic events, the 30-year-old secured a move to Manchester United (opens in new tab) on a free transfer.
He has been a regular so far under Erik ten Hag as the Red Devils have improved since losing his first two games in charge.
Eriksen also returned to the Denmark squad in March, coming off the bench to score against the Netherlands (opens in new tab) in his first game back.
He will assume penalty-taking duties once more, with a record of 12 goals from 13 attempts for his country.
Thank you for reading 5 articles this month* Join now for unlimited access
Enjoy your first month for just £1 / $1 / €1
*Read 5 free articles per month without a subscription
Join now for unlimited access
Try first month for just £1 / $1 / €1