Lens chief predicts Dindane exit
Lens striker Aruna Dindane is set to leave the Ligue 1 outfit this summer, according to club president Gervais Martel.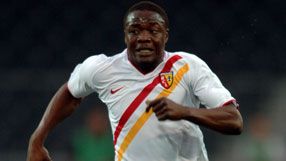 The 28-year-old has netted 25 goals in 90 league appearances for the club - who won promotion from Ligue 1 last season - since arriving from Anderlecht in 2005.
He is now believed to be interesting a string of Premier League sides, including Arsenal, Tottenham Hotspur, Aston Villa and Stoke, as well as French giants Marseille and Paris Saint-Germain.
And with Dindane's prospective buyers thought to be ready to part with £8 million for the forward's services, Lens president Martel has admitted he expects the Ivory Coast international - who has netted 14 times in 40 games for the Elephants - to move on during the close-season.
"Aruna Dindane is a world class player, there are clubs abroad interested in him," he told Sport10.
"I think he will leave and join a foreign club. It is sad because many French clubs can't afford him."
Thank you for reading 5 articles this month* Join now for unlimited access
Enjoy your first month for just £1 / $1 / €1
*Read 5 free articles per month without a subscription
Join now for unlimited access
Try first month for just £1 / $1 / €1