WATCH: Robert Lewandowski sees his penalty saved in dramatic circumstances at World Cup 2022
Robert Lewandowski has never scored a World Cup goal – and he still hasn't, as he's denied by Guillermo Ochoa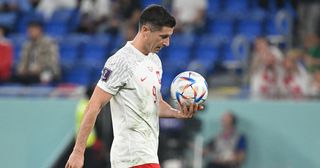 (Image credit: ANDREJ ISAKOVIC/AFP via Getty Images)
World Cup 2022 drama continues, with Robert Lewandowski fluffing his lines from 12 yards.
Poland were awarded a controversial penalty as the hour mark approached, with Lewandowski deemed by the video assistant to have been dragged to the ground in the area, following what looked to be a 50-50 tussle. The Barcelona striker stepped up for the resulting spot-kick, puffed out his cheeks and it looked like Poland were strolling into a 1-0 lead.
But legendary Mexico goalkeeper Guillermo Ochoa, appearing in his fifth World Cup, dived to his left to meet the ball – which in fairness, was not well-struck from Lewan-goal-ski.
OH MY WORD.Robert Lewandowski's penalty was saved! 😱He still does not have a goal in the competition! #BBCFootball #BBCWorldCup pic.twitter.com/M0pEaAhz5QNovember 22, 2022
Noise levels within Stadium 974 – the shipping container-built venue which has been said to be "wobbling" in the atmosphere – have reached 95 decibels, with swathes of Mexico fans going wild for their side. Despite this, there weren't many chances at goal for either side in the first half, as both sides felt each other out.
Indeed, the stakes have increased for both these sides following the day's earlier result. Saudi Arabia's unlikely 2-1 win over Argentina means that both Mexico and Poland will have be vying against the Middle Eastern nation for a place in the knockout rounds when perhaps the Saudis were thought to be the whipping boys of the group.
✅ 2006✅ 2010✅ 2014✅ 2018⏳ 2022Guillermo Ochoa is about to play in his fifth World Cup 💪🇲🇽 pic.twitter.com/x5AotqZiP7November 22, 2022
Lewandowski is still without a goal at the World Cup. The 33-year-old is Poland's all-time leading scorer with 76 goals but made his World Cup debut four years ago in Russia and didn't manage to net at all.
The Poles' only victory at that tournament came against Japan, where Jan Bednarek got the winner. Perhaps they should have put him on penalty duty for this one…
Thank you for reading 5 articles this month* Join now for unlimited access
Enjoy your first month for just £1 / $1 / €1
*Read 5 free articles per month without a subscription
Join now for unlimited access
Try first month for just £1 / $1 / €1