World Cup 2022's Stadium 974 is "wobbling" as Mexico take on Poland
World Cup 2022 venue Stadium 974 is built from shipping containers – and one BBC commentator has claimed the ground is literally rocking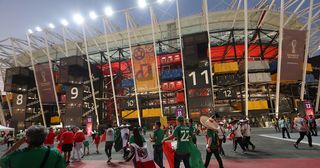 (Image credit: Maja Hitij - FIFA/FIFA via Getty Images)
World Cup 2022 features seven stadiums that weren't even built when Qatar won the bid to host the tournament – and perhaps the most eye-catching is Stadium 974.
The ground is one of eight – many of which are air-conditioned – and has caught the attention of fans for its unusual design. The number 974 refers to how many shipping containers were used in the construction of the venue – incidentally, the three-digit number is Qatar's international dialling code.
Mexico vs Poland is the first game of the tournament – and BBC 5 Live commentator Matthew Upson has already described the atmosphere as "wobbling" and wondered if the Mexican fans will find themselves reaching "Richter scale" levels of excitement.
Sure, we've heard of stadiums rocking with a ravenous crowd but "wobbling"? That's disconcerting, right? Don't worry – it's perfectly safe (we think).
The construction of the stadium means that because of the shipping containers – similar to the Boxpark venues in London where you can watch the games – the ground feels like it's shaking. This is an atmosphere perhaps like we've never seen at the World Cup.
Bizarre stadiums are no stranger to an international tournament, after all. Who could forget the Sapporo dome of 2002? The Japanese stadium had a closed roof and because the pitch didn't have any sunlight or precipitation, it would be floated outside on an air cushion in between matches.
At Euro 2004, there was a stadium built into the cliff-face. The Municipal Stadium of Braga was known as A Pedreira (The Quarry) and built in Euro 2003 ahead of the tournament in Portugal. It was literally built into the rock, with only two stands: there were big screens of the rocks behind each goal and the venue itself only held 30,000 spectators.
We're all for an odd stadium. Let's see more of them in 2026…
Thank you for reading 5 articles this month* Join now for unlimited access
Enjoy your first month for just £1 / $1 / €1
*Read 5 free articles per month without a subscription
Join now for unlimited access
Try first month for just £1 / $1 / €1