World Cup 2022: England fans DELAYED into the stadium for opening game
England fans have had ticketing issues getting into the stadium for the opening game of World Cup 2022 against Iran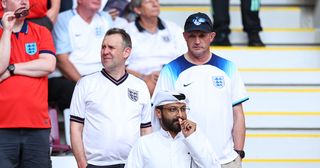 (Image credit: Robbie Jay Barratt - AMA/Getty Images)
England will start World Cup 2022 without a large proportion of their fans in the stadium.
According to the BBC (opens in new tab), England fans have been held up outside the stadium queueing with the ticketing app failing for Three Lions supporters. The game has not been delayed as a result.
The Khalifa International Stadium is the only stadium that had existed prior to Qatar winning the bid to host the tournament. It holds 45,000 spectators but the ground is only half full today.
England began the game with a controversial decision, as Iran saw themselves get away with a potential penalty within three minutes.
Harry Maguire was pulled to the ground within the six-yard box after a corner but the Brazilian referee and Uruguayan video assistant referee both decided that it wasn't a penalty.
The noise within the stadium has increased as the game has gone on.
Thank you for reading 5 articles this month* Join now for unlimited access
Enjoy your first month for just £1 / $1 / €1
*Read 5 free articles per month without a subscription
Join now for unlimited access
Try first month for just £1 / $1 / €1