World Cup 2022: Gary Neville says he's "sick" of leaders like Gianni Infantino, Donald Trump and Boris Johnson
Gary Neville has called the FIFA president's opening address before World Cup 2022 "an absolute scandal"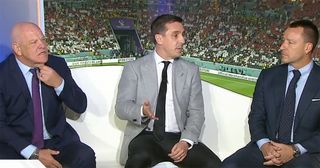 (Image credit: beIN Sports)
Gary Neville has taken to beIN Sports to slam FIFA president Gianni Infantino alongside the likes of Boris Johnson and Donald Trump.
Neville has spoken openly about his disdain for some of football's leaders and on Have I Got News For You recently, said that he was going to be using his platform on Qatari broadcaster beIN, to "highlight issues".
Already on the channel's coverage, though, Neville has stated that he does believe a nation from the Middle East should be hosting the World Cup. He's followed that up, however, by stating that he's "sick" of the corruption at FIFA, following Gianni Infantino's bizarre speech this weekend.
🗣️ "FIFA is a poor representation of what football is, a beautiful game... I think FIFA needs to clean up its act."👀 @GNev2 reacts to Gianni Infantino's press conference!#Qatar2022 #FIFAWorldCup pic.twitter.com/UGGuGVlgLsNovember 20, 2022
"There's no doubt we should be taking all around the world. But he's a terrible face for football, that guy," Neville said of the current FIFA president.
"Some of the things he said yesterday were inappropriate and shouldn't be said by him. He should be statesmanlike. He should be bringing people together, not answering to one or two nations, like he did yesterday.
"I'm sick of these leaders like [Boris] Johnson, like [Donald] Trump, like [Gianni] Infantino, like [Sepp] Blatter, who to be fair, who don't unite, they divide: all their language is about division. Even though they try and think they're bringing people together, they're not. I have to say, some of his language yesterday about 'I am a migrant worker, I am disabled'… it's an absolute scandal, he shouldn't be using that kind of language.
"I think FIFA is a poor representation of what football is, which is a beautiful game, enjoyed by communities in Brazil to Bury, to Bolivia to Peru to everywhere. I have to say, I think FIFA needs to clean up its act, it's been bad for so long and my personal feeling with Infantino is that he's put himself back in power for four years, there's no transparency, no independence.
"That's football's problem, it's representative of the rich and the elite in life. We've got to have independence, we've got to have a democracy. And then he's the worst face to represent a Middle Eastern, Muslim and Qatar World Cup."
Thank you for reading 5 articles this month* Join now for unlimited access
Enjoy your first month for just £1 / $1 / €1
*Read 5 free articles per month without a subscription
Join now for unlimited access
Try first month for just £1 / $1 / €1