World Cup 2022: Who is Henry Martin?
Mexico striker Henry Martin leads the line at World Cup 2022 ahead of Raul Jimenez… but who is he?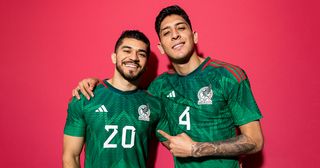 (Image credit: Hector Vivas - FIFA/FIFA via Getty Images)
World Cup 2022 begins for Mexico today with Henry Martin up front.
That's right: not Raul Jimenez and certainly not Javier Hernandez, a common fixture of World Cups past for the Mexicans. Henry Martin is a complete unknown in Europe and takes the No.20 shirt in Mexico's squad.
It's a hell of a comparison to have him lining up as one striker while Barcelona hitman Robert Lewandowski is playing the role on the opposite team…
Henry Martin: Who is this striker at World Cup 2022?
30-year-old Henry Martin is well-known to Mexican fans, having made his debut for the national side seven years ago. Having broke through at Venados and having a spell at Tijauna, he moved to Club America in 2017, one of the country's biggest and best teams.
But Martin's debut all those years ago was indicative of a career to come. The then-23-year-old didn't show quite what he was capable and was taken off around the hour mark by Raul Jimenez.
Raul has gone onto become his homeland's golden boy – and Wolverhampton Wanderers' – though following his awful skull fracture sustained in lockdown against Arsenal in 2020, the Wolves striker hasn't been the same since. Jimenez has had fatigue ever since that injury and coming into the 2022 World Cup, he's found himself on the bench for the opener.
Martin, instead, is tasked with the job of leading the line. Still, 55 goals in 165 league games for America is a steady return: he has six in 27 for the national side and he played at the Tokyo Olympics last summer.
This will be Martin's first World Cup.
Thank you for reading 5 articles this month* Join now for unlimited access
Enjoy your first month for just £1 / $1 / €1
*Read 5 free articles per month without a subscription
Join now for unlimited access
Try first month for just £1 / $1 / €1