Jesse Lingard: My size held me back
Jesse Lingard talks to FFT about being a late developer, his desire to become a No.10 and why he thinks he can score 15 goals a season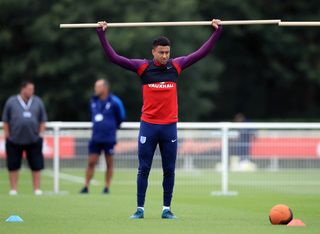 Jesse, you've played in so many different positions for Manchester United – which role suits you best?
I think for now, playing on the wing and cutting inside, that's where I'll continue to play. However, over the next few years I would really like to become a No 10.  I've played there a few times for England and United and that's my natural position. But while I'm still growing, playing out wide is good for my development.
Former Man Utd coach Rene Meulensteen compared you to Andres Iniesta a few years ago – what do you think of that comparison?
I've always admired Andres Iniesta, the things he's done on the pitch are unbelievable. I've watched a lot of videos of Iniesta and looked at the way he plays. I wouldn't say I've copied what he does but I certainly look at him and want to take parts of his game and add them to mine.
You seem to have a knack for beating men in tight spaces – is this something you've always been good at?
Yeah, I'd say from being a young player, I've always enjoyed dribbling with the ball and collecting the ball in tight spaces and then trying to make things happen. I think as I've developed it's become a really strong part of my game. I've managed to take that from training and into matches and cause problems for the opposition.
Physically you're quite small in stature – were you ever worried this would hold you back?
Yeah, at United it kind of did. When I was in the under-18 age group I had to play under-16 level football.  But United always said to me that I was a late developer and that I needed to be patient. They always thought I'd be 22 or 23 when I played for the first team. Those were the words of Sir Alex Ferguson. I listened to him and trusted his words and now I'm a regular for Manchester United.
You had several loans– did you fear you wouldn't make it at United? 
I just wanted to play football when I was younger – no matter what the level. it was all about the enjoyment of playing. Whether I was playing for the under-16s, 15s or 14s, it really didn't matter to me. Over the years I've developed and after I played reserve team football that was when I really kicked on. I was sent out on loan – that was the classic Fergie development plan – and then I came back a better player.
Paul Scholes says you should score 15 goals a season. Do you agree?
Definitely. As soon as I heard him say that I agreed with him. At youth level I played in a great side, with players like Paul Pogba, Danny Drinkwater and Ravel Morrison, and in that team I scored a lot of goals. Last season I think I could've easily scored 10 goals and that's a big goal of mine this term – I need to score more goals and get more assists. 
Did you admire goalscorers when you were learning the game?
Yeah, Ruud van Nistelrooy was a big hero of mine when I was growing up. He was such a great finisher; he scored so many different types of goals with both feet. The thing that set him apart was how calm he was in front of goal. Wayne Rooney is another player that I would watch a lot when I was younger and I have been lucky enough to play with him at United. His overhead kick against Manchester City [in 2011] is probably my favourite goal. To have the ability to produce that in that moment in a derby match was just incredible. I can still remember watching it on the TV at home and jumping up and down in my living room. 
Do you think strikers have different personalities to other outfield players?
I think strikers need to have a certain type of personality to be successful. The team is always relying on them to put the ball in the back of the net. I think the best strikers enjoy having that responsibility to win matches and get points for the team. 
Goalscorers: are they born or made?
A lot of the great strikers I've played with and watched have been natural goalscorers. Players such as Van Nistelrooy, Berbatov and Rooney have that killer instinct in front of goal. However, I think all three of them combined that with a great work ethic to hone their finishing ability. They all stayed after training to practice different shooting drills and situations they'd experience in a game. 
You turned 24 in February – where do you see yourself in five years'?
Hopefully I'll still be playing regularly for Man United. I want to be playing every week and become established in the first team, and it would be nice to win lots of trophies as well.
Jesse Lingard wears adidasX16+ Purechaos Blue Blast, which are designed to deliver maximum speed. For infor, visit adidas.co.uk/football.
Quizzes, features and footballing fun
Get the best features, fun and footballing frolics straight to your inbox every week.
Thank you for signing up to Four Four Two. You will receive a verification email shortly.
There was a problem. Please refresh the page and try again.