Adam Ounas: Meet the Manchester United target who's caused a Twitter stir
The young Bordeaux midfielder had been linked with a move to Old Trafford before following the club on social media. Andrew Gibney fills you in…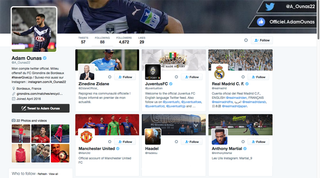 The 60-second story
FACT FILE
Date of birth: November 11, 1996
Place of birth: Chambray-les-Tours, France
Height: 5ft 7in
Position: Forward
Current club: Bordeaux (30 apps, 6 goals)
International: France U20s (1 cap, 0 goals)
It wasn't too long ago that Bordeaux were still one of the leading lights of French football. Jean Tigana, Zinedine Zidane, Sylvain Wiltord and.. er, Clive Allen all played their part in the club's success.
Even recently, with Laurent Blanc leading a group of players that included the mercurial Yoann Gourcuff, les Marine et Blanc were close to securing a place in the semi-finals of the Champions League.
Fans, then, grew to expect a level of entertainment. But in January, Sunderland swooped to sign Wahbi Khazri, the standout figure in an otherwise ordinary side who had played his part in 12 goals before joining the Mackems' survival mission.
Luckily, manager Willy Sagnol had another ace up his sleeve. Three months before Khazri's departure, Adam Ounas made his league debut at Lorient, and his impact was instant. Bordeaux lost the game 3-2, but it was Ounas's vibrancy, sharpness and 89th-minute header that would have made their fans' return journey one filled with hope, rather than total despair.
His appearance wasn't a flash in the pan either: the 19-year-old scored a stunning winner against Troyes in front of his own fans and was sensational as Bordeaux comprehensively dispatched Monaco 3-0 in the last 16 of the Coupe de la Ligue. Sagnol would later get the boot after another underwhelming season, but there was no doubt Ounas had become a beacon of light in an otherwise dismal campaign.
Why you need to know him
Manchester United are reportedly interested in signing Ounas this summer, with Jose Mourinho apparently wanting the youngster as part of his new-look United. The player himself has done little to quell the rumours either, having followed the club on Twitter over the weekend, plus Wayne Rooney, Bastian Schweinsteiger, Anthony Martial and Marcus Rashford on Instagram.
Regardless of whether the Portuguese coach actually knows who Ounas is, it suggests that the right people are paying attention to events in Gironde. Sunderland were also linked with the youngster at the end of the season.
There is a spark of Eden Hazard in the way he moves and what he can do with the ball, but labels like the "new Anthony Martial" are wide of the mark. He's young and French… but that's where the similarities begin and end.
Ounas is the type of player you'd want trying to set up Martial in the final third instead; give him the ball, and watch him conjure and create. At no point in his short career has he shown any fear or doubt in his own capabilities – something that big clubs will be attracted to.
Strengths
There's an instant sense of bums-off-seats excitement when Ounas picks up the ball. Nobody is necessarily sure what's going to happen, but the sense of anticipation is always high.
The 19-year-old is comfortable playing right across the attack and capable of using both feet, which makes him difficult to pin down. He loves cutting in from the wing, taking up pockets of space between defence and midfield where he can do the most damage.
Ounas is blessed with an ability to change direction with almost effortless ease, and his balance on the ball – combined with a great awareness of what's around him – makes him a constant threat.
He's already shown maturity in improving defensively, and in his decision-making process. He'll still sometimes try to do too much, but the 19-year-old is aware of it. Besides, you don't want to completely beat that out of him – it's what makes this type of player special.
Weaknesses
Like most teenagers, Ounas has some growing up to do. First he'll need to gain some upper-body strength if he wants to compete at the highest level on a consistent basis – but Ligue 1 is the perfect place for him develop. He hasn't even played a full season in France, so any move now would be a huge risk for the player.
His decision-making continues to improve, but he still gives the ball away more than you'd like – something even Sagnol condemned the Franco-Algerian for. From a teenage winger, though, it's perhaps to be expected.
Just like when Eden Hazard was making a name for himself at Lille, Ounas will need to get used to the increased attention and, with it, the understanding that he will be fouled and expected to get back to his feet and do it all over again.
They said…
After Ounas scored a 79th-minute winner against Troyes, former boss Sagnol had nothing but praise for the young forward. "When we play Adam, you always hope he can do a lot of good," said the former international. "It's logical that if you make a change to bring dynamism, he is the player who comes to mind.
"He has a lot of freshness; he has no ulterior motive. Technically he has developed well. In the lower teams, there was a question of commitment, but with us he is perfect. If he wants to progress and go further, he has to keep that state of mind."
Did you know?
As a kid, Ounas spent 10 years at the academy of Tours, but after a lack of playing time he caused an issue with the coach and left for a smaller club just to find time on the pitch. His hometown club then wanted him back, but after Ounas caught attentions during a gala match for players let go from training centres across France, Bordeaux scout Arnaud Vaillant didn't hesitate to approach the youngster.
Ounas had trials with both les Girondins and Caen, but after a week beside the Garonne river he knew he belonged in the south-west of France.
What happens next?
Former goalkeeper Ulrich Rame held the reigns after Sagnol's sacking, but now Jocelyn Gourvennec has been installed as the club's new head coach.
There is little doubt he will see Ounas as a huge part of his team next season – the former Guingamp manager has a fine reputation for developing and helping talent progress, and the 19-year-old Ounas should be excited to continue his career under his tutelage.
Though capped at U20 level for France, having been born there, reports suggest that the youngster has declared himself to play for Algeria. There is still a chance he could play for France in the upcoming U21 European Championship in Germany, but perhaps his omission from recent squads are an indication of where his international future belongs.
For both club and player, it would be a shame if he wasn't allowed to play a full season in Ligue 1 under Gourvennec. He will have already taken so much from playing under a World Cup winner, and staying in Ligue 1 a little longer won't do his progression any harm. All said, however, it's difficult to turn down the advances of clubs like Manchester United.
Bordeaux already proved that they are a selling club last season with the departures of Henri Saivet and Khazri. With Ounas their next-most-valuable commodity, holding on to him might not be an option.
More features every day on FFT.com • Football's hottest prospects scouted
Quizzes, features and footballing fun
Get the best features, fun and footballing frolics straight to your inbox every week.
Thank you for signing up to Four Four Two. You will receive a verification email shortly.
There was a problem. Please refresh the page and try again.