Confidence, impatience and prodigious brilliance: Paul Pogba's rise to the top
By Jonathan Fadugba published
A creator, a destroyer, a natural leader of men – already the Ferrari of French football, all the evidence points towards a future Ballon d'Or for Paul Pogba. From what really happened in Manchester to how he became a symbol of the modern Juventus, FourFourTwo tells his story...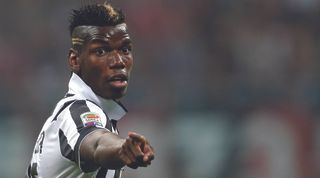 Outside of Chaddesden Wood Nature Reserve, a few peaceful walking trails and a nunnery, there isn't too much going on in the suburb of Oakwood.
But Manchester United academy graduate Ryan Tunnicliffe remembers this sleepy, secluded part of the world as the scene of the exact moment when he realised that Paul Pogba was heading for the top.
The date was March 19, 2011 and Manchester United Under-18s were at Moor Farm Training Centre to face Derby County's youngsters. With the Rams 2-1 up, the ball broke to Pogba on the edge of the box. Wearing the captain's armband and the No.8 shirt, what the Frenchman did next took Tunnicliffe's breath away.
"There were three or four people around him," the Fulham player tells FFT, "and he does a bit of skill to work his way out of a few tight angles, then whips it into the top corner. I thought: 'wow, what a player'"
The game ended 2-2 and the goal became a YouTube hit, further evidence of this rough diamond on United's hands. Both Tunnicliffe and Pogba would play key roles in helping the Red Devils to win the 2011 FA Youth Cup, beating Chelsea 6-3 in a thrilling two-legged semi-final and Sheffield United in the final.
Michael Keane, another prominent member of that Youth Cup-winning side, was equally impressed. "I remember the first time he came to train with us," Keane, now at Burnley, tells FFT.
"We had an 11-a-side match and he dominated it, to be honest. 
He was pinging the ball with his right foot, left foot – everyone was really impressed.
"In some of the sessions, you'd just sit back and think: 'Oh my god, what am I seeing here?!' His feet are so good, it's a joke – and he's got a good shot on him as well. Around the training ground, too, he was always happy and chirpy, in a good mood. He was just a great guy to play with and be around."
Speed of ascent
Both players knew then that his "loud, pretty gangly" team-mate could reach the heights of world football, but what they couldn't foresee was the speed of this ascent. A year-and-a-half (and, in saying 'no' to Alex Ferguson, one very big decision) later, Pogba was making international headlines en route to a first league title – only it wasn't in the red, black and white of United, but the bianconeri of the bustling midfielder's new home, Juventus.
"I changed the 4-4-2 originally because Arturo Vidal was so good he couldn't be dropped," then-Juve boss Antonio Conte commented after Pogba helped the Old Lady to their 29th league title in his debut season in Italy, just two years after that Under-18s game at Oakwood. "I am in a similar situation now with Paul Pogba. He's got excellent potential and could well go on to become one of the best players in the world."
The details over Pogba's Old Trafford exit to Turin have been dissected before. All the crying in the world isn't going to clean up that spilt milk. What's remarkable is how much Pogba has already achieved and how quickly he's entered the conversation when it comes to discussing the best players today.
At 21, Zinedine Zidane was an uncapped youngster finding his feet at Bordeaux after moving from Cannes. Michel Platini at that age was still eight years away from his first scudetto at Juventus and five years from his first top-flight league title with 
Saint-Etienne. Jean-Pierre Papin is another French Ballon d'Or winner, but aged 21 he was plodding along in Ligue 2 with Valenciennes. Pogba has already won three league titles with Juventus, two Supercoppas, been awarded the Best Young Player at a World Cup and, most recently, shortlisted for the Ballon d'Or. Different eras, sure. But the facts remain.
By the time the next World Cup rolls into town, the Messi-Ronaldo duopoly that currently has an iron-like stranglehold on the football world's individual honours will, in all likelihood, be loosening its grip. Ronaldo will be 33, Messi approaching 31. Is the kid from Roissy-en-Brie, nicknamed Il Polpo Paul (Paul the Octopus) due to his long limbs, next in line to become the world's best player? And what makes him so good?
Divine intuition
It's difficult to know where to begin when describing Pogba's precocious talent. Scouts often say that when you see a great player for the first time, you don't base it on any rational analysis – you just know. Ferguson touched on this in his autobiography when he discussed seeing Cristiano Ronaldo for the first time.
"One night I was watching a movie, White Fang, the Jack London book about going to Klondike in search of gold. That's what it must be like for a scout. You're standing watching 
a game on Saturday and you see a George Best, a Ryan Giggs or a Bobby Charlton. That's what I felt that day in Lisbon: a revelation."
A tall, rangy midfielder with a peacock-like strut, Pogba possesses perhaps the rarest quality in football: that element of untold promise. Frank Rijkaard experienced it with Messi. "From the moment Messi was introduced, we all knew he was a unique talent," he told Sport. "I remember Deco and Ronaldinho realised how special he was, and they took him under their wing."
Diego Maradona tells the story of how his youth team, Los Cebollitas, lost the final of 
the Nacional championship to a team from Pinto, managed by a man called Elias Ganem. 
"When his son, Cesar, saw how upset I was he came up to me and said: 'Don't cry, brother. You're going to be the best in the world.'"
Watching Pogba provides that same feeling. A box-to-box midfielder who marries the commanding, assured deep-lying presence of an Andrea Pirlo with the attacking menace of a Frank Lampard or Paul Scholes, the 22-year-old's athleticism, poise, authority and technique make him the prototypical modern midfielder.
Some of the game's greatest midfielders agree. "He is a warrior with a good spirit," said France coach Didier Deschamps, a distinguished midfielder and World Cup winner himself, of the man he quickly made a regular at senior international level. "He has everything it takes."
Antonio Conte won five scudettos and the Champions League playing at the heart of Juventus's midfield, and as the man who worked with Pogba for two years after convincing him to join the Italian giants, he's certain of Pogba's immeasurable promise.
"Pogba is a modern player, as he is strong, fast and has stamina," Conte raved last August. "He's also humble, so he listens to the advice given by me and by his team-mates. I saw his interviews in which he said he wanted to become the best in the world. I am happy with that, because in my view he can be the best."
"I have absolutely no doubt in my mind that he can win the Ballon d'Or," Pavel Nedved, himself a former winner of the award, commented in 2013. Patrick Vieira is another to sing Pogba's praises. The former Arsenal midfielder won 107 caps for France, but told L'Equipe that the man dubbed his heir in France's midfield is "more offensive than me and perhaps better technically," continuing: "That Manchester City did not take him when he left United was a mistake because he's an extraordinary player."
Pogboom
Such high praise is not without merit. There are countless examples of just what a player the 6ft 3in starlet is. His beautiful technique, impressive physical frame and charisma on the ball hint at a player who could be at the top of his game for many years to come. He can play as an offensive midfielder or in a withdrawn, more defensive role, though for now he lacks the discipline required to excel in that role.
His shooting is exceptional, as demonstrated by an array of brilliant goals, such as his tee-up and volley against Napoli in a 3-0 win in 2013 or his extraordinary brace in a 4-0 win over Udinese that prompted La Gazzetta dello Sport to giddily scream 'POGBOOM!' on its front cover. He can build or destroy, with strength in the tackle, a great eye for a pass and the technical ability to play long or short.
While his football skills are obvious, Pogba's desire, leadership and humility are factors that stand him out. When he left Manchester United, Ferguson accused Pogba of showing the club a lack of respect, while on arrival at Juventus his hairstyle led team-mates to greet him with cries of "Ah Balo!" as though this was some Mario Balotelli version 2.0. But Pogba is nothing of the sort.
Via L'Equipe, he downplayed the brouhaha with Ferguson, explaining his motivation: "I'm impatient. It was the feeling that I had with [Ferguson]. The coach had faith in me, but didn't put me on. He said that I was too young. He said: 'Your time will come.' It didn't come. But it doesn't mean I will speak ill of Manchester United. I love the club. The players and employees know I didn't lack respect."
"He was always happy," says Keane. "He was the life and soul; it seemed he really enjoyed life at the club, so I was a bit surprised to see him leave. I'm sure he would have got in the team but it was just a decision that he made. I'm sure it wasn't easy for him." Pogba's desire to be the best is plain. He has his own physiotherapist and dietician, 
a remarkable commitment at such a young age. "My wish, my dream, the fixed objective since [first club] Roissy-en-Brie, is to be the best," he once said.
While Balotelli courts controversy and clearly enjoys the external pleasures that being a footballer brings, Pogba focuses on his game above fame. "The thing I like most about Pogba is that he's a very intelligent player," Gianluigi Buffon said. "He has the head on his shoulders to become a great champion."
Pogba is more reasoned, more measured, more mature. He speaks of a desire to create humanitarian projects in Guinea, the land of his parents, Yeo and Fassou Antoine. He wants to build academies.
He comes from a close-knit family: the 'Pogfamily', to whom he handed his Twitter account during the World Cup in order to concentrate on his football. He's also clearly a leader, the man who captained France Under-20s to the World Cup crown in 2013, where he cajoled, instructed and geed up his players, leading 
the goal celebration dance routines with glee. "He's a great dancer, and a character in the dressing room who is good for the group's atmosphere," Antoine Griezmann says of his France team-mate when reflecting on their time together in Brazil. "Every time there's music on he starts dancing!"
Pogba's vast well of self-confidence and willingness to assume responsibility screams captain material, an honour he could one day fulfil at senior international level.
Pierre Mankowski was Pogba's coach at under-20 level, and confirmed as much in an interview with So Foot magazine. "I played him with the under-17s once. He was 15 and already played like the captain! We had kids at that level with less talent than him who behaved however they liked. But he always stayed clear of trouble. You got the sense 
that he knew where he was heading – that he had already traced his path."
"He's never been shy," says Tunnicliffe. "I think anyone who 
knows him will say that. You just get on with him – he's outspoken, dead loud, dancing, always laughing and up for a joke. Even when he first came over, he was probably one of the leaders in the dressing room. A lot of the other lads looked up to him."
In a December poll by France Football he was voted the country's seventh-most popular personality and the most important player in French football today.
What happens next
All that said, there are still improvements to be made before Pogba can be considered among the world's best. He has a continuing tendency to drift in and out of games, something he openly admits. "I need to be more influential, more decisive," he conceded after France's 1-1 draw against Albania in November when he was at fault for the goal. He also needs to learn that facilitating play, rather than constantly seeking out the killer ball, brings merit in its own right. And in the early days at Juve he was disciplined for being late to training. What bodes well for the future, though, is that he pays close attention to mistakes and learns quickly.
Can Pogba become the world's No.1? The evidence leans in his favour. In just over 100 games for Juventus he's scored 18 goals and provided 19 assists. The world's biggest clubs from Madrid to Paris to Manchester are all desperate to sign him, and his recent contract at Juventus makes him one of Serie A's best-paid players – a testament to how highly the 'Ferrari' of French football is rated. Pogba is idolised in Turin, a symbol of the new, young Juventus for both fans and board alike.
"We're talking here about a potential phenomenon," manager Massimiliano Allegri told La Gazzetta dello Sport in November. "He's already exceptional just the way he is, but I'm convinced he still has a 30-40 per cent margin for improvement." The prospect is frightening.
"If you look at how good he is now and how young he is, alongside his attitude to training, 
I do think there's a definite possibility he could be the best player in the world one day," 
says Michael Keane, whose concession that another player – an English player – was "just as impressive as Pogba" in that successful United youth team of 2011 rams home the idea that talent alone is never enough.
"Ravel Morrison was one of the best players at the club at the time and just as impressive as Paul, to be honest," Keane admits. "He could do everything. On the ball he could take anyone on – I remember when he trained with the first team he even used to tear it up with them as well, nutmegging people for fun. But it's just one of those things with Rav: he's not managed to progress as much since leaving."
If things had been different, the battle to be the world's best player in by 2018 could have involved an English player. But while Morrison has been released by West Ham, Pogba is preparing to see just how many potential suitors lodge bids for his services. It's a waiting game that may involve him for years to come.
More features like this every day at FFT.com
This feature originally appeared in the February 2015 issue of FourFourTwo. Subscribe!
Thank you for reading 5 articles this month* Join now for unlimited access
Enjoy your first month for just £1 / $1 / €1
*Read 5 free articles per month without a subscription
Join now for unlimited access
Try first month for just £1 / $1 / €1