Rated! How successful Van Gaal's debutants will be under Jose
Republik of Mancunia's Scott Patterson provides the lowdown on those – 15 of them – who made their bow under the Dutchman, whose use of young players at Old Trafford was his one redeeming feature...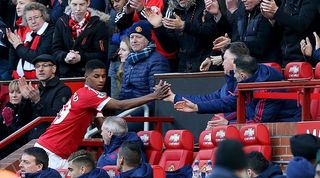 Jose's coming! Y'know, if you hadn't already heard. But while everyone else is getting excited at piecing together the various narratives in 2016/17, there'll be a clutch of previously puppy dog-eyed kids from Manchester United's academy whose chances under a departed Dutchman may have been their last. So who's really got a chance under their new boss? Marks out of 10...
Jesse Lingard vs Swansea 16/08/14
It didn't take Louis van Gaal long to start playing the youngsters, with Lingard chosen in the starting line-up for the Dutchman's first Premier League game. Having impressed on another pre-season tour, Van Gaal gave him a chance, but the England youngster was taken off with an injury less than half an hour in, and that was his season at United over. Van Gaal persevered, though, bringing Lingard back into the team the following season. He went on to score six goals, including that brilliant strike against Chelsea and, of course, the winner in the FA Cup final.
Sir Alex Ferguson predicted that Lingard would be a late bloomer and, now 23, 2016/17 could be make or break for him at the club. He's a decent squad player and one probably worth keeping around, but it's hard to see him beginning next season as a regular starter.
Tyler Blackett vs Swansea 16/08/14
After making a promising start in the centre of defence following an injury crisis at the back, Blackett went off the boil and was loaned out to Celtic. Rather than being a fresh start and a chance to prove himself, however, he had a terrible time north of the border. His last appearance came as a ninth-minute substitute but, after playing a part in both of the goals Celtic conceded, he himself was taken off with over 20 minutes left to play.
There were reports that he was set to be recalled during the January transfer window as United's defensive crisis continued, but nothing came of it and he hasn't been heard of since. Given that Blackett's been playing for Celtic U20s in recent months, it's likely he'll be sold this summer.
Andreas Pereira vs MK Dons 26/08/14
After surviving the cull of players who featured in the embarrassing 4-0 defeat by MK Dons, Pereira was criminally overlooked during Van Gaal's reign.
Pereira's first start of the season came in the League Cup against Ipswich, where he scored a fine free-kick. He played in a handful of games between then and the New Year and became a regular in February, but his last game was against Midtjylland theee months ago.
Pereira's got bags of talent and has shown what he's capable of when featuring for the U21s this year. Despite his good form at the junior level, he hardly even made the bench in the latter months of the season, which was a huge disappointment for both the player and fans.
Paddy McNair vs West Ham 27/09/14
Used in both the centre of defence and at right-back, McNair has struggled to find consistent form in the first team. There have been matches where he's looked like a thoroughly decent prospect, and others where he's been destroyed and withdrawn.
There's a chance of McNair making it as a squad player, but he also might have blown his opportunity. Overall, though, he didn't do enough to impress when United had a string of defensive injuries at the midway point of the 2015/16 campaign.
Cameron Borthwick-Jackson vs West Brom 07/11/15
Most fans would argue that Borthwick-Jackson is the only player capable of challenging Luke Shaw for his place in the team; it was, indeed, unfair that Marcos Rojo was chosen ahead of the young left-back in the FA Cup final, and even more wrong that Phil Jones was on the bench instead of him.
He may resemble a T-Rex when he runs, but Borthwick-Jackson has put in some solid performances and seems totally unfazed by playing in the first team. He was also the U21s Player of the Year and, having only just turned 19, is one the club should definitely keep around.
Guillermo Varela vs West Ham 05/12/15
Varela has largely done well at right-back, bombing down the wing and supporting the attack. Unfortunately, Philippe Coutinho took him apart in the crucial Europa League game against Liverpool and he hasn't played since. His good performances surprised a lot of United fans, who didn't expect him to make the adjustment from U21 level as well as he did, but you'd imagine he's a squad player at best.
Donald Love vs Sunderland 13/02/16
Love's played just twice for United, with both matches ending in shocking results: first was the 2-1 defeat by Sunderland, the second a 2-1 loss against Midtjylland.
We haven't seen enough of the 21-year-old to judge him too accurately, but he probably would have made a bigger impact by now were he to be a future first-team star.
Joe Riley vs Shrewsbury 22/02/16
The 19-year-old made his debut for United in the FA Cup defeat of Shrewsbury, and persuaded Van Gaal to start him in United's next game in the Europa League a few days later.
Riley has great pace and was remarkably composed in that first game at Old Trafford. You'd never have thought it was his first game, particularly as the pressure was so high after the first-leg loss to Midtjylland.
Regan Poole vs Midtjylland 25/02/16
The Welshman was signed from Newport County just a couple of months after his 17th birthday. It's far too early to say whether he'll make it at United, but his former coaches have had plenty of good things to say about him.
Marcus Rashford vs Midtjylland 25/02/16
When Rashford scored two goals on his debut, it could easily have been dismissed as beginner's luck. When he scored two goals against Arsenal a few days later, people started to sit up and pay attention. When he then scored the winner against Manchester City at the Etihad, it became clear that he could actually be the real deal.
It's not just his excellent finishing – as demonstrated in the above games and against West Ham in the FA Cup – but also his all-round play that's impressed. Rashford is fast, has got great feet and is always willing to try clever flicks and backheels.
Despite not even racking up 20 United appearances yet, the teenager has been chosen as part of Roy Hodgson's preliminary England squad for the Euros and has an outside chance of going to France. It's still early days, but Rashford certainly looks like a fantastic prospect.
Tim Fosu-Mensah vs Arsenal 28/02/16
RECOMMENDED
Mourinho, by those who know him: what his former colleagues really think
Man United must decide what they are, and where they're going in the transfer market
Who is Jorge Mendes? The super-agent making football moves happen
Fosu-Mensah is another player, like Borthwick-Jackson, who should've had a place in the squad for the cup final. He's looked great in the appearances he's made this season, particularly against Spurs at White Hart Lane; maybe it was a coincidence that United shipped three goals just minutes after he was taken off, or maybe he did such a good job on Harry Kane that United had been allowed to look comfortable in the game up until his exit.
Fosu-Mensah only turned 18 this year, yet plays like an experienced defender and already has the build of someone much older. He should have a great career ahead of him.
James Weir vs Arsenal 28/02/16
Weir's had a great season for the U21s, captaining them to the title – but has only had one minute of first-team football so far.
While he's mainly been used on the left of midfield, he can also play centrally and has the makings of a good attacking player.
... plus the ones that didn't make it
Saidy Janko vs MK Dons 26/08/14
This outing against MK Dons was Janko's first and last for the club, with the right-back loaned out to Bolton soon after and then being sold to Celtic.
He's had a better time in Scotland than Blackett, getting a regular run in the team before injury left him sidelined for five months. He returned to the XI for the final month of the season, though, but is clearly not up to the standard of United.
Reece James vs MK Dons 26/08/14
Another player to see his first and last game for United in Milton Keynes, James was loaned out to Rotterham and Huddersfield before Wigan bought him for an undisclosed fee.
A first-team regular for the Latics until suffering an injury in January, he'll probably make his career in the divisions below the Premier League.
Tom Thorpe vs West Ham 27/09/14
There was frustration among some United supporters when the U-21 captain wasn't offered a contract by the club last summer, his injury-time debut against West Ham proving to be his first and last appearance for the first team.
Thorpe signed for Championship side Rotherham but was loaned out to League One Bradford towards the end of the campaign, suggesting the decision to let him go was the correct one.
Quizzes, features and footballing fun
Get the best features, fun and footballing frolics straight to your inbox every week.
Thank you for signing up to Four Four Two. You will receive a verification email shortly.
There was a problem. Please refresh the page and try again.