5 players Liverpool should target in this summer transfer window
With Alexis Mac Allister's move already tied up, who else should Liverpool be looking at to sign this summer?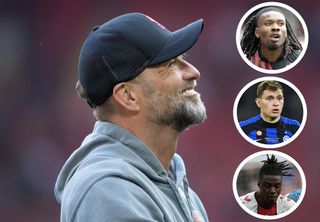 (Image credit: Getty Images / FourFourTwo)
After completing the signing of Alexis Mac Allister last week, Liverpool's summer transfer business got underway in an impressive manner, especially given the reported £35 million initial fee for the World Cup winner.
Mac Allister's qualities mean he can play in several midfield roles, from the attacking No.10 he was utilised latterly under Roberto De Zerbi, to a deeper role he previously occupied at Brighton, and a wider role he played for Argentina.
Given Liverpool need more than one midfield addition this summer, it's a shame they couldn't have cloned Mac Allister.
Jurgen Klopp had spoken about his desire to get business done early, ideally before pre-season begins in early July, with last summer's poorly planned pre-season (https://www.fourfourtwo.com/features/5-reasons-for-liverpools-failure-of-a-season) part of the reason for such a miserable campaign thereafter.
New sporting director Jorge Schmadtke is now tasked with adding further players in positions that need strengthening this summer (https://www.fourfourtwo.com/features/ranked-every-position-liverpool-need-to-strengthen-in-this-summer).
Let's take a look at five players, realistically, the Reds should be targeting this summer.
1. Khephren Thuram (central midfielder, Nice)
Midfield continues to be the primary need for Liverpool, despite Mac Allister's arrival. The Reds' new No.10 would slot in very nicely on the left of Liverpool's new shape midfield, but there's a need for a right-sided midfielder; one to replace Jordan Henderson.
Khephren Thuram, son of Lilian, is heavily linked and the 6' 3" Frenchman would certainly add some much needed physicality in Liverpool's engine room.
Klopp has seemingly moved away from the physical, aggressive, commanding midfielders in favour of more technical ones in recent times, but Thuram would be a welcome return to an imposing figure in the middle.
Excellent at carrying the ball, Thuram is more of an all-action midfielder, far more mobile than some of Liverpool's options last season.
The 22-year-old is still a work in progress and he'd need to improve certain areas of his game, plus the eternal question of being able to produce consistently at such a big club is there, but if Liverpool can acquire him for the reported price of similar to Mac Allister, they'll be well on their way this summer.
2. Micky van de Ven (centre-back, Wolfsburg)
When Schmadtke was appointed at Liverpool, it was claimed that the German would have a focus on talent from his homeland. Where better to begin his business then than at his former club, Wolfsburg, where Micky van de Ven has been catching the eye.
Liverpool, if they are, as it seems, to continue with the new shape of 3-2-2-3, could well use a new left-sided centre-back, someone more similar to Nathan Ake at Man City.
That wouldn't mean Andy Robertson would never play, but it would give a new option and might even prolong Robertson's career. "Robbo and Trent, they cannot play 50-something games - it would limit their careers," said Klopp in 2020, with both his full-backs having since played well over 50 games per season since.
Robertson turns 30 this season, his marauding style from left-back is physically demanding, playing him less and having an option who fits the three-man defence more would be wise.
Van de Ven catches the eye for several reasons. Firstly, he's 6' 4' - but secondly, he's exceptionally fast; clocking the fastest speed in Bundesliga last season.
Aggressive, good at long balls, Van de Ven would massively improve Liverpool's high defensive line, with an ability to recover behind.
3. Ron-Robert Zieler (goalkeeper, Hannover 96)
With Alisson Becker and Caoimhin Kelleher, you'd think Liverpool don't need a goalkeeper for the next decade. But Kelleher is simply too good to remain as second choice, especially when Klopp doesn't even play him in the FA Cup.
Allowing Kelleher to leave, ideally with a buy-back clause for once Alisson moves on, Liverpool would need a new number two.
They have a very good prospect in Marcelo Pitaluga, another Brazilian, who enjoyed an impressive loan at Macclesfield last season, but it would be brave and possibly foolish to promote the 20-year-old fully to number two just yet.
That's where a backup goalkeeper who doesn't impact the homegrown quota would help - and where Ron-Robert Zieler seems like an odd solution. The German, still a first choice with Hannover 96 at age 34, qualifies as homegrown due to his youth years at Man United.
Alisson, Zieler, Pitaluga and Adrian would then be Liverpool's four goalkeepers.
4. Nicolo Barella (central midfielder, Inter)
Even if Thuram was to arrive, Liverpool still need more in midfield. Three new additions are required, especially when you factor in Thiago almost certainly leaving on the expiration of his contract next summer and Henderson turning 33 this month.
Liverpool's midfield last season consisted of young players of potential, see Harvey Elliott and Curtis Jones, then veterans like Thiago, Henderson and James Milner.
The area they are missing is players in their prime years. Mac Allister is entering his peak at age 24, but another player Liverpool have looked at is Nicolo Barcella, who at age 26 is perfectly in his prime.
The Italian is a player Klopp likes "a lot," praising last year: "He has all the things you want from a midfield player; he is aggressive, he is technical, he can run for ages… a top class player."
Barella would cost more than the likes of Thuram, Manu Kone and Gabri Veiga – the other midfielders seemingly on Liverpool's shortlist – but he'd be the absolute perfect player for that right side midfield role and would do justice to the No.8 shirt at Anfield.
5. Romeo Lavia (defensive midfielder, Southampton)
If signing Barella solves the midfield now, and Thuram an option for nurturing for the future as a midfield all rounder, the other area of need is a more defensive midfielder given Fabinho's form dropping off a cliff last season.
Fabinho turns 30 this season but has played an excessive amount of football in Klopp's highly-demanding system in the last five years. Perhaps his legs haven't quite gone yet and we'll see an upturn in form after a full summer preparation, but either way Liverpool need his long-term replacement.
Turning to relegated Southampton is hardly where you'd think initially, but Liverpool have a) had a lot of joy buying from Southampton in the past, and b) not been shy of signing relegated players who turned out to be shrewd purchases; see Andy Robertson (Hull), Gini Wijnaldum (Newcastle) and Xherdan Shaqiri (Stoke).
Lavia joined Southampton from Man City last summer and Pep Guardiola's side have a buy back clause from next summer, so Liverpool could move to get one over their rivals.
Watching Lavia, it's somewhat like watching Fabinho in his prime; dominating midfield, making interceptions, winning duels and setting play forward from midfield.
The biggest issue here will be how in demand the Belgium international will be, with pretty much the whole of the Premier League's top clubs showing interest.
Thank you for reading 5 articles this month* Join now for unlimited access
Enjoy your first month for just £1 / $1 / €1
*Read 5 free articles per month without a subscription
Join now for unlimited access
Try first month for just £1 / $1 / €1