8 strong alternatives to Virgil van Dijk who Liverpool could sign instead
Having missed out on the Southampton man and been forced to apologise for their conduct in doing so, the Reds will need to look elsewhere to shore up their backline for a crack at the Champions League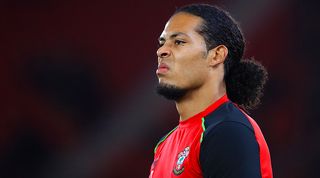 1. Stefan de Vrij (Lazio)
De Vrij has been regularly linked with Manchester United in recent years, especially during the Louis van Gaal era at Old Trafford. After being named in the 2014 World Cup Team of the Tournament, the Dutch centre-back swapped Feyernood for Lazio and became an instant success in Italy. In fact, his maiden campaign was so impressive that he was widely considered the best newcomer in Serie A.
Praised for his astute reading of the game and ability to carry the ball from the back, De Vrij was expected to cement his status as a Serie A star the following year. Unfortunately, though, he suffered a serious knee injury in August, which ruled him out for the entire season. Many doubted whether he could fully recapture his best form, but the Dutchman simply picked up from where he'd left off last term.
It was recently reported that Liverpool have already attempted to sign De Vrij, whose contract expires next season, but their offer was deemed too low. It wouldn't be a surprise if the Reds come back soon with a new and improved bid for the Netherlands international.
2. Aymeric Laporte (Athletic Bilbao)
It's been going on for years now: whenever a transfer window opens, Laporte is linked with at least one Premier League giant. He was reportedly close to signing for Manchester City last summer, before decicing to pull the plug on the deal at the last moment and pen a new contract with Athletic Bilbao instead.
It's not hard to see why the Frenchman has been so sought after in recent seasons. Despite having only just celebrated his 23rd birthday, Laporte has already amassed more than 200 appearances for the Basque club since breaking through in late 2012.
Calm, strong, composed and a frequent instigator of his team's attacks, Laporte is everything you'd want in a modern centre-back. With head coach Ernesto Valverde having left for Barcelona, it's highly likely that a number of the club's players will follow him through the exit door - and Laporte could certainly be one of those.
Liverpool may have to move quickly, though, with City (again), Chelsea and Real Madrid having also been linked.
3. Andreas Christensen (Chelsea)
The 21-year-old Dane is returning to Chelsea this summer after two successful loan spells at Borussia Monchengladbach, where he was named player of the year in 2015/16. The only reason the Germans didn't acquire him on a permanent basis is because they were unable to match the Blues' asking price.
With John Terry having departed and Kurt Zouma struggling with a return to form after his ACL injury, it would be a logical move for Antonio Conte to give Christensen a chance to impress. Yet Chelsea haven't displayed much faith in their younger players in the recent past – Nathan Ake was recalled from a loan spell at Bournemouth but barely featured – and it wouldn't be a huge shock if they instead looked to bolster their backline with a marquee signing this summer.
Jurgen Klopp, on the other hand, has no problem trusting younger players, so Christensen could be another starlet that the Reds turn to in the coming weeks.
4. Kostas Manolas (Roma)
Ahead of almost every summer transfer window, Roma are forced to decide which of their main men they'll have to sell in order to balance the books. With his contract set to expire in two years' time, Manolas looks like one of the favourites to leave this time around – contract negotiations aren't going smoothly, meaning this might be the right time for the Giallorossi to cash in.
Whoever signs the Greece international will add quality to their defence; the 25-year-old has developed into a ruthless and uncompromising centre-half who rarely gives an inch of space to opposing strikers. He's also far more disciplined these days, as well as being comfortable with the ball at his feet.
It's hard to imagine Manolas failing at any club considering his quality. If Liverpool make a move for him, they surely won't be alone.
5. Daniele Rugani (Juventus)
Rugani is widely thought of as the most talented young defender in Serie A, and has a bright future ahead of him with both Juventus and Italy. The Old Lady, however, already have the most formidable defence in Europe; Giorgio Chiellini and Andrea Barzagli are seemingly unaffected by their age and the acquisition of Medhi Benatia last summer further reduced Rugani's time on the pitch.
When he's playing, though, it's easy to see why he's so highly rated. The 22-year-old has excellent positioning and anticipation skills, while the improvement in his passing would make mentor Leonardo Bonucci proud.
Persuading Rugani to move to England won't be an easy task, and Liverpool don't have a good history of signing Italians (sorry Balo). But there's a first time for everything, right?
6. Davinson Sanchez (Ajax)
It says everything about Sanchez's skills as a defender that Barcelona are supposedly sniffing around the Ajax man, who has the soul of a regista without neglecting his more traditional defensive duties.
The 20-year-old Colombian is rapidly growing into a top-class centre-back, and it may be difficult for the Dutch giants to hold on to him for much longer. Besides his neat technical skills and expert control of the ball, Sanchez is also strong, fast and a threat in the air.
A move to the Premier League this window might come too soon for him, but it might be Liverpool's chance to grab him before Barcelona come knocking.
7. Kalidou Koulibaly (Napoli)
There was a time when Koulibaly was the subject of ridicule in Italy for his clumsy running style and lack of tactical understanding on the pitch. That, however, was in his first season at Napoli and before the arrival of head coach Maurizio Sarri. Under the auspices of the former Empoli manager, the Senegalese stopper turned his game around and was even compared to Serie A legend Lilian Thuram.
Koulibaly is a nightmare opponent for strikers, who must be put off by his intimidating presence. The 25-year-old is also calm and confident in possession; it's relatively common to see him carrying the ball forward from the back.
READ MORE
Year Zero: The making of Ronaldo (Barcelona, 1996/97)
Remembering Lilleshall: Football's answer to Hogwarts
Top 10 bizarre penalties: passes, punishments and premature celebrations
Koulibaly is arguably on the same level as Van Dijk, so Napoli would demand a fortune to part ways with him. Yet if the Reds were prepared to spend big on the Dutchman, they should do the same for Naples' man mountain.
8. Jonathan Tah (Bayer Leverkusen)
Since Jurgen Klopp took over at Liverpool, Tah has been constantly linked with a move to Anfield. At first glance, the 21-year-old ticks all the boxes: dominant in the air, strong on the ground and possessing plenty of energy, pace, and tactical intelligence.
Yet despite his undoubted qualities, both Tah and Leverkusen underperformed last season, finishing 12th in the Bundesliga. Liverpool are thought to be long-term admirers, though, so they should seek concrete talks this summer.
Quiz! How many of Liverpool's 50 biggest ever transfers can you name?
Thank you for reading 5 articles this month* Join now for unlimited access
Enjoy your first month for just £1 / $1 / €1
*Read 5 free articles per month without a subscription
Join now for unlimited access
Try first month for just £1 / $1 / €1