The 9 best CONCACAF teenagers in Football Manager 2018
By Travis Clark published
Last week we counted down the planet's 100 finest teenagers – and for scouting inspiration in FM 2018, we're splitting each confederation's most promising youngsters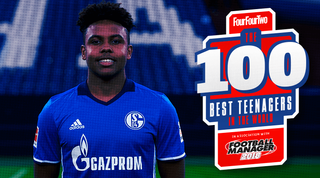 9. Ernesto Vega (Mexico)
An exciting spark plug of a player, Vega has come up through the youth ranks at Toluca to emerge as yet another promising youngster in Liga MX. While a torn ACL caused him to miss the entire 2017 Clausura (and knocked him out of action for more than a year), the 19-year-old has already had ample opportunity to showcase what he can do.
Vega is a winger who can bedazzle defenders with his mazy runs; an effective creator who can pick out team-mates with his crossing ability, or find space in between defenders to finish chances on his own. He made his return to the pitch in the 2017 Apertura, scoring once in five appearances. Provided that his injury issues are in the past, and Vega returns as sharp as he ways during long stretches of 2016, he'll cause plenty of issues for Liga MX defenders next year and beyond.
8. Mckinze Gaines (USA)
Gaines took his opportunities with a talented U.S. U17 team in 2015 qualifying, earning him a move to Wolfsburg in Germany. Another wide attacking type who can scare defenders with his pace and prowess on the ball, Gaines is playing for Darmstadt in the 2. Bundesliga this season with an obvious goal of earning first-team minutes.
While he hasn't slotted into the starting lineup right away, he did make his debut back on October 16, a 4-3 loss against Nurnberg. Forcing his way onto the field in whatever way possible is now the main goal, and like other players of both his age and stature, being consistent is a significant key to make that a reality.
Gaines may not be as flashy as some of his other talented rising U.S. stars, but he remains one to watch.
7. Juan Pablo Torres (USA)
Even though American youngsters moving to Europe is common, when Torres signed with Belgian club Sporting Lokeren it did come as something of a surprise. The Atlanta native hadn't slipped through the cracks – he's represented the U.S. across several youth teams – but it was more the destination that was striking.
Belgium hasn't necessarily been a common landing place for players from the United States, so the 18-year-old midfielder is something of a trailblazer. Torres isn't the first, as Sacha Kljestan spent several years at Anderlecht – but after he'd already established himself as a pro in Major League Soccer.
A calm and composed player who is tactically savvy and capable of quick passing, Torres is looking to forge his professional reputation at a mid-level club in Europe as opposed to pursuing opportunities closer to home. Minutes have been hard to come by for the Lokeren first team, although the talent is there for Torres to start making a name for himself before the season's end.
6. Haji Wright (USA)
American youngsters continue to flock to Europe, and Wright is getting closer to turning his foray into a success story. Coming through the LA Galaxy Academy, the swift, powerful front-runner became a fixture for the U.S. U17s, leading the line for their unsuccessful 2015 World Cup campaign.
Wright showed plenty of physical prowess, though struggled with the technical side of things at that age group. But he attracted Schalke, and signed with the Bundesliga side shortly after his 18th birthday. From there, the tactical and technical side of Wright's game improved and complemented his physicality. He excelled for Schalke's U19s during the 2016/17 campaign.
Wright continues to redefine his game on loan Sandhausen in the 2. Bundesliga. His hope is to eventually make the same kind of impression that both Pulisic and McKennie have already done in the German top flight.
RANKED!
5. Roberto Alvarado (Mexico)
Despite having only recently turned 19, Alvarado's been a professional for more than four years, after making his first-team debut in Ascenso MX for Celaya back in 2013.
A tall, lanky deep-lying central midfielder, the teenager has had his ups and downs during that stretch. There's been a move to a bigger club (Pachuca), trials or links with moves abroad (Manchester United, Leicester City) and a new stop, having recently signed with Necaxa earlier in 2017.
Like other top leagues around the world, earning playing time as a teenager is difficult, and Alvarado has seen that personally. His talent is easy to spot, though, especially when he has the ball. He is capable of playing on the left side of midfield and notably calm with possession, tending to pick out the right passes.
Alvarado started to find his stride during the most recent Apertura, and big things could be within reach for him during the 2018 Clausura.
4. Cameron Carter-Vickers (USA)
The American soccer landscape is littered with cautionary tales and players who failed to live up to high expectations. It's too soon to throw that label at Cameron Carter-Vickers, a burly centre-back who clawed his way up the academy system at Tottenham.
Between his mouth-watering performances with the U.S. U20 national team at a pair of World Cups, and presence on the roster at a big European club, it's safe to say that a lot is expected of Carter-Vickers. He's an athletic presence with the size to handle action at the highest level, and ability on the ball to cope with the demands at Spurs – although he's still searching for a breakthrough at club level.
Carter-Vickers is currently on loan in the Championship for the 2017/18 campaign with Sheffield United, and the signs are positive. He has the tools to be a central defender in the Premier League one day – even if not with Tottenham.
3. Levi Garcia (Trinidad & Tobago)
There can never be too many electric wingers who are unafraid of running at defenders and causing mayhem – qualities that Trinidad & Tobago's rising star Garcia has shown in flashes for AZ Alkmaar.
The 19-year-old's efforts during qualifying for the 2015 CONCACAF U20 Championship provided the foundation for him to move from his home country to the Netherlands upon turning 18.
Garcia hit the ground running soon after officially joining Alkmaar, debuting in January 2016. At only 18 years and 65 days old, he became the youngest Trinidadian to play for a European club, breaking the record previously held by Dwight Yorke. He's capable of playing on either flank, though is usually deployed on the left side of a 4-3-3, making the attacking lean of the Eredivisie an ideal fit for the full international (Garcia has eight caps for T&T after working his way up on various youth teams).
2. Weston McKennie (USA)
If Christian Pulisic is the glittering finish on the future of the U.S. men's national team, consider McKennie the sturdy foundation. He spent a few years growing up in Germany while his dad served in the military, which may have helped the midfielder begin well after joining Schalke last year.
After muscling his way into contention and dazzling with the U19 team during 2016/17, McKennie has started to crack the first-team lineup this season. The speed of the game hasn't deterred the holding midfielder, who is also capable of roaming box-to-box. He's not the flashiest performer, but reads the game well to break up play and isn't afraid of throwing himself into challenges.
Expect to see him more in the Bundesliga this season – McKennie rarely looks out of place on the field against more experienced players.
1. Christian Pulisic (USA)
There are few words and accolades still to throw Pulisic's way as he enters the most interesting point of his career. The Americans failed to qualify for the 2018 World Cup, but their star teenager looked like their only good player on a regular basis.
Even in Borussia Dortmund's recent 3-1 loss to Bayern Munich, Pulisic looked like BVB's best player, dancing past defenders to leave them in the dust. Even when his club and international career hits bumps, Pulisic quickly smooths them out by reminding fans what he can do.
At times he makes it look easy, even if more robust defenders still favour themselves to knock the slight attacker off the ball. Catch him if you can, though.
FourFourTwo's 100 Best Teenagers in the World 2017
Thank you for reading 5 articles this month* Join now for unlimited access
Enjoy your first month for just £1 / $1 / €1
*Read 5 free articles per month without a subscription
Join now for unlimited access
Try first month for just £1 / $1 / €1
Quizzes, features and footballing fun
Get the best features, fun and footballing frolics straight to your inbox every week.
Thank you for signing up to Four Four Two. You will receive a verification email shortly.
There was a problem. Please refresh the page and try again.