A brief history of football grounds
We might love them, hate them or take them for granted – but how did we end up with the football stadiums? Renowned football architecture historian Simon Inglis investigates the journey from gated fields to big gates and big yields...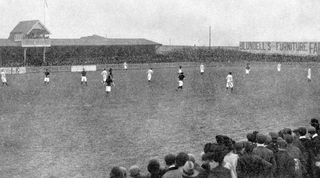 Turn on any televised coverage of football these days and you can bet that in between the action your screen will be filled with mesmerising images of stadiums (or 'stadia' if you must).
Swooping aerials. Shots of the stands. Glimpses into the dressing rooms. Digitised fly-through animations, even.
Stadiums are more centre-stage than ever before: in our minds, in our faces. And yet before the 1990s and the post-Hillsborough stadium revolution, very little media attention was paid to them at all, except when there were disasters or outbreaks of hooliganism, or if a documentary maker fell for the charms of the Kop at Anfield.
Going back further, despite the existence throughout the ancient worlds of Greece and Rome of brilliantly designed stadiums and arenas (or 'arenae' if you must), when Association football was first codified in 1863, there was no such entity as a 'football stadium'.
A field on which football was played, for sure, with a rail around the pitch and a tent in the corner for players and officials. At best, there might be a few bench seats or a timber stand, featuring what Americans would call 'bleachers' (wooden steps exposed to the elements). But little more. More often than not early clubs merely rented a field on a short lease, and set up their real headquarters in a pub.
The rental era: borrowing other sports' stadiums
In fact, as the game grew in popularity, the only enclosed venues where football clubs might reasonably accommodate a decent crowd were long-established cricket or athletics grounds.
So from 1872–92 all FA Cup finals took place at the Oval, the London home of Surrey County Cricket Club, with just one exception. That was in 1873, when the venue was Lillie Bridge, a cricket and athletics ground in west London, just next door to where another athletics ground would be laid out in 1877, by the name of Stamford Bridge. (Even after Chelsea took over the Bridge in 1905, the athletics track remained until the 1930s – and the ends retained distinctive curves until the 1990s redevelopment.)
And when the 1886 final between Blackburn Rovers and West Brom needed a replay, in the absence of any decent club venue, the FA chose the Racecourse Ground in Derby. This, as its name suggests, lay in the middle of the town's racecourse, but, confusingly, was also a cricket ground. Derby County played there until they moved in 1895 to… the Baseball Ground, which had been laid out six years earlier by a foundry owner who caught the baseball bug on a visit to the United States.
Even after the FA were booted out of the Oval by Surrey following the 1892 final – by which time crowds had grown from 2,000 to 25,000 – the best venue they could find for the 1893 final was an athletics ground in Fallowfield, Manchester. A new record crowd of some 45,000 was reported, but the afternoon was a debacle: fans broke in, and ticket holders couldn't get to their seats.
A home of our own: the self-build era
What professional football needed was professionally designed and solidly built, tailor-made grounds. Three main factors facilitated this great leap forward, all during the period 1890-1914.
Firstly, clubs started to form themselves into limited liability companies. This allowed them to issue shares and raise the necessary capital to buy a home of their own.
Secondly, thanks to industrialisation, materials such as mass-produced steel and concrete were more available and affordable. At last clubs could start to build big.
Thirdly, basic though this might seem, in 1895 a new form of turnstile came onto the market. Manufactured in Salford and called the Ellison 'Rush Preventive', this simple new device allowed clubs to count and take money from every individual entering their ground, one by one, before releasing a barrier to let them enter, rather than relying on the old system of having to trust gatemen to collect money and then hand it over to the club.
The new turnstiles didn't prevent fraud completely – but once installed, clubs found that their revenues soared. And with more money in the bank, the better able and the more incentivised clubs were to develop their grounds along modern lines.
During this first wave emerged such famous grounds as Goodison Park (probably the most developed ground of the early 1890s), Villa Park (which had a cycle track around the pitch), and the three Glasgow giants; Ibrox Park, Hampden Park and Celtic Park (which also staged cycling).
A grand plan or a beautiful mess?
Instrumental in helping to design several of these grounds was the Scottish engineer, Archibald Leitch, the world's first specialist football architect. Leitch was also commissioned to lay out the original Highbury ground for Arsenal in 1913.
FEATURE Simon Inglis on Archibald Leitch, the man who invented football grounds
RECOMMENDED
But the first British ground that appeared from the off to have a long-term masterplan (as is standard practice today), and offer the possibility of incremental expansion on a large unencumbered site, was Manchester United's Old Trafford. Also designed by Leitch, this opened in 1910.
Not that many other clubs followed suit. Most still ended up on cramped sites, building a bit here and a bit there, never to a masterplan – and only when funds allowed.
Some, as a result, evolved into a wonderful hodgepodge of stands, roofs and angles, oozing with character – Craven Cottage, Molineux and St James' Park to name but three.
Others were hardly more than open bowls, the emphasis being on capacity (large terraces, mostly uncovered), utilitarian materials (for cheapness) and minimal facilities (because the fans seemed to keep on coming, so why bother doing more?).
In redeveloping Highbury during the 1930s Arsenal broke out of that mould, building two spendid Art Deco stands with genuine architectural qualities. But not until the 1960s did other clubs see fit to follow.
Again Manchester United were at the fore, with their sleek 10,000-capacity United Road Stand in 1965. This featured British football's first bespoke executive boxes, an idea borrowed from horse racing. The intention was to replace the other three stands with similar designs, linking them to create a uniform modern stadium.
Conservative or forward-thinking?
United's new stand also had a cantilevered roof. That is, it was, seemingly miraculously, "column-free". One measure of how conservative Britain was during the 20th Century is that it took until 1958 for the nation's first cantilevered-roof stand at a football ground, in the steel town of Scunthorpe, followed by Sheffield Wednesday in 1961. This was some 40 or 50 years after such roofs had started appearing routinely in France, Germany and Italy.
British football's unwillingness to invest in high-calibre facilities paid its toll. First there was the disaster at Bolton in 1946 (33 dead), then Ibrox in 1971 (66), Bradford in 1985 (56) and Hillsborough in 1989 (96). Added to this toll was a weekly log of injuries, seldom reported (40 to 60 per match on the Kop alone).
When Lord Justice Taylor investigated the Hillsborough disaster, he told the press that his intention was not to prepare English football clubs for the 21st century but to drag them into the 20th.
Not everyone agreed with his main recommendation for all-seated stadiums. But no footballing nation in the world had such a poor safety record as did England.
Incidentally, what, you may ask, is the difference between a 'ground' and a 'stadium'? Well according to this writer's own rule, a 'stadium' is designed as a whole, with a complete end product in mind – whereas a 'ground' is a venue that is developed, bit by bit, over the years, with no masterplan at all.
Wembley is thus a genuine stadium. Anfield (and Villa Park, and countless others) are but grounds – and some would say all the better for it...
FEATURE Simon Inglis on Archibald Leitch, the man who invented football grounds
Simon Inglis is the editor of the Played in Britain series (www.playedinbritain.co.uk) and has written a number of books on football architecture, including The Football Grounds of Britain and The Football Grounds of Europe.
#FFT100STADIUMS The 100 Best Stadiums in the World: list and features here
Thank you for reading 5 articles this month* Join now for unlimited access
Enjoy your first month for just £1 / $1 / €1
*Read 5 free articles per month without a subscription
Join now for unlimited access
Try first month for just £1 / $1 / €1