Champions League anthem composer: "It's not my best work – I was doing music for Amstrad ads then"
Dom Walbanke chats to Tony Britten, the Norfolk native of many talents who penned football's most famed score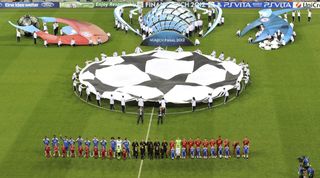 We all know the scene: floodlit pitch, full-capacity stadium, players lining up and anticipation circling in the crowd – then the burst of that tune.
It's a piece of music which inspires Cristiano Ronaldo, and brought tears to the eyes of Francesco Totti on Roma's return to the Champions League in 2014/15. It's European football's anthem.
In 1992, Tony Britten composed the spine-tingling piece of music for UEFA that would help reshape the image of European football. They had realised the success of The Three Tenors at Italia '90, and proposed to bring classical music into club football for the newfangled Champions League.
Comprising of UEFA's three official languages, English, German and French, the anthem has been giving fans goosebumps for 23 years, creating a unique atmosphere before a game.
"I do like that moment," Britten tells FFT, "but I'm afraid my schedule doesn't tend to allow attendance very often. It must be about four years since I went to a live match, although I do watch them on TV."
Ads and fads
Britten's agent initially sent samples of music over to European football's governing body to get an exact idea of what they had in mind – all while Britten was juggling other work.
"It's a long time ago, but I seem to recall I'd been working on a lot of TV commercials, particularly for Amstrad computers," he muses. "I was also busy doing the music for various TV drama series, so the Champions League tune had to be fitted in with some other work."
UEFA responded with a request for an anthem similar to Handel's Zadok the Priest, originally used to crown King George II in 1727. From now on, players would line up to ceremonial music like royalty.
Subsequently, it's proved an iconic lure for many players – Real Madrid's Gareth Bale once stated it was one of the reasons he wanted to play in the Champions League.
"It's gratifying," says Britten. "Most recently it was the legendary Bayern Munich midfielder Stefan Effenberg, who I appeared with in a Champions League TV show last year. He told how it always gave him a shiver down his spine, and that he thought it was the best sports music around. I was very humbled by that."
Not my best work
But despite its huge popularity and power to inspire the greats, Britten doesn't think of it as his finest work.
"Of course I'm proud of its popularity, but I don't think it's necessarily the best thing I've ever written," he says.
"That tends to be whatever was most recent – at the moment that's the score for the film I've written and directed: ChickLit. Would I change it? No, I don't think so; I never pretend that it's great art, but it's good craft – it did exactly what the client wanted."
It's certainly gone down well in Italy, and in particular Naples, where the last blast of it is shouted by Napoli supporters before a European home game. There is one video in particular (below) where the shouts can be heard from afar in a multi-storey building in the city.
For Britten, though, the anthem's success has opened up many opportunities, not least in landing his dream job as a film director and composer, setting up his company Capriol Films.
"To a degree," he admits. "The income from the anthem has enabled me to take some artistic risks as a film-maker and composer that I might not otherwise have been able to."
It's also stood the test of time (unlike his Amstrad ads, anyway) – and will for years to come.
Please note: This interview was originally published in May 2015
Thank you for reading 5 articles this month* Join now for unlimited access
Enjoy your first month for just £1 / $1 / €1
*Read 5 free articles per month without a subscription
Join now for unlimited access
Try first month for just £1 / $1 / €1
Get FourFourTwo Newsletter
The best features, fun and footballing quizzes, straight to your inbox every week.