FourFourTwo's 100 Best Football Players in the World 2017: No.27, Thibaut Courtois
The Chelsea and Belgium net-minder has developed into one of the world's best at Stamford Bridge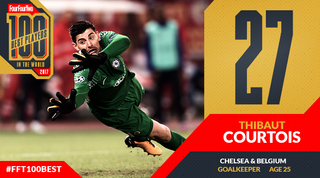 What stands out the most about Courtois is that he never tries to stand out: he's just doing his job, minute after minute, game after game, season after season.
Even the most outrageous saves look easy and effortless for him. We'd hate to play poker against him: his face is always impassive, his movements always secure. His team-mates trust him wholeheartedly.
STATS insight
Courtois has kept 23 clean sheets since the start of last season, the joint-highest total in the Premier League (alongside David de Gea)
It's tough to think of a more consistent performer, and that is exactly what every elite team like Chelsea needs. Ever since arriving at Stamford Bridge in 2014, after three seasons on loan at Atletico Madrid, the Belgian has very rarely put a foot wrong.
The initial choice to prefer him over club legend Peter Cech was questioned. And yet, three years and two titles later, it's crystal clear that the Blues made the right move.
Was 2017 the best in Courtois' career? Maybe not – after all, he won a sensational La Liga title in Spain in 2014 with Atleti, and reached the Champions League final in the same season. He was also magnificent in his first season in England, erasing any question marks that hovered above him.
Courtois is difficult to judge anyway, because he is always so quietly excellent – rarely praised, but always crucial. He conceded just 28 goals in 36 Premier League matches last season and has allowed just 13 goals in 16 games this term. He was also ever-present as Belgium easily qualified for the World Cup.
Highlight: Three championship titles in four years is a cool achievement by any standards.
All insights provided by STATS – the pioneer of live sports data
Get the full list:
100-91 • 90-81 • 80-71 • 70-61 • 60-51 • 50-41 • 40-31 • 30 • 29 • 28 • 27 • 26 • 25 • 24 • 23 • 22 • 21 • 20 • 19 • 18 • 17 • 16 • 15 • 14 • 13 • 12 • 11 • 10 • 9 • 8 • 7 • 6 • 5 • 4 • 3 • 2 • 1
FourFourTwo's 100 Best Football Players in the World 2017
Thank you for reading 5 articles this month* Join now for unlimited access
Enjoy your first month for just £1 / $1 / €1
*Read 5 free articles per month without a subscription
Join now for unlimited access
Try first month for just £1 / $1 / €1