FourFourTwo's 100 Best Football Players in the World 2017: No.5, Kevin De Bruyne
The world's most complete midfielder is dropping jaws with his defence-splitting brilliance – and setting himself on the path to superstardom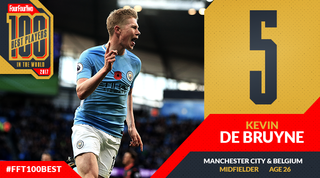 Andrea Pirlo and Xabi Alonso have retired in 2017, so it can now be said loud and clear that Kevin De Bruyne is the best passer in world football. Or, at least in order to avoid unnecessary arguments about Lionel Messi, the best passer of a ball among non-strikers.
The Belgian maestro always has been superb as far as his passing range is concerned. He showed glimpses of genius when playing for Genk in his homeland, then excelled at Werder Bremen and broke the Bundesliga record with 21 assists for Wolfsburg in the 2014/15 season. And yet, this year he took another big step forward – even if a couple of steps back were needed in order to achieve it.
STATS insight
De Bruyne has 17 assists in the Premier League in 2017, three more than any other player
Under Pep Guardiola, De Bruyne plays a bit deeper than before. He was once a playmaker who also operated on the wing, but now usually takes up a deeper role which enables him to dictate the tempo better and become even more influential in building moves.
The change was evident last season, when the Manchester City coach witnessed his Belgian playmaker taking a withdrawn role for his national team and decided to try him there. This term, with the classic Catalan 4-3-3 system in use, that transformation is even more distinctive.
"I have always said that the longer I play in my career, I will play deeper because of the attributes I have in contrast to the more wing-attacking players," the midfielder himself admitted. Those attributes are phenomenal vision and the ability to execute through-balls with immaculate precision.
Some players are outrageously gifted technically, some are very clever, but the combination of those qualities is much rarer. It makes De Bruyne a one-of-a-kind artist, and his importance to City is colossal.
The Belgian led the Premier League with 18 assists last season, and he is top of the charts again in 2017/18 alongside team-mate David Silva, with eight assists in just 15 matches.
But even that doesn't do him justice. De Bruyne is usually busy generating moves, and thus not always credited with the last pass. Technically, he only had two assists to his name in October's 7-2 demolition of Stoke. In reality, he made crucial contributions to six of the goals, and was absolutely unplayable with an array of defence-splitting through-balls.
De Bruyne is capable of finding cracks in the tightest of defences. The latest example came in Manchester City's recent 2-1 win over West Ham, when his incredible lofted pass enabled Silva to find a pocket of space in front of goal to convert a late winner.
The Belgian can score as well, of course, and has nine Premier League goals to his name in 2017. None were more important than his magnificent winner in September's 1-0 win over Chelsea which confirmed that City – and not the reigning champions – were the team to beat this season.
Add decent defensive qualities, tactical discipline and stunning awareness, and what you have is a perfect midfielder. That is how Guardiola rates the Belgian, who at the age of 26 can become even better.
We're probably witnessing the development of a player who will be considered one of the greatest in history when he retires.
All insights provided by STATS – the pioneer of live sports data
Get the full list:
100-91 • 90-81 • 80-71 • 70-61 • 60-51 • 50-41 • 40-31 • 30 • 29 • 28 • 27 • 26 • 25 • 24 • 23 • 22 • 21 • 20 • 19 • 18 • 17 • 16 • 15 • 14 • 13 • 12 • 11 • 10 • 9 • 8 • 7 • 6 • 5 • 4 • 3 • 2 • 1
FourFourTwo's 100 Best Football Players in the World 2017
Thank you for reading 5 articles this month* Join now for unlimited access
Enjoy your first month for just £1 / $1 / €1
*Read 5 free articles per month without a subscription
Join now for unlimited access
Try first month for just £1 / $1 / €1