FourFourTwo's 100 Best Football Players in the World 2017: No.1, Lionel Messi
Nobody in Europe's big five leagues has scored more goals in 2017. Nobody in La Liga has managed more assists, chances created, dribbles or key passes. Since summer he has almost single-handedly dragged a Barça side in crisis to the La Liga summit, and his country to the World Cup. He is the best player in the world...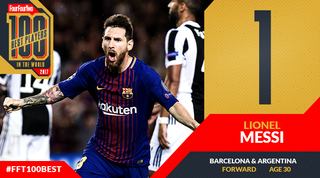 When people said Barcelona were in crisis before the season, they were right. The squad looked weak, Neymar had left and his replacement, Ousmane Dembele, had just been ruled out for months. Riding to the rescue was... Paulinho. Up front, backup options were limited to Paco Alcacer and Gerard Deulofeu. That heaped responsibility on Luis Suarez, who soon hit a rough patch.
And yet Barça are now top of La Liga, eight points ahead of Real Madrid (who sit fourth), with the most goals scored. How?
STATS insight
Messi has scored 39 goals in La Liga in 2017, 15 more than any other player
You probably know the answer. Just when Barça seemed to lag behind, Lionel Messi dragged them back in front.
The most prescient call of the season came from Catalan newspaper Sport back in September, when Madrid had outplayed Barcelona in the Spanish Super Cup and injuries had struck down Suarez and Dembele. The old 'MSN' forward trio had gone, they declared. What Barça now relied on was 'MMM': Messi, Messi, Messi.
Some months later, you may well say that Messi has done the job of three players. The Argentine has plundered 17 goals and set up another five in La Liga and the Champions League; no other Barcelona player has been involved in more than nine. Without Dembele, Ernesto Valverde has often played him in a 4-4-2 behind Suarez, handing him freedom and bolstering the midfield. The coach knows how simple the formula can be: keep a clean sheet and Messi will usually fix the rest.
With Cristiano Ronaldo often misfiring, Messi can surely call himself the best player in the world since summer. Over the whole year, the Barça playmaker has scored 39 league goals – five more than anyone in the top five European leagues – and recorded 10 assists. Throw in his brilliance as a playmaker in deeper areas, and he deserves to top this list.
What counted against him for the Ballon d'Or were Barça's failings last season. They ceded the title to Madrid and crashed out of the Champions League against Juventus, their 4-0 collapse at PSG denoting deep-running flaws. All they had left was the Spanish Cup. As their old identity got lost under Luis Enrique, not even Messi could paper over the cracks.
STATS insight
Messi has attempted 141 passes into the penalty area this season. No other player in La Liga has attempted more than 73
This season, however, he has managed to. Barcelona are favourites for their seventh league title in 10 years and, with every coach who passes through the Camp Nou, it becomes increasingly clear that this will go down as the era of Messi. More so than ever, this campaign has shown that they'll always have a chance with him, almost irrespective of surrounding factors. Even as the club has been rocked by the Catalan independence issue and internal turmoil, he has kept the team winning.
Messi also had time to send Argentina to the World Cup, salvaging a qualifying campaign beset by chaos and ineptitude by sealing the deal with a typically stunning hat-trick in Ecuador.
At 30, he shows no signs of slowing down. That is not only good news for his club and country, but for all of us who so enjoy seeing him play.
All insights provided by STATS – the pioneer of live sports data
Get the full list:
100-91 • 90-81 • 80-71 • 70-61 • 60-51 • 50-41 • 40-31 • 30 • 29 • 28 • 27 • 26 • 25 • 24 • 23 • 22 • 21 • 20 • 19 • 18 • 17 • 16 • 15 • 14 • 13 • 12 • 11 • 10 • 9 • 8 • 7 • 6 • 5 • 4 • 3 • 2 • 1
FourFourTwo's 100 Best Football Players in the World 2017
Thank you for reading 5 articles this month* Join now for unlimited access
Enjoy your first month for just £1 / $1 / €1
*Read 5 free articles per month without a subscription
Join now for unlimited access
Try first month for just £1 / $1 / €1