FourFourTwo's 100 Best Football Players in the World 2017: No.17, Sergio Ramos
Detractors come in their hordes when you're considered Mr. Real Madrid – but Ramos has never been shy to face them. With knife between teeth, Madrid's double-winning skipper is the embodiment of his all-conquering club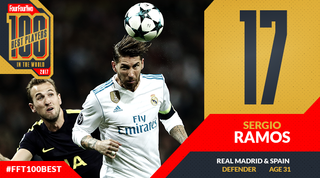 Across a 2016/17 season in which Real Madrid clinched La Liga, Champions League, European Super Cup and Club World Cup titles, Sergio Ramos personified the club's attitude, competitive spirit and relentless desire to win at all costs.
STATS insight
Ramos played in his 500th match with Real Madrid on February 11 against Osasuna
He contributed eight goals across the course of the campaign, often in situations where los Blancos needed their captain to lead by example – typified by four goals across as many La Liga games at the turn of the year, including last-minute winners in consecutive games against Barcelona and Deportivo La Coruna, then both goals in a 2-1 win over Malaga.
The presence he offered from centre-back helped Zinedine Zidane's side maintain their momentum despite heavy rotation. Ramos is unashamedly physical, strong in the air and unafraid to be cynical when his team needs him to be; his personality and desire to win is unavoidable.
Though the number of red cards he's picked up in La Liga reached record levels in November (19), Ramos's game simply wouldn't be the same without that edge. He may not be the most technical defender under Zidane's control, but the 31-year-old makes the biggest contributions in terms of leadership, motivation and battling in every game until all hope has gone.
A vital goal against Napoli at the Stadio San Paolo helped Madrid on their way to a comfortable aggregate victory in the last 16 of the Champions League, and history was made when they eventually eased to a 4-1 victory against Juventus in the final to retain the trophy for the first time in its history.
Highlight: Lifting consecutive Champions League trophies for the first time in history, as Real Madrid captain.
All insights provided by STATS – the pioneer of live sports data
Get the full list:
100-91 • 90-81 • 80-71 • 70-61 • 60-51 • 50-41 • 40-31 • 30 • 29 • 28 • 27 • 26 • 25 • 24 • 23 • 22 • 21 • 20 • 19 • 18 • 17 • 16 • 15 • 14 • 13 • 12 • 11 • 10 • 9 • 8 • 7 • 6 • 5 • 4 • 3 • 2 • 1
FourFourTwo's 100 Best Football Players in the World 2017
Thank you for reading 5 articles this month* Join now for unlimited access
Enjoy your first month for just £1 / $1 / €1
*Read 5 free articles per month without a subscription
Join now for unlimited access
Try first month for just £1 / $1 / €1