FourFourTwo's 100 Best Football Players in the World 2017: No.23, Toni Kroos
"Why put another layer of gold paint on the Bentley when you are losing the entire engine?" enquired Zinedine Zidane when Real Madrid sold Claude Makelele to Chelsea in 2003. In Kroos, the Frenchman has his engine...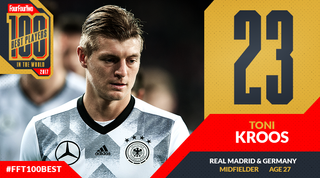 Toni Kroos's style means he can often go unnoticed. But in a Real Madrid squad packed with quality and flair there must be a support network which allows key men to feel liberated, and the Germany international offers just that.
STATS insight
Kroos averaged 123.8 passes per 90 minutes in World Cup qualifying, the highest average in Europe
Kroos helped form the intricate midfield structure that enabled the likes of Cristiano Ronaldo, Karim Benzema and Isco to run amok last season en route to glory in La Liga and the Champions League. It's a job he has been doing for three full seasons now, and continues to do with admirable consistency at the Bernabeu.
Twelve assists across the 2016/17 La Liga campaign spoke volumes of his influence from set-pieces in particular; the German's pinpoint delivery has been an extra weapon for a Madrid side that aren't afraid to play direct when they need a goal, and he is a vital asset in providing reliable service even for the likes of Sergio Ramos too.
Calm, patient and technically excellent, Kroos is essential in retaining possession and ensuring Real Madrid's marauding wing-backs can move upfield to support and threaten in the final third.
Marcelo and Dani Carvajal are key, but Kroos's role in midfield should never be downplayed. When faced with teams that like to press and get in the opposition's face, the tranquility and control with which he goes about his job is truly classy.
Kroos's €30m switch to the Spanish capital from Bayern Munich in 2014 has long felt like one of the decade's biggest bargains. He's still only 27, and yet you wouldn't bet against him lifting a second World Cup with Germany in Russia next summer.
Highlight: Finishing his domestic and European club campaigns in 2016/2017 with a cumulative total of 13 assists from central midfield.
All insights provided by STATS – the pioneer of live sports data
Get the full list:
100-91 • 90-81 • 80-71 • 70-61 • 60-51 • 50-41 • 40-31 • 30 • 29 • 28 • 27 • 26 • 25 • 24 • 23 • 22 • 21 • 20 • 19 • 18 • 17 • 16 • 15 • 14 • 13 • 12 • 11 • 10 • 9 • 8 • 7 • 6 • 5 • 4 • 3 • 2 • 1
FourFourTwo's 100 Best Football Players in the World 2017
Thank you for reading 5 articles this month* Join now for unlimited access
Enjoy your first month for just £1 / $1 / €1
*Read 5 free articles per month without a subscription
Join now for unlimited access
Try first month for just £1 / $1 / €1