FourFourTwo's 100 Best Football Players in the World 2017: No.4, Robert Lewandowski
The stats say it all: Lewandowski is one of the deadliest finishers in the world, and achieving icon status in both Poland and Germany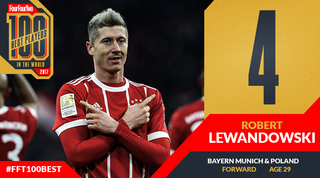 It might be a bit difficult to fully grasp Robert Lewandowski's achievements at first, but they're phenomenal from every angle possible.
The Pole is just 29, and this is his eighth season in Germany, but he's already the second-highest foreign scorer in Bundesliga history and No.11 in the all-time rankings with 164 goals in 240 matches. He'll soon leapfrog Hannes Lohr into 10th place, and by the end of the season could easily be sixth, with just Gerd Muller, Klaus Fischer, Jupp Heynckes (his current manager), Manfred Burgsmuller and Claudio Pizarro ahead of him.
STATS Insight
Lewandowski has scored Bundesliga 33 goals in 2017, six more than any other player
As far as his scoring ratio is concerned, only the legendary, incomparable Gerd Muller beats Lewandowski in the top 50 Bundesliga scorers of all time. The Pole averages 0.68 goals per game, even taking into account his very first season on the Borussia Dortmund bench in 2010/11.
In 2017, he has a better ratio than even Muller managed. He grabbed 18 goals in 17 Bundesliga matches in the second half of 2016/17, and has 15 goals in 16 games this term – the perfect ratio of a goal per game. Add three more in three Champions League knockout games last season, then an overall record of 16 goals in 10 World Cup qualifying fixtures for a Poland side that didn't face any outright minnows, and you have quite a year.
Cristiano Ronaldo, who scored 15 goals en route to Russia, enjoyed life against Andorra and the Faroe Islands. But Lewandowski scored hat-tricks against Denmark, Romania and Armenia, two of them coming in 2017. He is the most dangerous penalty area predator on the planet.
The Pole makes things look easy. His backheel goals are so common that fans have stopped raving about them. Since he scored five goals in nine minutes as a substitute against Wolfsburg in 2015, nothing seems impossible.
He is always up to task in the biggest games, and his influence on his team-mates is remarkable. When he missed the first leg of Bayern's Champions League quarter-final against Real Madrid, the German giants lost 2-1 at home. With Lewandowski on the pitch in the return leg, they won 2-1 and took the game to extra-time.
STATS insight
Lewandowski set the record with 16 goals in World Cup qualification, moving one ahead of Cristiano Ronaldo (15 goals). Both players beat Predrag Mijatovic's previous record (14 goals in qualifying for France 98)
Then Arturo Vidal was sent off, Carlo Ancelotti decided to play it safe and removed Lewandowski, before Madrid controversially won 4-2. One can only guess whether the Bavarians could have lifted the trophy had their Polish talisman been on the pitch in both fixtures.
In his homeland, 2017 was an important year for Lewandowski. He overtook the legendary Grzegorz Lato and Wlodzimierz Lubanski for goals, and is now the top scorer in Polish history with 51 goals in 91 caps.
Could he be on his way to immortality in 2018? The best out-and-out striker in the world, his goals helped Poland earn a seeding spot for Russia 2018, and a huge World Cup could lead him to the very top of this list next year.
All insights provided by STATS – the pioneer of live sports data
Get the full list:
100-91 • 90-81 • 80-71 • 70-61 • 60-51 • 50-41 • 40-31 • 30 • 29 • 28 • 27 • 26 • 25 • 24 • 23 • 22 • 21 • 20 • 19 • 18 • 17 • 16 • 15 • 14 • 13 • 12 • 11 • 10 • 9 • 8 • 7 • 6 • 5 • 4 • 3 • 2 • 1
FourFourTwo's 100 Best Football Players in the World 2017
Thank you for reading 5 articles this month* Join now for unlimited access
Enjoy your first month for just £1 / $1 / €1
*Read 5 free articles per month without a subscription
Join now for unlimited access
Try first month for just £1 / $1 / €1