FourFourTwo's 100 Best Football Players in the World 2017: No.21, Isco
For months on end he was sidelined by the BBC, but a foot in the door was all he needed. Having forced his way in, Isco is now more or less undroppable for Zinedine Zidane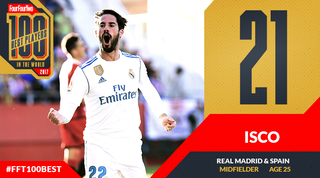 Long benched by the 'BBC' forward trio, Isco has been handed more chances this year – and replied with his most prolific form at Real Madrid to date.
The playmaker got jeered by the Santiago Bernabeu in October last year, his future in doubt amid interest from Juventus. That he has turned it around is owed to his own brilliance... and a bit of luck.
STATS insight
Isco has averaged 31.5 final-third passes per 90 minutes this season, the highest total in La Liga
As last season neared its end, injuries to Gareth Bale led Zinedine Zidane to giving Isco his favoured free role behind Cristiano Ronaldo and Karim Benzema. He dazzled, and Madrid hit form to snatch their first league and Champions League double since 1958.
Razor sharp against packed defences, Isco pierced backlines with surgical passing and astonishingly intricate footwork. With Bale still out, Zidane has kept playing him this term, and Madrid handed him a new five-year deal in September. That same month, Isco hit a superb brace to help Spain beat Italy 3-0 in the World Cup qualifiers.
Only Ronaldo has scored more league goals for Madrid in 2017; only Marcelo has more assists. Isco is actually their joint-top scorer in La Liga this season, denoting that not all is well with their attack.
Without him, the situation would surely have been even worse.
Highlight: At 2-0 down to Atletico Madrid in the Champions League semi-finals, Isco poked in an away goal that swung the balance of the tie in Madrid's favour.
All insights provided by STATS – the pioneer of live sports data
Get the full list:
100-91 • 90-81 • 80-71 • 70-61 • 60-51 • 50-41 • 40-31 • 30 • 29 • 28 • 27 • 26 • 25 • 24 • 23 • 22 • 21 • 20 • 19 • 18 • 17 • 16 • 15 • 14 • 13 • 12 • 11 • 10 • 9 • 8 • 7 • 6 • 5 • 4 • 3 • 2 • 1
FourFourTwo's 100 Best Football Players in the World 2017
Thank you for reading 5 articles this month* Join now for unlimited access
Enjoy your first month for just £1 / $1 / €1
*Read 5 free articles per month without a subscription
Join now for unlimited access
Try first month for just £1 / $1 / €1