FourFourTwo's 100 Best Football Players in the World 2017: No.2, Cristiano Ronaldo
Not even a Double-winning campaign with Real Madrid earns CR7 top spot in the FFT100 this year – but that shouldn't detract from the continued excellence of the five-time Ballon d'Or winner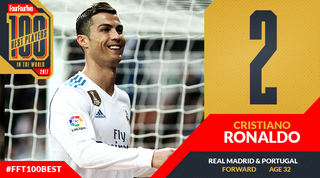 There have been two Cristiano Ronaldos this year. One has been the majestic Champions League version, bombarding rivals with towering headers and first-time shots, firing Real Madrid to their second straight European title. Then there's the league version, who has squandered sitters and hit row Z to let Barcelona race clear.
Given that titles are handed out in May and June, there can be no doubt that Ronaldo has had a fine year overall.
STATS insight
Ronaldo became the first player to score 100 Champions League goals when he netted against Bayern Munich in April
Nobody could stop him at the business end of last season. Key to his form was how Zinedine Zidane rested him for smaller games as Madrid's co-called 'B team' did the job. Ronaldo turned into superman when the Champions League knockout stages then came around, lashing five past Bayern Munich, three past Atletico Madrid and two past Juventus in the final.
That final brace proved what Ronaldo can produce on the big occasion. He was crucial in the league finish too, scoring five goals to seal three wins at a stage where Barcelona were begging for Madrid to slip up. In 2017, his goals have stood out less for their quantity than for their importance.
All along Ronaldo has continued to evolve into a pure No.9, to the extent that Zidane has mainly played him up front with Karim Benzema. When at his best, there has been no better penalty-box poacher than the Portuguese.
After summer, however, the goals dried up. The slump was part of a collective decline, even though Madrid's first-choice line-up has been more or less the same as the one that won the Double. The squad is thinner, however, and that has been noticed. Zidane's side have been hammered by Tottenham and fallen eight points behind Barça in La Liga.
Though most of their stars have struggled, nobody has symbolised the malaise as much as Ronaldo. By early December, a player accustomed to racking up 30 league goals a season somehow had just two, one of which came from a penalty that he'd missed. His shot conversion in La Liga was 2.9%.
STATS insight
Ronaldo scored his 600th career goal on June 3 in the 2017 Champions League Final against Juventus
And yet his Champions League version has survived, hitting nine goals in six games, including tough tests at Spurs and Dortmund. Ronaldo now has as many goals in the Champions League (19) as in La Liga this year.
La Liga Ronaldo floundered for so long that Zidane must have wondered at what stage he'd recover. Luckily for Madrid, Ronaldo finally seems to have ended his woeful spell, having plundered two goals against Sevilla recently.
As the Portuguese nears his 33rd birthday, Madrid will back him to keep scoring, having handed him a contract until 2021. And if there is one athlete with the willpower to defy his own ageing process, it's him. What says the most about the standards he has set is perhaps that, even in a year where he has struggled at times, he has still picked up his fifth Ballon d'Or.
All insights provided by STATS – the pioneer of live sports data
Get the full list:
100-91 • 90-81 • 80-71 • 70-61 • 60-51 • 50-41 • 40-31 • 30 • 29 • 28 • 27 • 26 • 25 • 24 • 23 • 22 • 21 • 20 • 19 • 18 • 17 • 16 • 15 • 14 • 13 • 12 • 11 • 10 • 9 • 8 • 7 • 6 • 5 • 4 • 3 • 2 • 1
FourFourTwo's 100 Best Football Players in the World 2017
Thank you for reading 5 articles this month* Join now for unlimited access
Enjoy your first month for just £1 / $1 / €1
*Read 5 free articles per month without a subscription
Join now for unlimited access
Try first month for just £1 / $1 / €1