FourFourTwo's 100 Best Football Players in the World 2017: No.6, Luka Modric
The former Spurs midfielder has confirmed his legacy as one of Real Madrid's all-time greats – and now has another Champions League medal to show for it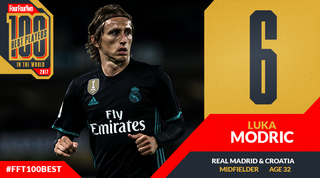 There's a debate that rages these days at Real Madrid these days – and it's credit to Luka Modric that it even exists.
Just who is the club's most important player? The Croatian midfielder has done the unthinkable and provided a legitimate answer beyond Cristiano Ronaldo.
Modric has well and truly established himself as a midfielder among the elite, and for many leads them all. It's justified when you consider just how good the former Spurs man has been in 2017 too, his control and dominance in midfield having gently guided Real Madrid to a phenomenal pair of La Liga and Champions League titles.
STATS insight
Modric has completed 89.7% of his passes in La Liga this season, including 85.4% of those in the attacking third
Zinedine Zidane, one of Real Madrid's all-time icons and Modric's manager at the Bernabeu since 2016, adores his Croatian schemer and entrusts him to be the central piece in his team. While the Frenchman had a very different style of play to the 30-year-old, he is well aware of what he brings to the team. "Tranquility. That's what he gives the team when he's playing well. He makes the rest play," Zidane enthused this season.
Modric, that soothing, intelligent presence – but also fearless – is now the complete midfielder; the standard-bearer in his position.
His primary role is taking the ball from defence, filtering it through midfield and into attack. Without this funnel that he provides, Madrid simply wouldn't function properly. And yet, despite the pressure that his role brings, he carries out his duties with little fuss and extreme class.
Modric's rise to prominence has helped Real Madrid brag the best midfield not only in Spain – dominating a Barcelona team still adjusting to life without Xavi – but also the world over. He doesn't hide, and seems to step up his level even further in the most prestigious games – indeed, two of his last four assists for Madrid have come in Champions League finals. His performances across both legs against Atletico Madrid in the Champions League semi-finals were the perfect example of a player stepping up when his team needed him most.
Alongside Casemiro and Toni Kroos, the elegant Croatian has made sure that Real Madrid remain midfield masters ahead of great rivals Barça. The trio complement each other perfectly, and it's no surprise that much of the recent glory in Madrid has been built upon the foundations of their understanding. Modric, eldest of the three, has taken on the most responsibility to lead and establish control.
It's incredible to think some doubted his ability to step up at Real Madrid once upon a time. When we reflect on this era of Madrid's success in years to come, it shouldn't be merely defined by the BBC's presence – but also by one of the most unassuming stars who facilitated it.
All insights provided by STATS – the pioneer of live sports data
Get the full list:
100-91 • 90-81 • 80-71 • 70-61 • 60-51 • 50-41 • 40-31 • 30 • 29 • 28 • 27 • 26 • 25 • 24 • 23 • 22 • 21 • 20 • 19 • 18 • 17 • 16 • 15 • 14 • 13 • 12 • 11 • 10 • 9 • 8 • 7 • 6 • 5 • 4 • 3 • 2 • 1
FourFourTwo's 100 Best Football Players in the World 2017
Thank you for reading 5 articles this month* Join now for unlimited access
Enjoy your first month for just £1 / $1 / €1
*Read 5 free articles per month without a subscription
Join now for unlimited access
Try first month for just £1 / $1 / €1
Get FourFourTwo Newsletter
The best features, fun and footballing quizzes, straight to your inbox every week.