FourFourTwo's 100 Best Football Players in the World 2017: No.20, Antoine Griezmann
This time last year, Atletico Madrid's mercurial Frenchman was at the top of his game, having inspired fine results for club and country. The 12 months since haven't been anywhere near as spectacular for the 26-year-old – but few would be predicting a repeat in 2018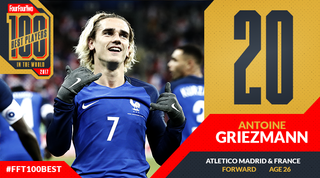 Having led Atletico Madrid to the Champions League final and France to the Euro 2016 Final last year, Antoine Griezmann came third for the 2016 Ballon d'Or, behind Cristiano Ronaldo and Lionel Messi.
He was top – among the mortals. And when he then notched up another 10 league goals before summer, it seemed his fine form would continue.
STATS insight
Griezmann is the second-top scoring French player in the history of La Liga (105 goals, only trailing Karim Benzema - 124 goals)
But then the speculation started.
You can see why Manchester United wanted him: Griezmann works hard, moves intelligently, scores goals and offers versatility – as a winger, second forward and lead striker. Moulded into a winner by Diego Simeone, he would have suited Jose Mourinho.
The saga ended when Griezmann decided to stay amid Atleti's transfer ban. But after that, oddly, he didn't look the same. He began the season by getting sent off at Girona, and soon went eight games without finding the net. A lacklustre display in November's Madrid derby got him booed by his own fans, prompting Diego Simeone to vow that he'd back his player 'to the death'.
In any case, the Ballon d'Or list wasn't as kind to Griezmann this time – he finished 18th on the 30-man list.
It's only lately that the 26-year-old has found his old self, firing home four goals in five games. That merits optimism for a new year full of opportunities, including a lead role for France at the World Cup. And perhaps a move to Old Trafford, too.
Highlight: As Real Madrid closed in on a derby win in April, Griezmann struck late to wreck the party.
All insights provided by STATS – the pioneer of live sports data
Get the full list:
100-91 • 90-81 • 80-71 • 70-61 • 60-51 • 50-41 • 40-31 • 30 • 29 • 28 • 27 • 26 • 25 • 24 • 23 • 22 • 21 • 20 • 19 • 18 • 17 • 16 • 15 • 14 • 13 • 12 • 11 • 10 • 9 • 8 • 7 • 6 • 5 • 4 • 3 • 2 • 1
FourFourTwo's 100 Best Football Players in the World 2017
Thank you for reading 5 articles this month* Join now for unlimited access
Enjoy your first month for just £1 / $1 / €1
*Read 5 free articles per month without a subscription
Join now for unlimited access
Try first month for just £1 / $1 / €1