FourFourTwo's 100 Best Football Players in the World 2017: No.22, David de Gea
It takes a special player to win Manchester United's Player of the Year award for three consecutive seasons – but then the Spaniard is deserving of such status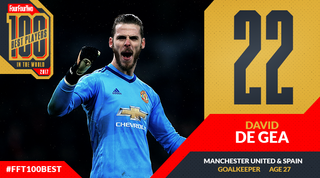 Whether he is still at Old Trafford by luck or judgement is open to question, but there is no doubt that Manchester United have provided a platform for David de Gea to establish himself as a truly elite goalkeeper.
During a half-decade of wild flux at United, a constant has been the spider-like presence at the base of their team, repelling all but the truly unstoppable attempts into his net.
STATS insight
De Gea has the second-highest save percentage in the Premier League this season (84.3%)
Indeed, it's possible that his team's ailing fortunes have even aided De Gea's development: his steep rate of season-on-season improvement surely has something to do with that fact that he has rarely been under-employed (notice how disproportionately few top-class keepers spend their formative years at elite clubs).
The best goalkeepers all possess one of two traits: the ability to make the odd outrageous save, or the apparent inability to make a mistake. De Gea enjoys both, existing somewhere between resplendent and reliable; equal parts Schmeichel and Van der Sar.
Factor in an imposingly rangy frame, bulletproof confidence in coming for crosses and a neat, no-frills distribution repertoire, and you have a player who could reign as the world's finest keeper for the next decade. Thank heavens for that administrative cock-up at Real Madrid.
Highlight: The dazzling one-man show at the Emirates Stadium in December. His 14 saves made for a joint, single-game record since the inception of the Premier League and denied Arsenal what would, against a lesser keeper, have amounted to either a routine win or a rampant one. Instead, United left London cackling over their smash-and-grab 3-1 win, De Gea with his reputation enhanced yet further.
All insights provided by STATS – the pioneer of live sports data
Get the full list:
100-91 • 90-81 • 80-71 • 70-61 • 60-51 • 50-41 • 40-31 • 30 • 29 • 28 • 27 • 26 • 25 • 24 • 23 • 22 • 21 • 20 • 19 • 18 • 17 • 16 • 15 • 14 • 13 • 12 • 11 • 10 • 9 • 8 • 7 • 6 • 5 • 4 • 3 • 2 • 1
FourFourTwo's 100 Best Football Players in the World 2017
Thank you for reading 5 articles this month* Join now for unlimited access
Enjoy your first month for just £1 / $1 / €1
*Read 5 free articles per month without a subscription
Join now for unlimited access
Try first month for just £1 / $1 / €1