FourFourTwo's 100 Best Football Players in the World 2017: No.30, Marcelo
Creeping into the top 30 is the Brazilian who's spent close to decade unopposed at Real Madrid – and remains arguably the world's finest left-back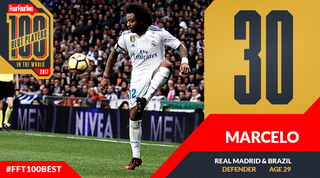 Marcelo was a key weapon in Real Madrid's attacking arsenal during a highly successful 2016/17 campaign where los Blancos triumphed in both La Liga and the Champions League.
STATS insight
Marcelo managed 10 assists in the 2016/17 season, the most for a defender across Europe's big five leagues
The Brazilian's creativity and desire to get forward help provide the width for a narrow midfield, and a stream of good service for the likes of Cristiano Ronaldo and Karim Benzema.
Simply, he is still the most complete left-back in world football, with neat trickery and an excellent left foot making him as impressive to watch as ever.
Marcelo's street football upbringing inspires some of the more unorthodox flicks and tricks, but this has been a year of consistency for the Brazil international. Last season the 29-year-old racked up 10 assists in La Liga, offering direct, no-frills deliveries guided into dangerous areas.
His occasional cameos as a left winger in La Liga show just how highly Zinedine Zidane thinks of his quality in the final third.
Highlight: An amazing run through Bayern Munich's lines to assist Cristiano Ronaldo in the Champions League quarter-finals.
All insights provided by STATS – the pioneer of live sports data
Get the full list:
100-91 • 90-81 • 80-71 • 70-61 • 60-51 • 50-41 • 40-31 • 30 • 29 • 28 • 27 • 26 • 25 • 24 • 23 • 22 • 21 • 20 • 19 • 18 • 17 • 16 • 15 • 14 • 13 • 12 • 11 • 10 • 9 • 8 • 7 • 6 • 5 • 4 • 3 • 2 • 1
FourFourTwo's 100 Best Football Players in the World 2017
Thank you for reading 5 articles this month* Join now for unlimited access
Enjoy your first month for just £1 / $1 / €1
*Read 5 free articles per month without a subscription
Join now for unlimited access
Try first month for just £1 / $1 / €1