FourFourTwo's 100 Best Football Players in the World 2017: No.8, Pierre-Emerick Aubameyang
It's been his most prolific year yet for Borussia Dortmund – and yet the feeling lingers that there could be even more from the brilliant Gabonese speedster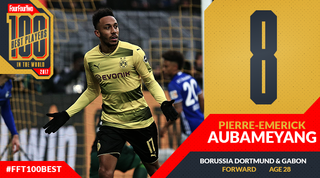 It is a remarkable feat to outscore Robert Lewandowski in the Bundesliga. Pierre-Emerick Aubameyang managed it last season, finishing with 31 goals – one more than the magnificent Pole. What's more, just two of them came from penalties, as opposed to five from Lewandowski.
Quite simply, the Borussia Dortmund striker was the most lethal predator in Germany last term.
STATS insight
Aubameyang has scored 27 goals in the Bundesliga in 2017 – only Robert Lewandowski (33) has scored more
And yet, in some ways, it isn't quite enough. It started in January when Gabon hosted the Africa Cup of Nations; the whole country expected their superstar to take the team as far as possible, and some even dreamed of winning the title.
Aubameyang, born in France but proud to represent the homeland of his father, promised to make the utmost effort on the historic occasion. He scored Gabon's only two goals, but that was only enough for them to draw against Guinea-Bissau and Burkina Faso. A win was needed in the final fixture against Cameroon, but the big game ended goalless and the striker returned to Germany empty-handed, earlier than expected. Gabon disappointed in the World Cup qualifiers, too.
The story with Dortmund wasn't the same, but a similar pattern can be traced. Despite Aubameyang's brilliant scoring record, die Schwarzgelben only finished third in 2016/17 – behind Bayern Munich and RB Leipzig. The striker scored a magnificent hat-trick against Benfica in the last 16 of the Champions League, but didn't find the net when Dortmund were thrown out by Monaco in the quarter-finals – admittedly, in the aftermath of an explosion which injured team-mate Marc Bartra and forced the postponement of the first leg.
It's difficult to see how Aubameyang could have done more in general, though: the Gabonese striker scored in 12 of Dortmund's last 17 Bundesliga matches of the season, plundering match-winning braces against Freiburg, Bayer Leverkusen and Werder Bremen en route.
This season has been a similar tale for BVB. In the Champions League group stage, Aubameyang netted in the home fixtures against Real Madrid and Tottenham, then struck a terrific brace at the Bernabeu, but Dortmund lost on each occasion amid their defensive struggles under new coach Peter Bosz (who eventually lost his job). The 28-year-old has netted 12 goals in 14 Bundesliga games so far in 2017/18, but his team have fallen apart and lost their way.
Disciplinary issues have made things worse. In November, Aubameyang was suspended by his own club for Dortmund's game at Stuttgart – a year on from exactly the same thing happening under Thomas Tuchel. According to German media, Aubameyang considers himself "untouchable" – and that's problematic.
In years gone by, Aubameyang was known for his unselfishness; always ready to provide assists and share the plaudits. Apparently that's up for debate now, however, and the striker might be feeling disappointed that the club refused to sell him. Joining Real Madrid had always been his dream – he even promised his grandfather that he would play in the famous white shirt – but a move never materialised. With aspirations unfulfilled, motivation is lower and everyone suffers.
From a statistical point of view, however, 2017 has been the best in Aubameyang's career. He won a trophy as well, lifting the German Cup after scoring against Eintracht Frankfurt in the final – that, after hitting a criticial equaliser against rivals Bayern Munich in the semi-finals.
Perhaps, then, it's just a change of scenery holding Aubameyang back from even more. Clearly he is a sensational player – and shouldn't be short of serious offers this time around. Dortmund will be reluctantly listening.
All insights provided by STATS – the pioneer of live sports data
Get the full list:
100-91 • 90-81 • 80-71 • 70-61 • 60-51 • 50-41 • 40-31 • 30 • 29 • 28 • 27 • 26 • 25 • 24 • 23 • 22 • 21 • 20 • 19 • 18 • 17 • 16 • 15 • 14 • 13 • 12 • 11 • 10 • 9 • 8 • 7 • 6 • 5 • 4 • 3 • 2 • 1
FourFourTwo's 100 Best Football Players in the World 2017
Thank you for reading 5 articles this month* Join now for unlimited access
Enjoy your first month for just £1 / $1 / €1
*Read 5 free articles per month without a subscription
Join now for unlimited access
Try first month for just £1 / $1 / €1