FourFourTwo's 100 Best Football Players in the World 2017: No.16, Paulo Dybala
A scintillating start to 2017/18 is merely a continuation of the Argentine's growth in prominence over the last year. What comes next could be very exciting indeed...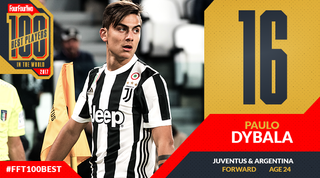 Dybala can't help but be likened to Lionel Messi. It's unfortunate but understandable. Both are Argentine, left-footed, at their best between opposition lines and boast sublime mastery of the ball.
This year, however, the Juventus man has used the Champions League to separate himself from his iconic compatriot. A brilliant brace against Barcelona in last season's quarter-finals helped; so too a quiet display in the 4-1 final defeat to Real Madrid, albeit for the wrong reasons. Those showings in succession proved that, while the 24-year-old is good, he isn't Messi good.
STATS insight
Dybala has averaged 3.00 shots from outside box in Serie A this season, the highest average in the competition – 55.9% of his shots have been from outside box
He isn't quite consistent enough to be placed on the same pedestal as the very best forwards in the world today, but he's edging closer by the month. So far in his third campaign with the reigning Italian champions he has been at his productive best, hitting one goal per league start (12 in 12).
Evidently, Dybala has developed into a seriously potent force. This is as much to do with his tactical intelligence and spatial awareness as it is his exceptional technique: few are as good as him at timing their runs to get on the end of crosses, while his combination play with team-mates is vital to Juventus's attacking game.
Dybala has also shown himself to be a versatile team player of late, flitting between striker, No.10 and wide roles. With his lustrous left foot and increasing effectiveness, he should soon shrug off those irksome comparisons and carve out his own path. Can he even go where Messi hasn't yet and steer Argentina to World Cup glory next summer?
Highlight: With one sumptuous touch, one swivel of the body and a hooked shot, Dybala scored his opening goal against Barcelona last season to announce himself as a serious star.
All insights provided by STATS – the pioneer of live sports data
Get the full list:
100-91 • 90-81 • 80-71 • 70-61 • 60-51 • 50-41 • 40-31 • 30 • 29 • 28 • 27 • 26 • 25 • 24 • 23 • 22 • 21 • 20 • 19 • 18 • 17 • 16 • 15 • 14 • 13 • 12 • 11 • 10 • 9 • 8 • 7 • 6 • 5 • 4 • 3 • 2 • 1
FourFourTwo's 100 Best Football Players in the World 2017
Thank you for reading 5 articles this month* Join now for unlimited access
Enjoy your first month for just £1 / $1 / €1
*Read 5 free articles per month without a subscription
Join now for unlimited access
Try first month for just £1 / $1 / €1