FourFourTwo's 100 Best Football Players in the World 2017: No.28, Gianluigi Buffon
Italy's failure to qualify for World Cup 2018 was an ignominious end to the international career of an all-time Azzurri legend, but it's not the last act for Juventus's 39-year-old – and still-brilliant – custodian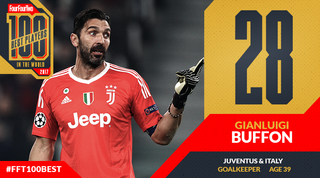 It's been a heartbreaking 2017 for Gigi Buffon. In June he lost in the Champions League final for the third time in his career as Juventus were beaten 4-1 by Real Madrid. That woe was compounded by Italy's failure to qualify for what would have been his last World Cup, with play-off defeat to Sweden ending his dream of retiring from international football on its grandest stage.
STATS insight
Buffon played in his 1,000th game as a professional player on March 23 when Italy faced Albania
And yet, the 39-year-old was perhaps the only Italian player whose stock went up amid nationwide humiliation. He enthusiastically applauded the Swedish national anthem amid boos from sections of the San Siro crowd; then, when the game was over, he showed humility.
"It's disappointing. Not for me," he said, "but for the football movement, because we failed something that could have been truly important for the country."
In terms of his individual performance, Buffon remains as assured as ever, making few mistakes and acting as a solid last line of defence for Juventus. But at this stage he is so much more than just a brilliant goalkeeper. His incredible longevity, charisma and honesty have developed him into a leader, role model and icon whose image is respected far and wide beyond Italy's borders.
He has declared that this is his last season, though nobody would argue if he decided to continue on into his forties. And he has admitted that there is one thing that could prevent him from retiring: "The only way would be to win the Champions League."
Highlight: In November, Buffon won the Serie A Footballer of the Year award, becoming the first goalkeeper ever to do so. He received his recognition with typical good humour, chuckling: "Now I know why we went out against Sweden."
All insights provided by STATS – the pioneer of live sports data
Get the full list:
100-91 • 90-81 • 80-71 • 70-61 • 60-51 • 50-41 • 40-31 • 30 • 29 • 28 • 27 • 26 • 25 • 24 • 23 • 22 • 21 • 20 • 19 • 18 • 17 • 16 • 15 • 14 • 13 • 12 • 11 • 10 • 9 • 8 • 7 • 6 • 5 • 4 • 3 • 2 • 1
FourFourTwo's 100 Best Football Players in the World 2017
Thank you for reading 5 articles this month* Join now for unlimited access
Enjoy your first month for just £1 / $1 / €1
*Read 5 free articles per month without a subscription
Join now for unlimited access
Try first month for just £1 / $1 / €1