FourFourTwo's 100 best foreign Premier League players ever: No.5, Didier Drogba
After a slow start the Ivorian powerhouse thrived in England, where his bullish style married technical ability that twice helped him win the Golden Boot. But the striker was about more than just goals – he grew into a hugely respected dressing room leader who came to embody a ruthless Blues side. Former winger Damien Duff recalls his early days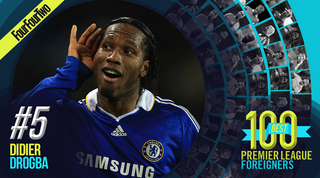 Didier was a man you'd go to war with – a real leader, which I think showed on the pitch. Eventually, anyway.
It took him a while to settle at Chelsea, probably a season to a season-and-a-half, and it took a while for the punters to take to him for whatever reason too.
I can't really put my finger on why that was the case – maybe he was adjusting to the pace of the game; he was playing in France with Marseille before us, which is a totally different league in terms of quality and energy compared with the Premier League. So maybe he was a bit raw when he first came in that respect, and it took the fans a while to warm to him as well.
But he was worth the wait, obviously. Didier just a great guy, the lads loved him in the changing room, and when he went out onto the pitch you could always rely on him – not just for goals but to fight for you, to fight for the team, to fight for the Chelsea shirt.
Away from the pitch I just remember him bouncing around everywhere – he was a massive joker in the dressing room, just a big personality. There were a lot in that dressing room like that actually.
And then were his goals. We were spoiled back then; Hernan Crespo, Adrian Mutu and Didier; then Eidur Gudjohnsen would play as a false striker, so we had so many brilliant options.
Me being a winger, you didn't even have to look up sometimes and pick Didier out because you knew he'd be there. He could make a bad cross into a good cross – he really was an unbelievable player.
Interview: Chris Flanagan
They also said...
Jose Mourinho
"He was a great player, a great friend and somebody who will be part of my life forever. He would say the exact same about me. We created the kind of emotional links that are more than football."
Frank Lampard
"I could talk about Didier all day. You shouldn't underestimate the influence he had in the dressing room. The year we won the Champions League he was like a man possessed. I owe and have a lot to thank him for, because a lot of my goals and assists were down to him. The 2012 Champions League Final – we wouldn't have been stood there without Didi. To be able to score that header and then to go and score the winning penalty for the team was amazing."
3:28 for Didier intervention
Carlo Ancelotti
"There are leaders who speak a lot. Before the match, he can do this, but then he leads by example with the way he plays. This happened from the start for me. I didn't have to talk to him; straight away he was like that. I know some see him as a prima donna, but the difference between a prima donna and a leader is a centimetre. The leader uses his talent for the team, the prima donna for himself, but Drogba has never been a prima donna for me. If he is confident, he is impossible to play against."
David Luiz
"I spoke to him about it [the 2012 Champions League Final] a lot. On the day before we sat for a couple of hours and he told me I needed to believe [that I would be passed fit to play]. He said, 'Come on, man, you need to believe. Tomorrow can be a great day. You might go to the pitch with one leg but you can run like you have four or five because this is your dream. It's my dream as well – let's do it.'
"He helped me a lot and I will never forget what he did for me and Chelsea. I respect this guy so much. He is a fantastic striker, a fantastic person and a leader."
Diego Costa
"I have always seen Drogba as the example to follow in terms of a centre-forward. He was strong, scored loads of goals, and he was a quality player. Just watching him train helped me. Just seeing him, I was amazed. This is because – and I'm not making this up at all – I specifically used to watch Chelsea just to see Drogba.
"He was famous and everyone would talk about him. I even liked watching him when he played for the Ivory Coast. When I arrived here, he was never cold with me – quite the opposite. I wasn't exactly scared of him, but he was such a legend who had helped the club grow and been a part of all that."
Eden Hazard
"He's always backed me, and I've always considered him a bit like a big brother. He's there for me, whether it's a text message or a phone call, and he's helped raise my spirits."
RECOMMENDED
DEBATE Costa vs Drogba: Who's the better Chelsea striker? FFT's writers argue
Florent Malouda
"No one knew who he was [when he first came to Marseille]. They asked, 'Didier Drogba, who's he? Where does he play? For Le Mans? But he doesn't even play for them'. So we looked for a little information and saw that the guy was a substitute in Division Two.
"Then the lad turned up in the dressing room. He didn't have long hair at the time, but he had the same attitudes as now. Imagine someone arriving in a team in crisis where people think he is a nobody and he starts talking like a leader, telling us we had to do this and that. There were team stalwarts who thought, 'He has the airs of a star. He must take himself for someone else.' A team-mate and I helped him get accepted by the squad and, after that, he had everyone in agreement on the pitch."
100-91 • 90-81 • 80-71 • 70-61 • 60-51 • 50-41 • 40-31 • 30-21 • 20-11 • 10 • 9 • 8 • 7 • 6 • 5 • 4 • 3 • 2 • 1
FourFourTwo's 100 best foreign Premier League players ever
Thank you for reading 5 articles this month* Join now for unlimited access
Enjoy your first month for just £1 / $1 / €1
*Read 5 free articles per month without a subscription
Join now for unlimited access
Try first month for just £1 / $1 / €1
Get FourFourTwo Newsletter
The best features, fun and footballing quizzes, straight to your inbox every week.