FourFourTwo's 100 best foreign Premier League players ever: No.2, Thierry Henry
By Gilberto Silva published
He arrived an unpolished young wideman and left eight years later as one of the most deadly strikers in Premier League history. No player has been moulded by Arsene Wenger quite like the one who became Arsenal's all-time record goalscorer – achieved by an insatiable appetite to ensure everyone else sustained his own high standards, says Gilberto Silva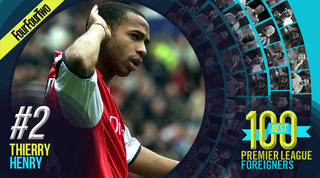 When I arrived at Arsenal, it was a big challenge for me to leave Atletico Mineiro and Belo Horizonte behind.
I wasn't just another player coming from Brazilian football – I'd just won the World Cup in South Korea and Japan, and it raised the expectations around my name.
Despite that, it was funny to realise that the fans thought they'd signed an attacking midfielder who would dribble like Ronaldinho and score like Ronaldo. I still can remember thinking to myself, 'Why would they want me if they already had Thierry Henry in their side?!'
The will to win
Thierry is an amazing guy. He had always backed me inside the dressing room and was aware of the importance of my job for him to succeed in attack.
It wasn't the same with others, and to be honest I carried the impression for a while – maybe until the time I fractured a vertebra in my spine and was out for six months in 2004 – that not everyone paid full attention to my role at Arsenal.
But as I said, Henry wasn't like this – and that pretty much shows who he is.
He's one of those guys who has a strong personality and wasn't afraid to say whatever came to his mind if he thought it was fair, or would be positive to help the team. He always put everything into what he did, and wouldn't accept if others didn't do the same. Perhaps he got himself into some trouble a few times because of it, but I have no doubt it was fundamental for us to build the side that won the Premier League without losing a single game.
When I say this, I mean that even though he was an easy-going man and awesome to work with, he wouldn't be happy if we hadn't performed very well. He always wanted to go as far as possible.
Passion… and Perudo
Perhaps that's why everyone recognises him as one of the most important footballers in Arsenal's history – if not the most important.
In order to achieve all he did, I think you need to have a passion for what you do – and he had it. I've always loved football but I wasn't used to spending my spare time watching games of other teams. I kind of had the impression Henry did as he would come to the other Brazilians and me, asking things that even we weren't aware of. He'd be singing songs from Vasco da Gama, Botafogo and other teams he'd listened to. How crazy was that?
Maybe if you don't know him well and don't have this close relationship, it will be impossible to know how cool he is. There was a dice game called Perudo, which he presented to us at Arsenal. We used to play it regularly, especially when we had to travel by bus to matches.
I enjoyed so much that he suggested I take it to the Brazilian national team camp during the 2006 World Cup in Germany. I did – and everyone loved it! We didn't, though, expect to be kicked out of the tournament with a goal scored by Thierry in the quarter-finals. (But at least I got to keep the game.)
00:30 for Thierry's salt-rubbing
Bruised by Brazilians
There was actually a misunderstanding before that game against France. We were told about a quote from him that said when he was a kid he wanted to play football all day, but his dad used to tell him to study first; Thierry had apparently suggested that in Brazil we played football instead of going to school, and that's why we were so good on it.
Some of my colleagues didn't take it very well and were angry with him. I didn't read it the same way and recall thinking that it was an ignorant way of reacting to it.
Henry didn't say anything but the truth back then. If we'd paid attention we would have realised that we had indeed left school early to play football. It was a shame that it had negative repercussions, as we could have had a deeper discussion on why it happens, bringing some stats in and going further than saying he didn't know what he was talking about.
We are the country of football, but why are our kids in the street? Maybe because they don't have the same opportunities that the richer kids have. I think we lacked a bit of sensibility on this, and a guy like Henry ended up exposing it.
Together again?
Thierry was very special, and we could tell it based on the intelligent way he would move on the pitch as well.
He was pivotal for our success as he would always ask for the ball if we were under pressure, and take it quickly from defence to attack especially well at Highbury in the 2003/04 season.
Last December I was in London, and we got the chance to meet up. He had this offer from the Belgium national team to work alongside Roberto Martinez, and I'm glad he's very happy doing that now.
I can see him becoming a great coach in the near future. I left my post as executive director at Panathinaikos recently, and I'd like to work with him again, but I'm not sure if that's going to be possible or not. Why not at Arsenal? Let's see what happens...
Interview: Marcus Alves
100-91 • 90-81 • 80-71 • 70-61 • 60-51 • 50-41 • 40-31 • 30-21 • 20-11 • 10 • 9 • 8 • 7 • 6 • 5 • 4 • 3 • 2 • 1
FourFourTwo's 100 best foreign Premier League players ever
Thank you for reading 5 articles this month* Join now for unlimited access
Enjoy your first month for just £1 / $1 / €1
*Read 5 free articles per month without a subscription
Join now for unlimited access
Try first month for just £1 / $1 / €1
Quizzes, features and footballing fun
Get the best features, fun and footballing frolics straight to your inbox every week.
Thank you for signing up to Four Four Two. You will receive a verification email shortly.
There was a problem. Please refresh the page and try again.