FourFourTwo's 100 best foreign Premier League players ever: No.1, Cristiano Ronaldo
From boy to man, the Portuguese's Old Trafford transformation was nothing short of extraordinary. Former United skipper Rio Ferdinand explains the ascent of a footballing android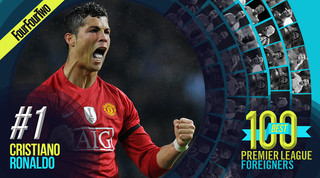 We 100% thought Cristiano was going to be a world superstar – it was just a case of when and how quickly he was going to get there.
World Player of the Year? There was never a doubt, even when he'd only just come to us from Sporting in 2003. You can see a lot of players with potential; it's when they realise decision-making at key moments in games that you know they're special – when to pass, and how they live their life.
It all just fell into place for him through hard work.
A lot of the time, especially in his early years, Cristiano was quite shy in terms of doing extra work though. He'd grab a bag of balls and go over to a different field, start doing some stepovers and shooting on either foot, wearing weights on his ankles.
He used to get the mick taken out of him every now and again – "Ronaldo is going off there with all his own balls again" and that – but he had a vision, he had a pathway where he saw himself going. There's no luck to him being where he is right now.
Showman to superstar
He liked taking liberties when he first came; taking people on, making people look silly, doing skills, coming back to beat them again – Gary Neville was probably the butt of them, and Phil too. He would do that continuously.
Sometimes it was about tough love – kick him, make him feel it, make him understand that sometimes you've got to release the ball at the right times. The best players get that quicker than others.
The turning point for him probably came around the 2005/06 season. When he first signed it was all about showmanship, listening to the roar of the fans when he did that little bit of skill – 'I'll just do that step-over' and whatnot.
But there was definitely that turning point where it became about goals and assists, and from then he became the game-changer. Rather than being that showman, he was deciding matches – big ones – for us on a regular basis. That's when the maturity came and the penny dropped.
At that point you were just happy he was on your team. He took Manchester United over the line a couple of times in big games – Fulham away in 2006/07 I remember, where he ran from the halfway line and scored a late winner.
He does it when it matters – he scores in Champions League finals, he scores the penalties that need to be scored to win a game. You don't become regarded as one of the best ever to play a sport without having the balls to step up in these situations.
Shining selflessness
But he's a team player too. Someone who is a selfish individual in a team sport doesn't win because he holds his team back from winning; he's a negative energy in that team. Ronaldo has won too many trophies to be a selfish individual.
But the best players don't sit there and wait for stuff to happen, or wait to see if their team can get a result – they say, 'Give me the ball and let me step up to produce'. He's one of the best to do that ever.
He's the game-changer – he beat Manchester United in my last Champions League game under Sir Alex Ferguson, and scored a tap-in at Old Trafford – a goal that you wouldn't normally associate him with. But he scores any type of goal to get his team over the line.
People were always going to say, 'He hasn't quite done it for his country, though' so the importance of winning Euro 2016 should never be underestimated because that was a big relief to him.
Love and hate
I said it during the tournament on TV – without him they wouldn't have even got to the Euros, and then during that tournament there were times when if he wasn't on that pitch they wouldn't have gone any further.
He's got that drive and determination to drag teams over the line – I've been part of a team he's done that with a couple of times. He's got an inner belief that he's the man to do it. He wants that responsibility.
Sure, it was funny when he was in the technical area during the final shouting instructions, but that's just passion and why I think he gets hammered now and again by certain people. People love him, but there are people that hate him too.
But they don't understand that passion. People just think that because you play football your passion is meant to be put to one side, and you're meant to act in a certain way. No. Fans act in crazy ways too – and don't forget that players are fans first and foremost as well, so they're going to act different.
Worthy rewards
I was happy for him when he scored the winning penalty in the Champions League final last year. He deserves it, because when you work hard you should be rewarded – and he's someone who works harder than almost anybody.
I've never seen a more professional athlete up close and personal. I've worked with hundreds of players and different athletes, and he's by far the most diligent and professional of them all.
I think that's sometimes a story that goes untold with Cristiano. He wasn't going to let anyone else take that penalty – he wanted to be that guy. When you're that determined and that confident in your ability, you deserve to reap the rewards that come after that. And he has.
By FourFourTwo Films...
Interview: Ben Welch
100-91 • 90-81 • 80-71 • 70-61 • 60-51 • 50-41 • 40-31 • 30-21 • 20-11 • 10 • 9 • 8 • 7 • 6 • 5 • 4 • 3 • 2 • 1
FourFourTwo's 100 best foreign Premier League players ever
Thank you for reading 5 articles this month* Join now for unlimited access
Enjoy your first month for just £1 / $1 / €1
*Read 5 free articles per month without a subscription
Join now for unlimited access
Try first month for just £1 / $1 / €1
Quizzes, features and footballing fun
Get daily World Cup 2022 news, updates and other football frolics to your inbox
Quizzes, features and footballing fun
Get daily World Cup 2022 news, updates and other football frolics to your inbox
Thank you for signing up to Four Four Two. You will receive a verification email shortly.
There was a problem. Please refresh the page and try again.