FourFourTwo's 100 best foreign Premier League players ever: No.4, Dennis Bergkamp
Swiftly labelled "a waste of money" after failing to score in his first six games for Arsenal, the Dutchman soon made gutter-worthy red tops change their tunes. For 11 years he glided around north London as if from another planet, consistently dropping jaws – including those of his team-mates. Nigel Winterburn offers the insider's perspective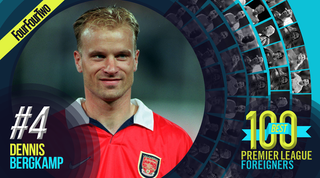 When you put someone down as your all-time greatest team-mate, I think that tells you all you need to know.
When I talk to young Arsenal fans about him now, I always tell them: just have a look on YouTube, Leicester City away 1997, because it'll show what Dennis did better than I could ever tell you. I still talk about that hat-trick all the time because it was just magic; right there he was showing off the array of goals and abilities he was capable of.
But it wasn't just in one game, obviously. Dennis won the PFA Player of the Year award in 1997/98 but I'd have to really go back to think about individual performances beyond that Leicester game – his class wasn't confined to specific matches but over a very long period of time.
Ice cold
Dennis played in that No.10 role where you're looking for someone to score a lot of goals, but he also created so many chances for others too. He was never a Thierry Henry or Ian Wright in terms of his goalscoring, but what else he brought to the team was just amazing.
Patrick Vieira and Emmanuel Petit were absolutely outstanding in midfield for Arsenal but I just Dennis had an aura about him that made him stand out from the rest. He was fairly quiet, but he could also be brutal when he had to be.
I have to say I was pretty much focused on playing for Arsenal at the time, and if I'm being honest I've never been a massive watcher of continental football and studied the game abroad. So I didn't know about him when he first came to be quite honest. We knew he was a record signing because it was all over the papers, but it didn't make any difference to us – you just got the feeling that you were signing a player who could really enhance your team. But we certainly found out much more as we got to know him.
You never really know how a player is going to turn out for you, but I don't think we ever worried as much as the media did about Dennis. I always think that players can take up to a year to settle, so you're certainly not going to judge them after six games, that's for sure.
It didn't matter who you were, though – you still had to earn the right to be respected by your team-mates and supporters. To be quite honest, Dennis managed that very quickly. You only have to look back now at the types of goals he'd score and the way some of us talk about him now to see that.
We'd soon realised what he had to offer: his incredible control of the ball, how calm and calculated he was. There was an appreciation of the way he conducted himself; how he linked play between team-mates and showed an unbelievable awareness of those around him. I think we knew quite quickly that we had a pretty outstanding player at the club.
Sea change
Arsenal was already a pretty good club when Dennis came along. Obviously George Graham had recently left and Bruce Rioch had come in – but before that we'd been very successful with titles in 1989, 1991, the two cups in 1993 and Cup Winners' Cup in 1994.
George had brought in a lot of younger, ambitious players like myself, Lee Dixon and Steve Bould from the lower leagues, mixed with some of our youth players. I think at that stage when George took over it was a young, energetic team and the change with him leaving was pretty significant because I don't think anybody saw it coming.
Then we moved on to Bruce, and the two major signings who came together in David Platt and Dennis. We used to do a lot of socialising together back then; players went out. Dennis would come too and you might find he'd stay for a meal and then disappear, but we respected each other's private lives. Personally I tried to keep mine completely separate, to try to keep some perspective on real life and what that was all about. I didn't want to live in the other players' pockets all the time either.
Still, there was a significant culture change when Arsene Wenger came along a year later.
Everybody knows about the lifestyle changes that Arsene brought with him, but it also helped that his first few signings were absolutely sensational – and once you saw the quality and style he wanted to play with, you knew it would suit Dennis down to the ground.
The players Arsene brought in were massive hits and turned out to be very high quality – Anelka, Petit, Overmars, Vieira. In Dennis, here was a guy that could find space in any game, and when you're giving him these players to link up with then boy was he going to produce some special stuff.
Don't cross Dennis
He was also ruthless when he needed to be, but I think everybody has a bit of a dark side don't they? There might be a few players you'd pick out who were pretty nice all the way through, but inside they might have had something.
Let's be fair, Dennis took a few kickings in that period and I think he liked to let people know that they could only get away with so much. He had the trust in his own ability that he knew he could hurt them in other ways, but occasionally he did go a bit further and let people have it. He could stand his ground – I've played against him many times and felt his wrath, believe me!
00:30 for Dennis vs Lomas
I can't actually remember whether he got any stick for his fear of flying, though. There were a few rumours flying around at the time, but I do remember that when there was a long journey coming up and Dennis wasn't in the squad, we all thought it was a bit odd.
But then it became clear: no, this guy wasn't going to fly. Nobody questioned it, though, and that was absolutely down to the respect they had for him. He was a critical part of that team, and he actually did do a lot of the travelling because he used to drive or go by train, and just set off earlier than the rest of us if it was humanly possible.
Then again, Dennis did plenty of things we didn't think were humanly possible.
Interview: Joe Brewin
100-91 • 90-81 • 80-71 • 70-61 • 60-51 • 50-41 • 40-31 • 30-21 • 20-11 • 10 • 9 • 8 • 7 • 6 • 5 • 4 • 3 • 2 • 1
FourFourTwo's 100 best foreign Premier League players ever
Thank you for reading 5 articles this month* Join now for unlimited access
Enjoy your first month for just £1 / $1 / €1
*Read 5 free articles per month without a subscription
Join now for unlimited access
Try first month for just £1 / $1 / €1