FourFourTwo's 100 best foreign Premier League players ever: No.7, Gianfranco Zola
Few players illustrate Chelsea's transformation from mid-table grafters to stylish Euro-chasers quite like the tiny Italian with a giant smile. Few others can tell it quite like Craig Burley either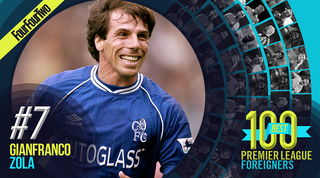 When you talk about Gianfranco Zola you have to put it into context, because Chelsea weren't the Russian-owned juggernaut they are now. Nope – it was a club that'd had its problems.
But Zola was something completely new. The people at Chelsea who brought him to the club deserve a huge amount of credit because he was at his peak – it wasn't as if he was coming to us near the end of his career.
Starting with Glenn Hoddle, Chelsea had started to attract bigger-name players than they had done in the past. We had Mark Hughes, Frank Leboeuf and then Ruud Gullit, who I suppose was the player who really accelerated the change. When Zola walked in, though, it was a real stand-up-and-take-notice moment.
Don't forget that he was once seen as the heir apparent to Diego Maradona at Napoli; now there he was arriving in the same west London changing room as me.
Obviously the game then wasn't as globally available as it is now – there wasn't wall-to-wall football on TV – but we all knew how good he was. It's worth remembering that we also got him for just over £5m… and you couldn't get Ross McCormack to climb over his front gate for that amount now.
One in, one out
He had a huge impact straight away, but his arrival also signalled the demise of John Spencer at Chelsea.
Now, John was a really gifted footballer and he was flying playing behind Hughes at the time, but I've never seen a footballer so deflated that someone had been signed. He knew that, as technically good as he was, the end was nigh for him because this guy was just sheer quality. Of course, that's what happened. Spenny ended up going to QPR soon after.
Off the pitch, Gianfranco fitted in immediately. Even now, he's one of the nicest people in football. He was the same as Gianluca Vialli; between them they had pretty much done it all, but although they struggled with their English to start with, they picked it up quickly. Even now, even if I haven't seen him for a while he'll come up to you and give you a hug – that's the kind of guy he is. There are no airs and graces with Gianfranco.
He also learned to play golf when he was with us and he got the bug. He couldn't hit a cow's arse with a baseball bat at the start but it was all part of the way he integrated with the boys.
Like Vialli and a few of the other Italians in that side, he was in the gym before training. That was a real eye-opener for us because it was something that we just hadn't seen before. We would arrive at Harlington, Chelsea's old training ground, and he would have already done his gym session.
Guile with graft
If you think of two of the most talented players in the Premier League in that era, you think of Zola and Georgi Kinkladze, who did some great things over a relatively brief period with Manchester City. I'm not comparing them as players, but I was at Derby with Georgi and he was a man blessed with amazing talent. Zola was a man blessed with amazing talent too, but the difference between them was that one was what I'd call a waster, and the other was a consummate professional.
There are a lot of talented guys out there but that work ethic Gianfranco showed can be the difference – he had it all. He was the complete package. That's the difference between the great players and those who have great ability but bemoan the fact that they didn't get to a certain level.
Did he inspire us to change the way we went about things? I'm not sure about that. Did he inspire us to play better and to train better, though? Absolutely. If people remember what Gianfranco did in games then you want to get a f***ing DVD made of him in training – it was incredible; the quick feet, the goals. Everything.
The great thing about that Chelsea side, though, was that everyone was still themselves. Wisey (Dennis Wise) would still be running around winding people up. Zola just made the team better, and everyone upped their game.
Stamford style
I was so lucky to have been at Chelsea during that period. Gullit was World Footballer of the Year twice, but Gianfranco was technically the best player I played with.
You'd also have to go a long way to find anyone who didn't think Gianfranco was just a great bloke too. The Italians were fantastic at Chelsea; to a man they were all the same. They worked their bollocks off, they integrated into the British way of life and the Premier League, and they wanted to mix in our cultural circles. That's what made them so special.
Gianfranco loved the Chelsea fans and they absolutely adored him too. It's easy to forget that we weren't a club that was used to winning trophies back then – they'd won the FA Cup in the '70s but hadn't come close to winning anything since.
Funnily enough, my final season with Chelsea in 1996/97 was the one that drought finally ended, and the goal Gianfranco scored in the semi-final of the FA Cup against Wimbledon at Highbury was probably the one that stays with me. He had his back to goal and then twisted and turned the Wimbledon defender, before ramming the ball in the top corner. It was just a fabulous strike to seal that game.
It was typical of Zola in a big game, and that's the main thing about him – he never went missing in the big matches. He always stood up when we needed him to.
Interview: Richard Edwards
100-91 • 90-81 • 80-71 • 70-61 • 60-51 • 50-41 • 40-31 • 30-21 • 20-11 • 10 • 9 • 8 • 7 • 6 • 5 • 4 • 3 • 2 • 1
FourFourTwo's 100 best foreign Premier League players ever
Thank you for reading 5 articles this month* Join now for unlimited access
Enjoy your first month for just £1 / $1 / €1
*Read 5 free articles per month without a subscription
Join now for unlimited access
Try first month for just £1 / $1 / €1
Quizzes, features and footballing fun
Get daily World Cup 2022 news, updates and other football frolics to your inbox
Quizzes, features and footballing fun
Get daily World Cup 2022 news, updates and other football frolics to your inbox
Thank you for signing up to Four Four Two. You will receive a verification email shortly.
There was a problem. Please refresh the page and try again.