FourFourTwo's 100 best foreign Premier League players ever: No.3, Eric Cantona
The King was crowned over five majestic seasons at Old Trafford, having brought with him a unique brand of Gallic bombast that dovetailed with the class to complement it. Nobody was quite like Eric – as Lee Sharpe explains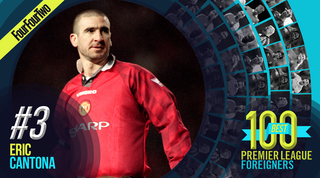 I remember Eric playing in a reserve game against Leeds after he'd come back from his ban, and there was 20,000 people in the ground.
He got injured after about half an hour and had to go off, but he came on the public address system at half-time to apologise. It was hilarious because we thought the ground would be empty when we ran out for the second half – but everyone stayed, probably because of Eric's apology.
He could basically do no wrong at Old Trafford – we'd always joke that he was the manager's long-lost son; that there was some kind of blood connection there. He was treated differently to every other person at the club – the manager never had any scruples about shouting at anyone but Eric never got told off, never got reprimanded. I'd imagine he never got fined a penny for anything he did.
That was just the way it was, though, the way the manager felt he had to treat him, and you couldn't argue that it didn't work. Eric was a bit special – he produced on the pitch and got the best out of everyone else.
Love thy neighbour
We'd seen Eric for a little while at Leeds, but he was never really a regular starter for them. I guess the biggest surprise for all of us at Old Trafford was that they sold him to us in the first place – the rivalry between the two clubs, particularly at that time, was absolutely huge.
We obviously knew he was a good player because he'd scored a few goals during his time at Elland Road, but I think the manager was really keen on having him because he thought he was just what the team needed.
When we got him, there was a real sense of shock that Leeds had let him go to us so easily.
I think the standard went up as soon as he arrived, even in training. Eric had an edge of arrogance that helped us all, and a self-confidence that rubbed off on everyone. Mind you, he wasn't the best of dressers so he did get his fair share of stick for a few of his outfits. Some were ridiculous.
We used to do a lot of crossing and finishing, and he was unerring – he would always seem to score. He had a great touch and a fantastic awareness with the ball at his feet.
Eric fitted into the dressing room straight away as well. He didn't say too much but he was one of the boys, and would be there on lads' days out with the rest of us. He got on with everyone and was just a cool guy really.
Eric wasn't really one for working closely with the younger guys – he wasn't the kind of player who'd sit you down and pass on advice – but I had a bit of a connection with him. There were a couple of nights where we sat down and had a few drinks while we analysed some of the games we'd both played in, looking back and seeing what we could have done better or differently. We had a similar sort of philosophy, I guess, and whenever I put a cross in he was always the No.1 target.
Magic match-winner
Obviously at United I also played with Bryan Robson, Mark Hughes and Peter Schmeichel, but on his day – when things were tight and you needed someone with a bit of composure and confidence – Eric was your man. You could always give him the ball in tight situations and he would work a bit of magic to put a cross into the box. He was a proper match-winner... a game-changer.
It's hard to pick out one particular game that really stood out because there were so many. Probably his chipped goal against Sheffield United, when he scored and puffed his chest out while looking around at the crowd – that just showed the kind of character that he was.
I'd say his greatest attribute was his coolness under pressure, though. He scored so many penalties, he was utterly nerveless. When we won the league (in 1995/96), we won so many games 1-0 in the title run-in and he seemed to score all of them. That was really a measure of the man – whenever he was needed he did the business, and had a knack of being at the right place at the right time.
In Europe he perhaps struggled a little bit more because we could never put out our strongest side in the Champions League. We were always under-strength when we played these teams and he probably felt more responsibility to do that little bit extra in those games. At times it didn't work for him and he lost his rag, purely as a result of frustration.
Every day is Eric
That aside, he was absolutely idolised by the fans. The best thing you can do as a centre-forward is to score goals, and he did that almost immediately. The fact that he was aggressive, liked a tackle and liked to get stuck in also helped endear him to them.
That aggressiveness made him a fans' favourite almost instantly. Christ, you go to Old Trafford now and they're still singing '12 Cantonas' to the 12 Days of Christmas. That's legendary status for you right there.
It was a shame he retired a bit early, but being the maverick he was, it was entirely in keeping. He finished on his terms and that only added to his mystique. In fact, it probably made him even more of a legend.
Interview: Richard Edwards
100-91 • 90-81 • 80-71 • 70-61 • 60-51 • 50-41 • 40-31 • 30-21 • 20-11 • 10 • 9 • 8 • 7 • 6 • 5 • 4 • 3 • 2 • 1
FourFourTwo's 100 best foreign Premier League players ever
Thank you for reading 5 articles this month* Join now for unlimited access
Enjoy your first month for just £1 / $1 / €1
*Read 5 free articles per month without a subscription
Join now for unlimited access
Try first month for just £1 / $1 / €1
Quizzes, features and footballing fun
Get daily World Cup 2022 news, updates and other football frolics to your inbox
Quizzes, features and footballing fun
Get daily World Cup 2022 news, updates and other football frolics to your inbox
Thank you for signing up to Four Four Two. You will receive a verification email shortly.
There was a problem. Please refresh the page and try again.