FourFourTwo's 100 best foreign Premier League players ever: No.10, David Ginola
Newcastle were on the outside peering in where the Premier League title was concerned in the summer of 1995, but the arrival of a twinkle-toed Frenchman from PSG helped the Toon Army come closer to realising their ambitions than ever before. Former room-mate Warren Barton remembers the silky charmer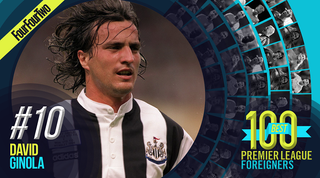 In many ways, I think David was unique in English football, particularly at that time. I remember being in the hotel with Les Ferdinand when he was first introduced to the players at Newcastle. He came in with a little touch of grey hair – it's white now, obviously – a white linen shirt, some nice linen trousers, a pair of sunglasses and a few beads.
Now, Les is a good-looking man but we both went, "Jesus, we don't want to be stood next to him in the team photo". He was very charming too. We both dropped our knives and forks while we were trying to eat our eggs and bacon, and there was him gliding gracefully into the room. He was like a god, we were both in awe of him – and we still laugh about that now.
That was my first introduction to David the person, not the footballer and I ended up sharing a room with him in the first couple of months of the season. In the end I had to ditch him because he was drinking coffee and smoking at midnight too regularly. He wasn't your ideal room-mate when you were trying to get some shut-eye.
We ended up living right next to each other and our wives became good friends. I then ended up buying a property, which I've still got in the south of France, near David's family. He helped me with the builder, the land – he was great, just one of those guys who couldn't do enough for you. We would also go with him to various functions when he was working for Cerruti as well.
David the Destroyer
On the pitch, I guess he helped us build something special at Newcastle too. He was a special player. Those words gets bandied about far too regularly in the modern era but he deserved that tag because of what he could do with the ball at his feet. How much would he be worth now? God only knows.
He had a great first touch and when he was with us I saw him destroy Gary Neville, I saw him destroy Lee Dixon and I saw him do even worse to Curtis Fleming at Middlesbrough and Richard Edghill at Manchester City. He had a great ability to hold it, body-swerve and then go the other way; left foot, right foot.
I remember one match in pre-season against Hearts away. Me and Rob Lee were playing in midfield, and this is when David had just come to the club and was in great form, unbelievable form. We both looked at each other and said "f***ing hell, he's a player". We had played with Peter Beardsley and trained with Gazza with England but this was just something else entirely. There was just something about his ability that was unique.
His famous goal against Barnsley (for Tottenham in 1999) pretty much summed up everything about him – pace, power and then that great shot at the end. Without a doubt he's one of the best foreign players to play in the Premier League but he had to adapt to it. He knew what changes the Premier League was going through at the time and he was brilliant with the club and brilliant with the club's supporters, who absolutely adored him even if he didn't have the first idea what they were saying when he arrived.
He would say 'I can't understand the Geordie accent'. I would tell him just to keep smiling. In the end his English was amazing. He just had that enduring style and I think it was something that people just warmed to.
The entertainer
Was he the man who made that Newcastle tick? I'm not sure about that. I think Peter Beardsley was probably the catalyst for most of our best performances in the season we nearly won the league, but there's no doubt he produced some of the greatest exhibitions ever seen in a Newcastle shirt. You had Keith Gillespie on the right who had pace and would cross it, and then you had David on the left working brilliantly with John Beresford.
We knew that David would never track back but that wasn't what he was in the side for. He would more than make up for it by what he brought us in an attacking sense.
Peter was a big part of our team at the time but David was different. When you got games that were stale and games where the opposition just wanted to sit back and stick 10 men behind the ball, he would do something – deliver a cross or beat a man. He would bring the crowd to life and that would lift the whole team. You can't put a price on that.
We had a lot of characters in the team at that time, whether it was Les up front, Rob Lee and David Batty in midfield, or Philippe Albert at the back. There were huge personalities throughout that team and that's why we were so successful.
He got on very well with Philippe even though they were totally different people. Philippe loved sitting in the pub all day, having a beer and playing pool, but he and David really hit it off.
Unforgettable
I would say his best performance came in the 5-0 win against Manchester United at St James' Park (in October 1996). There was a bit of revenge in the air and a few insults flying around in the media, but David stuck his chest out just tore into them. He was phenomenal. He set the tone and grabbed that game by the scruff of the neck. He showed them that we were a very, very good side.
He was and still is a charming, charming man but he's also someone who thinks deeply about the game. It ended on a sour note with him at Newcastle in the end with Kenny Dalglish, but everyone respected him up there and no one will ever forget him.
Interview: Richard Edwards
100-91 • 90-81 • 80-71 • 70-61 • 60-51 • 50-41 • 40-31 • 30-21 • 20-11 • 10 • 9 • 8 • 7 • 6 • 5 • 4 • 3 • 2 • 1
FourFourTwo's 100 best foreign Premier League players ever
Thank you for reading 5 articles this month* Join now for unlimited access
Enjoy your first month for just £1 / $1 / €1
*Read 5 free articles per month without a subscription
Join now for unlimited access
Try first month for just £1 / $1 / €1
Quizzes, features and footballing fun
Get daily World Cup 2022 news, updates and other football frolics to your inbox
Quizzes, features and footballing fun
Get daily World Cup 2022 news, updates and other football frolics to your inbox
Thank you for signing up to Four Four Two. You will receive a verification email shortly.
There was a problem. Please refresh the page and try again.