FourFourTwo's 100 best foreign Premier League players ever: No.9, Peter Schmeichel
Described as the "bargain of the century" by Alex Ferguson when he rocked up at Old Trafford in summer 1991, the Great Dane would prove exactly that in eight years at the club. Five Premier League titles, three FA Cups and a Champions League winner's medal – nothing less than he deserved, says former team-mate Henning Berg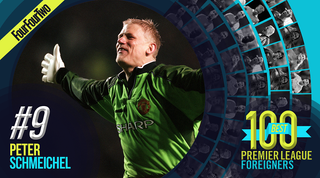 Despite the fact that Peter wasn't afraid to give you a dressing down as a defender, he was absolutely fantastic to play in front of. He was a great organiser but he was also a great motivator, someone who made sure that everyone was on their toes at all times.
Basically he was a big figure in every sense; a great character, someone who showed his emotions in the right way, but also someone who had an enormous physical presence – he filled the goal.
Nobody could go to sleep with Peter in goal, everyone had to work as hard as they possibly could and he made sure that everyone knew what their jobs were if it looked as though they were forgetting. If you weren't in the right position or weren't doing something you were supposed to, then Peter would be onto it in a flash.
He had so much desire, passion and commitment not to concede chances or goals. He was like it in training too and carried that onto the pitch – there was no difference for him. It's hugely important to have Peter's mentality in a side – a lot of players have skills and quality, but they lack this winning mentality. He had the lot.
Technically he was absolutely outstanding. He had good reach, he was comfortable with the ball at his feet and he could read situations well too. For me, though, it was his mentality and that physical presence which made him one of the best goalkeepers in the history of the Premier League. The fact that people still talk about him now really tells you everything you need to know.
Chaos and control
Off the pitch he was one of the boys, someone you could have a laugh with – a really great guy. He was relaxed, normal and would join in with the rest of the players. Some goalkeepers keep themselves to themselves all the time but he enjoyed being sociable and just loved being at Old Trafford.
He was never short of opinions but I think that's good – you need that in a dressing room. People often say that goalkeepers have a crazy gene but I think Peter was missing it. I don't think you can be crazy with the amount of control that he had. Off the pitch he was quiet and calm. On it? Well, winning was everything.
There are so many moments that you think of when Peter was at Old Trafford. The club was so successful during his time there, but what made him one of the best was his ability to make match-winning saves. When it really counted, he could step up and pull off unbelievable things.
At times he was more like a handball keeper than a goalkeeper – he'd come out and make himself big, stretch to stop shots at close range and then be secure when shots came in from distance.
Thank him later, Giggsy
I suppose if I have to pick one moment out it would be that semi-final against Arsenal the season we won the Treble (1998/99). He was incredible. Arsenal had the penalty just before the end – if they scored then Manchester United were out and the FA Cup was gone. As it was, Peter pulled off a fabulous save and Ryan Giggs goes down the other end and slaloms straight through the Arsenal defence to score. We win the semi-final in extra-time and then go on to win the Treble.
None of that would have been possible without Peter. I'm not sure that Ryan is too convinced it was the best thing he ever did, but if Peter hadn't performed his miracle then no one would have seen that chest-hair and shirt whirling!
If he hadn't played out of his skin that night, then what happened in 1999 just wouldn't have been possible. There were plenty of other incredible performances too, but he was just so consistent that he often made things look far more simple than they actually were.
3:30 for Schmeichel vs Bergkamp
I think it helped Peter playing behind Steve Bruce, Gary Pallister, Gary Neville and Denis Irwin when he first arrived. He was 27 when he first came to United from Brondby, and it was the perfect back four for Peter to slip in behind really.
Gary and Steve were two very strong English central defenders who knew everything about the game and everything about the Premier League, and that was great for Peter when he came to Old Trafford because it made it very easy for him to settle.
Then later he was playing behind Jaap Stam, Ronny Johnsen and myself and we were more experienced players at that time – not like fresh kids. Peter was experienced by that time too and didn't need the same kind of help that he maybe needed when he started.
Follow that
I guess the real measure of his importance to Manchester United was the fact that they found him so hard to replace when he left in 1999. I know that Alex Ferguson normally picked players very, very well but when Peter left he found it very difficult.
The club tried a lot of different keepers but it wasn't really successful until (Edwin) van der Sar came. I know Ferguson would have liked to have got him a bit earlier but I don't think it was possible at the time. Certainly Peter leaving the club left a massive hole to fill – not just on the pitch but in the dressing room too.
He left to go to Portugal (with Sporting) and then came back to play with Aston Villa and Manchester City – and he still had it; he still had that will to win and ability to pull off absolutely unbelievable saves. I went to Blackburn and managed to score a goal against United at Old Trafford against Fabien Barthez. I would have got some terrible stick from Peter if I'd scored it past him…
Interview: Richard Edwards
100-91 • 90-81 • 80-71 • 70-61 • 60-51 • 50-41 • 40-31 • 30-21 • 20-11 • 10 • 9 • 8 • 7 • 6 • 5 • 4 • 3 • 2 • 1
FourFourTwo's 100 best foreign Premier League players ever
Thank you for reading 5 articles this month* Join now for unlimited access
Enjoy your first month for just £1 / $1 / €1
*Read 5 free articles per month without a subscription
Join now for unlimited access
Try first month for just £1 / $1 / €1