FourFourTwo's 100 best foreign Premier League players ever: No.6, Sergio Aguero
Who knows how much Manchester City could have won had he not succumbed to injury so frequently? Simply, there has been no better Premier League striker than the Argentine since he arrived from Atletico Madrid in 2011, and duly began his rampage. Micah Richards recalls the excellence – and ecstasy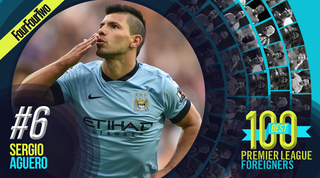 In the summer of 2011 we already had some really good players at Manchester City, but up to that point Robinho had been the biggest signing – the first one when people started to take us a bit seriously.
But when Sergio came it was different level, because we knew he was potentially one of the best strikers in the world. We also knew that once we started getting these kinds of players in that it wouldn't be long before we started winning leagues – and we were right.
SERGIO AT CITY
2011/12 (48 apps, 30 goals)
2012/13 (40 apps, 17 goals)
2013/14 (34 apps, 28 goals)
2014/15 (42 apps, 32 goals)
2015/16 (44 apps, 29 goals)
2016/17 (26 apps, 18 goals)
New heights
To be honest, the boys couldn't believe it when we actually got him. We knew with the amount of money we had that we were going to tempt some players, but we never thought Sergio would actually come.
We'd heard about and seen some of his goals in the Champions League for Atletico Madrid, but we didn't know how good he was until he actually came to City. Sergio was just next level.
My first impressions were how sharp he was. If you compare him to Carlos Tevez, I'd actually say his all-round game probably wasn't as good, because Carlos could link up with players so well too – at times he carried us when we needed him.
But Aguero? In front of goal, I've never seen a better finisher. He's quick and sharp around the box, and it doesn't matter how good a defender you are – sometimes you just can't stop that.
I'm not going to say he didn't work hard in training because that wouldn't be right, but there are some players who have to. With Sergio it's just natural ability; he didn't really need to do much more to be as good as he was. Every player can always improve, for sure, but for him it was like playing in the park with his friends – he almost wasn't really taking it seriously because he was just that much better than everyone else.
It helped that he had Pablo Zabaleta here who'd arrived in 2008. Pablo embraced Manchester from the start but it took him a while to get going as he was being played all over the place – left-wing, right-wing, central midfield, until he finally settled at right-back and did an unbelievable job. When you've got people like him there, it was always going to make it a bit easier for Sergio to adapt – and he also had his family over here which made a big difference too.
Star-studded
I remember his Premier League debut like it was yesterday to be honest – I got the assist for his first goal! Swansea were playing us off the field and we got lucky. I got played down the wing and just whipped it across goal, where Sergio was to tap it in.
Aguero's intro at 00:54
In those early years at City he did have some unbelievable talent around him; David Silva threading balls through, players like Samir Nasri – who was ridiculous on his day, let me tell you – and Yaya Toure. When we beat Manchester United 6-1 I think Silva put in the best individual performance I've ever seen from a player. It was an absolute privilege to be playing with these guys at the time.
There was a point in January 2012 when we knew we were going to win that title – we'd played Everton while Yaya was away at the Africa Cup of Nations. I don't know if this story has come out, but we lost 1-0 and after the game Mancini told us we were all crap without him – he didn't mean it, but he said it to rile us up.
It worked too, because we knew we didn't want to be a team that relied on people like Yaya or Sergio if they couldn't play. After that we all stuck together and knew we wouldn't lose it over hard work. If everything went to play then we'd do it.
We were up against United who'd been doing it for years – and people don't understand how much of a massive achievement that was. To win the Premier League is so hard to do: your players have always got to be performing, you've got to keep your top men fit, trust the manager… so many things. That's why Leicester was so incredible.
The goal
Sergio's standards were so high in most games that there isn't really a specific one that stands out... except you-know-which.
That winner against QPR was meant to be for him: a lot of players in that situation would have fluffed it, hit it over… but not Sergio. If anyone else had gone forward in that situation then I think the outcome could have been different; it could only happen to players like him.
It was actually worse for me watching on that day because I was on the bench – it killed me! I'd played a lot that season but picked up a hamstring injury with seven games to go. Pablo came in and did well, and Roberto Mancini didn't want to change a winning team after that, which was fair enough.
I thought I was going to come on still – what Mancini used to do was bring on another defender and go three at the back if we were one or two goals up. I'd come on against Newcastle in the previous game and made an important challenge, so I thought against QPR – a game we should really have won by one or two – that I'd get on and be buzzing.
It was gutting not to in the end, but the moment itself was just unreal.
When we'd been losing, I was warming up with Mario Balotelli on the sidelines. He actually said to me: "Don't worry, I'm going to come on and either score or set up the winner". And he did! He had that much confidence that he'd just go out and do it.
Consistent class
Sergio was just striving to be the best. I think it's the same with Zlatan Ibrahimovic right now – these players come with big price tags and everyone expects them to be top drawer.
They must set themselves personal goals: 'If I want to be the best, I'll show I can do it in the Premier League'. It might not be the best league in the world for technique and tactics, but it's the most exciting – and I actually think it's hard for strikers.
You can have one good season but three, four, five? It's hard to do that. In the Premier League there are so many one-hit wonders who score 15 goals who you won't see for three seasons, but Aguero has done it every single year. His goals-per-game ratio is gigantic – and that can only be possible with a special player.
Interview: Joe Brewin
100-91 • 90-81 • 80-71 • 70-61 • 60-51 • 50-41 • 40-31 • 30-21 • 20-11 • 10 • 9 • 8 • 7 • 6 • 5 • 4 • 3 • 2 • 1
FourFourTwo's 100 best foreign Premier League players ever
Thank you for reading 5 articles this month* Join now for unlimited access
Enjoy your first month for just £1 / $1 / €1
*Read 5 free articles per month without a subscription
Join now for unlimited access
Try first month for just £1 / $1 / €1
Quizzes, features and footballing fun
Get daily World Cup 2022 news, updates and other football frolics to your inbox
Quizzes, features and footballing fun
Get daily World Cup 2022 news, updates and other football frolics to your inbox
Thank you for signing up to Four Four Two. You will receive a verification email shortly.
There was a problem. Please refresh the page and try again.